Jeff Klein
No judgeships for Klein or Hamilton – for now
Party bosses deny having plans to select Jeff Klein or Jesse Hamilton to judgeships, but reformers said it's a problem that they could.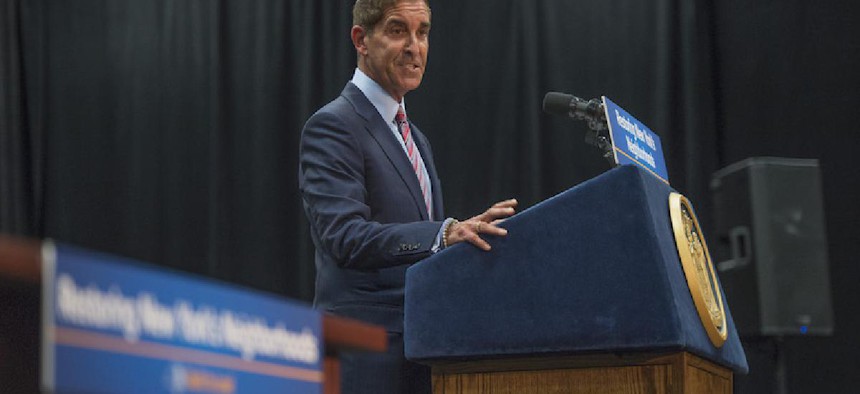 Rejecting recent reports suggesting the Bronx and Brooklyn Democratic county leaders might select recently deposed former Independent Democratic Conference state senators Jeff Klein and Jesse Hamilton as judges at county committee meetings Thursday night, party leaders from both boroughs denied to City & State that judgeships were in the works for the controversial politicians. Nevertheless, proponents of court reform said the fact that judge selection remains largely under the control of party bosses is deeply flawed and undemocratic.
New York's political Twitterverse had erupted after the reports.
the Bronx Democratic machine, where your vote really doesn't matter. They'll decide who gets what office for you https://t.co/qme9hbiH5y

— Rafa (@MorayBeats) September 17, 2018
In addition to the irony that state legislators just voted out of office could suddenly appear unopposed as judges on voters' ballots, both Klein and Hamilton face allegations of misconduct. In January, a former Klein staffer accused him of forcibly kissing her. Klein denied the accusation, which remains under investigation by the Joint Commission on Public Ethics. Then, in June 2018, a state Supreme Court justice found the IDC had engaged in improper campaign financing.
Hamilton, meanwhile, faces questions for improper electioneering over factually false attacks on his opponent Zellnor Myrie that were distributed by a nonprofit closely aligned with the state senator. Hamilton's own nonprofit organization has come under scrutiny as well after his campaign used the nonprofit's residential space in his district for a political office, which would appear to be illegal.
But the party bosses insist the outgoing lawmakers will not be joining the judiciary. "There was no truth to the reports that we were prepared to offer (Jeff Klein) a judgeship or nominate him. It has not been a consideration for us that we were at any point contemplating," said Assemblyman Marcos Crespo, the chairman for the Bronx Democratic Party who first refuted the report on Twitter. "The reports that were put out were inaccurate."
Given the uproar among Democrats in Congress over a sexual assault allegation against U.S. Supreme Court nominee Brett Kavanaugh, Crespo noted that it would be "extremely tone deaf of us" to ignore alleged misconduct by Klein and award him a judgeship right now.
Yet Crespo was careful to note that Klein still has significant support in the community after years of representing the Bronx. Despite last week's impressive turnout for Alessandra Biaggi, Crespo said, Klein still had areas of significant support in the district, including with communities of color. "Jeff Klein served a long time. People know him and trust him," Crespo said. "At a different time and different circumstances, would he be considered? I would be naive to say he wouldn't be."
Frank Seddio, the county leader of the Brooklyn Democratic Party, said he was not aware of any movement to place Hamilton on the bench either. "I have no idea!" Seddio said, laughing out loud. "There hasn't even been a discussion as far as I'm aware of," he added, before joking, "Let's put it this way: If someone knows better than me, then they should be the county leader!"
Seddio said that he had the "greatest regard for Jesse Hamilton," but that he doubted Klein or Hamilton would be picked for judgeships. He explained how the upcoming judicial selection process could theoretically play out: "On Thursday night, we select our Supreme Court nominees and once they're nominated, there will be vacancies. The way there's an opening is if a Civil Court judge moves up to a (state) Supreme Court judge and then you have what we call a 'backfill.' The backfill is picked by the county committee or the executive board, depending on what position it is."
In that case, Hamilton could be placed in one of two civil court judgeships, one in Brooklyn Heights or one in Brownsville, Seddio said. Hamilton would be ineligible for a third countywide vacancy because it requires a judicial vetting process Hamilton did not go through, Seddio said.
For Klein, "I don't think they're going to do it, but it would be a Supreme Court job for him," Seddio said.
Regardless of party leaders' intentions for Klein or Hamilton, they could easily make them judges, if they chose to do so. "The selection process has all the trappings of democracy but has none of the actual substance," said James Sample, a Hofstra law professor and former attorney in the Democracy Program at the Brennan Center for Justice. "The voters are given the illusion of playing a role in this process but the choices are all made for them."
Democratic voters elect judicial delegates, chosen by the party, with little or no information about who they are. Then, those delegates gather in what Sample said have proven to be perfunctory conventions where a pre-approved candidate is nominated. In Democratic-majority districts, said Sample, "the nomination is everything."
"There's no opportunity for a challenger candidate to petition his or her way onto a primary ballot" to compete against the party's chosen candidate for the nomination, Sample said. "That's where the process effectively becomes an appointment."
Sample put the New York judicial selection system on trial in State Board of Elections v. Margarita Lopez Torres. He succeeded in having two lower courts strike down the state's system as unconstitutional, but the U.S. Supreme Court overturned those rulings. Still, U.S. Supreme Court Justice John Paul Stevens carefully noted the ruling was not an endorsement of New York's judicial election system, quoting Thurgood Marshall: "The Constitution does not prohibit legislatures from enacting stupid laws."
"The way the system works now, it's basically political leaders who choose people loyal to the party that rubber stamp what the political leaders want from the parties," said Dennis Hawkins, executive director of The Fund for Modern Courts, a judicial reform organization. "We just don't think that's an approach that will find the best and the brightest."
Hawkins suggested that qualified judicial candidates should have been practicing law in court, have specific knowledge of area of law they are going to serve in and have the temperament to be a judge.
Even if Klein or Hamilton never dons the black robe or holds a gavel, there is only one part of their potential judgeships that is unusual. "Very few incumbents lose in New York politics," Sample said. There is, however, a long history of judges chosen in New York who were "politicos with checkered records and even serious misconduct allegations and sometimes criminal allegations – that part is not unusual," Sample said.