New York City
Voters to Albany: We're watching you
The establishment took a hit during New York's state primaries – and not just in the IDC contests.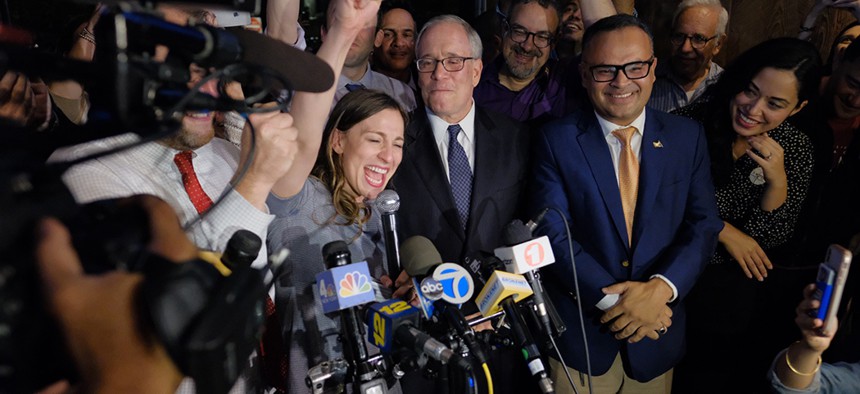 Despite the apparent dissimilarity between the results in the statewide races and the state Senate contests in Thursday's Democratic primary – the establishment won the former and lost the latter – the election actually sent one consistent overall message to Albany: The voters have woken up and they are paying attention. And, for the first time in recent memory, they even threaten to hold their elected officials accountable.
Former members of the Independent Democratic Conference and state Sen. Martin Dilan had every reason to believe that they could betray their constituents' partisan preferences, rake in donations from the real estate industry that looted their communities, or both, without risking their reelection. Historically, New York's cumbersome electoral laws, which keep turnout among the lowest rates of any state in the nation, protected incumbents from being punished. State legislators were more likely to leave office upon indictment or conviction than by losing to a primary challenger.
"From 2006 through 2016, there had never been a year in which more than three members of the 213-person Legislature were defeated in a primary," Politico New York noted on Friday. (By contrast, more than dozen members of the state Legislature have pleaded guilty to or been convicted of crimes since Cuomo took office in 2011.)
Now, thanks to the election of President Donald Trump, New York's liberal Democratic base is enraged, engaged and turning out. Albany Democrats can no longer do whatever they want without fearing any consequence.
Despite New York state election law's impediments and the New York City Board of Elections best efforts to disenfranchise voters by every means, from purging them from the rolls to sending them to the wrong election district, voters came out at twice the rate they did in 2014. (To be sure, the Board of Elections may be guilty of incompetence rather than malice, although a cynic would argue that the incompetence is by design.)
Thanks to the election of President Donald Trump, New York's liberal Democratic base is enraged, engaged and turning out.
Not only were a remarkable seven incumbent state senators ousted, but anti-IDC challenger Julie Goldberg came surprisingly close in her race against upstate ex-IDC state Sen. David Carlucci, losing by only 7 percentage points. Meanwhile, the progressive reformer slate for statewide offices exceeded expectations. Cynthia Nixon – a first-time candidate who was dramatically outspent by the two-term incumbent governor with a much better last name – pulled in nearly 34 percent of the vote. This is despite the fact that Cuomo nimbly adjusted to the shifting political winds and moved steadily left during his second term, especially after Nixon got in the race. Nixon's running mate, New York City Councilman Jumaane Williams, came within 6 percentage points of upsetting Lt. Gov. Kathy Hochul. Their ally Zephyr Teachout, a law professor who has never held public office, received 30 percent of the vote – even though the establishment pick, New York City Public Advocate Letitia James, has a liberal record and strong ties to the state's progressive political infrastructure.
Cuomo's slate had all the advantages: larger (or any) public office, experience, name recognition, far more endorsements from unions and elected officials, and vastly more money to spend. The state party was fully behind them. It even sent a mailer accusing Nixon – whose children are being raised Jewish – of anti-Semitism. Even though the establishment held on, the insurgents' strong performance means the voters' message was sent. Indeed, the message was received even before the election returns rolled in.
The Cuomo campaign wasn't the only one that reeked of panic as the campaign wound down: IDC leader state Sen. Jeff Klein mailed constituents a compendium of misleading claims about his record, former IDC state Sen. Marisol Alcantara claimed a union endorsement she hadn't received, and a close associate of former IDC state Sen. Jesse Hamilton use her nonprofit, possibly illegally, to send out emails attacking Hamilton's opponent Zellnor Myrie with demonstrable falsehoods. Imagine their shock to discover that doling out patronage to neighborhood power brokers and buckraking from business interests are no longer a sure path to victory.
The IDC, like Cuomo and his allies, knew that they couldn't win by arguing that a more moderate course or reified Republican state Senate control is what their constituents actually wanted. So they claimed they were the true progressives in the race.
A year ago, many of the voters who just ousted IDC members had probably never heard of the group.
In the past, such deception might have worked. State politics are notoriously ignored by voters everywhere. The problem is especially acute in New York. New York City is the nation's largest city. Its self-importance, penchant for navel-gazing and its prominence in national politics mean that even relatively well-informed voters know far more about goings-on in City Hall and Washington, D.C., than the state Capitol. A year ago, many of the voters who just ousted IDC members had probably never heard of the group.
But, growing out of the Women's March and related anti-Trump activism, Democratic voters started to educate themselves and one another. They didn't like what they saw: four white men in a room, conspiring to keep out the only woman, state Senate Minority Leader Andrea Stewart-Cousins, out of power. A state with more than two Democratic voters for every Republican but a GOP-controlled chamber. A host of policies, from pot legalization to expanded abortion rights and voting rights, that have been adopted in West Coast states and poll favorably among New Yorkers, blocked in backroom dealings.
Whether rank-and-file liberals will stay engaged in state politics when a Democrat is in the White House remains to be seen. But, for now at least, Democratic elected officials can't take their voters for granted any more.
Powered By
NEXT STORY: Defeated ex-IDC members have yet to concede