Andrew Cuomo
Zephyr Teachout's declaration of independence
Attorney general candidate Zephyr Teachout has positioned herself as an independent who will hold the governor accountable – a stance that assumes Gov. Andrew Cuomo will win, even though Teachout has allied herself closely with gubernatorial challenger Cynthia Nixon.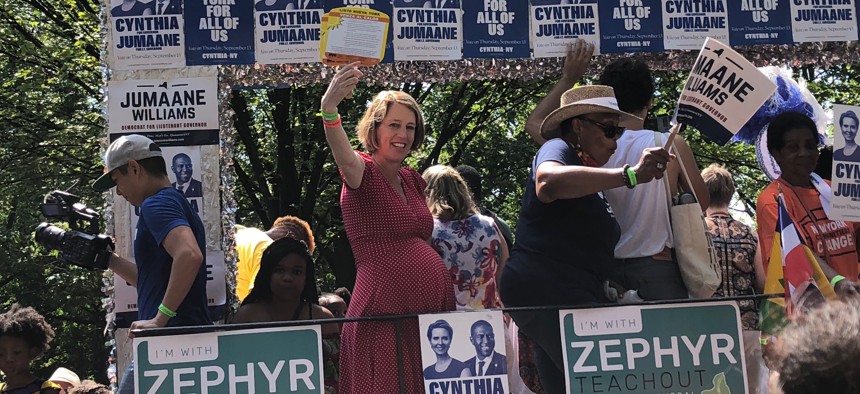 Nobody knows who will be New York's next attorney general. The latest poll showed a dead heat, with nearly a third of voters still undecided ahead of Thursday's primary. All the other indicators are split. Zephyr Teachout, the Fordham Law professor, seems to have the progressive momentum, New York City Public Advocate Letitia James has the most endorsements and Rep. Sean Patrick Maloney has the most money.
But there's one thing that all the candidates seem to all agree on: Gov. Andrew Cuomo will be reelected.
This isn't a problem for most of the candidates. James is running alongside Cuomo on an informal ticket, and the two have cross-endorsed each other. Maloney has endorsed Cuomo for reelection and is happy to praise his work as governor. A fourth candidate, Leecia Eve, is far behind in the polls, and used to serve in Cuomo's cabinet as deputy secretary for economic development.
But Teachout has aligned herself closely with the campaign of Cuomo's opponent, Cynthia Nixon. Teachout even served as Nixon's campaign treasurer until she stepped down to mount her own run for attorney general. Nixon and Teachout have endorsed each other and appeared together at public events throughout the race. They danced together on a float at the West Indian Day Parade, they rallied together in Williamsburg and they're hosting their election night party together in East Flatbush.
But one of the main qualifications Teachout claims for her candidacy is independence from the governor.
"I'm uniquely independent," she said at a New York City Bar Association forum for attorney general candidates, emphasizing that she was the only candidate who can credibly claim no ties to the governor, whom she ran against in the 2014 gubernatorial primary. "I have a history of standing up to powerful forces."
She gave a similar claim at the Spectrum News/NY1 debate. "The next attorney general of New York has to be very clear that she is independent from the governor and that she is willing to call him out and investigate his administration," Teachout said, according to Newsday.
She has even laid out specific claims against the governor, saying that she would investigate whether Cuomo used state resources for campaign purposes. "I'm independent of the political bosses and independent of Andrew Cuomo," Teachout said on Monday.
Yet Teachout couldn't make the same claims of independence from the governor if Nixon were to win the governor's office.
Of course, that seems increasingly unlikely, with Nixon down 41 points from Cuomo in a Siena College poll released Monday. And even if Nixon were to beat Cuomo in the primary, she'd likely face a difficult general election against candidates including Dutchess County Executive Marc Molinaro, the Republican nominee, and former Syracuse Mayor Stephanie Miner, who is running on the Serve America Movement line. There's also the threat, however unlikely, that Cuomo would continue running in the general on one of the other ballot lines he has secured, such as the Women's Equality Party.
Teachout's distance from Cuomo seems to have only helped her, even among fans of Cuomo. Three of the state's most prominent newspapers, The New York Times, the Daily News and the Buffalo News, all endorsed Cuomo for governor and Teachout for attorney general. To some, it seemed the newspapers hoped that Teachout would be a bulwark against Cuomo's worst impulses.
"So much of what it appears to me with some of these endorsements is this idea that Cuomo is the heir apparent," said Fordham professor Christina Greer on a recent episode of the FAQNYC podcast. "So if that's the case, we're looking at the AG's race as someone who will be that foil to the governor."
Greer's guests in the interview were Alyssa Katz of the Daily News editorial board and Mara Gay of the Times editorial board. Both agreed that independence from Cuomo was on the forefront of their minds during the endorsement process.
"We were looking for someone who would be independent. Not just from the governor, but also from special interests," like the financial and real estate sectors, Gay said.
The question of an attorney general's independence from the governor has played out before. In 2010, when then-Attorney General Cuomo was running for governor, he quietly supported Kathleen Rice as his successor while seeking to undermine Eric Schneiderman, then a state senator who was running for the post as well. Rice faced questions similar to those James is now facing, insisting that she is "not a product of Albany." Schneiderman, with the endorsement of the Times, narrowly beat Rice, and went on to have an adversarial relationship with Cuomo.
And when Cuomo himself was running for attorney general, he did all he could to get close to Eliot Spitzer, who was just finishing his well-regarding tenure as attorney general and would soon be elected governor. Even though Spitzer never endorsed in the primary, Cuomo tried to appear as much as he could with Spitzer, and even made up fliers saying the state had "big shoes to fill" in the attorney general's office.
That didn't stop Cuomo from going on to investigate Spitzer for misuse of state troopers for political purposes. Their relationship soured, and just four years later Spitzer was calling Cuomo "the dirtiest, nastiest political player out there."