Andrew Cuomo
Democratic candidates partying local for election night
Letitia James and Andrew Cuomo won't be partying together on election night, but Zephyr Teachout and Cynthia Nixon will be.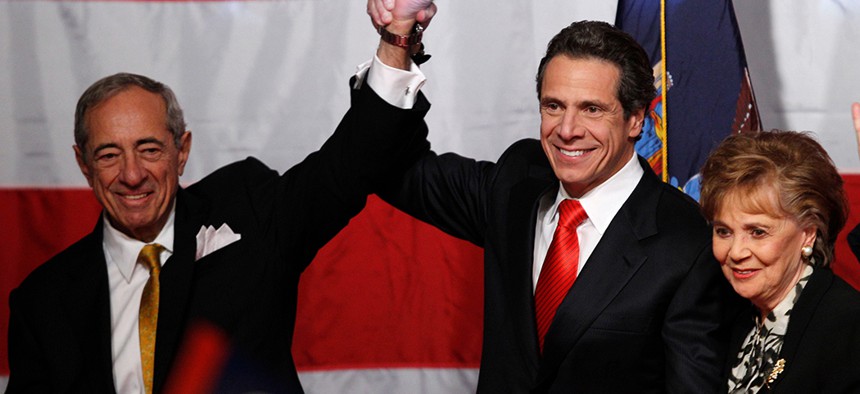 Election night parties can do a lot for a candidate. New York City Mayor Bill de Blasio used his 2013 election night event at the Park Slope Armory to highlight his Brooklyn ties – and show off his dance moves. Alexandria Ocasio-Cortez's reaction at a Bronx bar to winning her congressional race helped propel her as a national political celebrity – and her vanquished opponent Rep. Joseph Crowley showed off his musical talent by dedicating a cover of "Born to Run" to her.
The four candidates in the Democratic race for attorney general are all hoping to capture some of that election night magic themselves at their events Thursday night.
New York City Public Advocate Letitia James is hosting her election night event at Milk River Lounge, a restaurant and dance club on the border of Crown Heights and Clinton Hill in Brooklyn. The Atlantic Avenue venue makes things easy for her team – it's right across the street from her campaign office. It's also less than a mile from James' home, and squarely within the New York City Council district she represented for a decade. The lounge, with a 300-person capacity, is apparently named after a mineral spring on the island of Jamaica. It is described as a "high-energy oasis" on its website.
James is notably going solo on election night and not attending a party with Gov. Andrew Cuomo or Lt. Gov. Kathy Hochul. She has run on an informal ticket with the pair, but has been knocked by opponents for her ties to the governor. Avoiding him on election night could be a way to dodge further criticism. But with Cuomo and Hochul both way ahead in the latest poll and James running a close race, it could also be a way to avoid an awkward event with only part of the ticket victorious.
James spokesman Jack Sterne said James made the decision herself. "She wanted to celebrate a historic night in the community where she got her start, and where she's lived her entire life," he said.
Cuomo, for his part, is expected to be at the state Democratic Committee's primary night party at the Ainsworth, a restaurant and venue on 33rd Street in Midtown Manhattan. It's about a half mile from the governor's Manhattan office. If Cuomo attends, it'll be a break from his primary night plans in 2014. Cuomo didn't hold an event that year, instead telling reporters he'd be working in his office when the polls closed.
Unlike James and Cuomo, attorney general candidate Zephyr Teachout and gubernatorial candidate Cynthia Nixon are tying their fortunes together. They both plan to attend an election night party along with lieutenant governor candidate Jumaane Williams at Cafe Omar, a lounge in East Flatbush, Brooklyn. Williams has represented the area in the New York City Council since 2010.
The trio originally planned to host their event at Brooklyn Bazaar, a venue in Greenpoint, before shifting plans Wednesday morning. The move from the predominantly white, gentrified neighborhood of Greenpoint to the lower-income, overwhelmingly black East Flatbush could be seen as a purposeful shift by a gubernatorial campaign that has been specifically trying to win over black voters. But Nixon spokeswoman Lauren Hitt said they just wanted a bigger venue. "At the end of campaigns, you're just trying to get through the end," she said. "I don't think there was as much thought put into it."
Another attorney general candidate, Rep. Sean Patrick Maloney, will be hosting his election night watch party at La Nacional, the restaurant at the Spanish Benevolent Society in Chelsea. The restaurant reopened this summer after a two-year renovation, and is close to Maloney's campaign office in Manhattan. Maloney represents the Hudson Valley in Congress, and his campaign said he'll be starting the day voting in Cold Spring.
The fourth attorney general candidate, Leecia Eve, will be spending election night in her hometown of Buffalo. Her campaign did not immediately respond to a request to elaborate on whether she will be hosting an event.