New York State
Bosnian ads, turning on fellow Dems, and other ways to ride the blue wave
New York Democrats are thinking outside the usual box to win a ticket to Washington.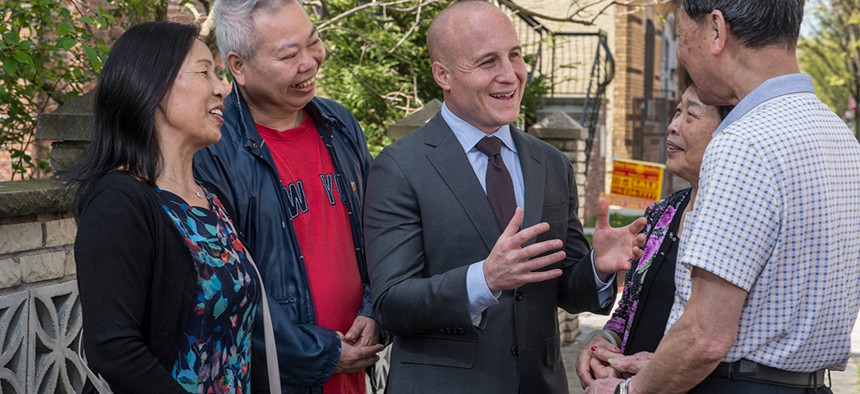 Fit and bullet-headed, anybody could guess congressional candidate Max Rose was a military veteran before the words "former platoon leader" show up on the screen in his latest political ad. But the words that come out of his mouth next are more surprising than the ones on the screen. "Look, I'm running against Dan Donovan, but the truth is he's not the only one doing a lousy job," Rose says. "Mayor de Blasio acts like Staten Island doesn't even exist, and we need to get rid of all the leadership in D.C. – Republican and Democrat."
It's a classic, time-honored pitch – "throw the bums out!" – and Rose is leaning hard into the strategy as he runs for office for the first time. Rose is the Democratic nominee in Congressional District 11, covering Staten Island and a sliver of southern Brooklyn that include some of the last Republican strongholds in New York City. So this appeal to voters who see weaknesses in both major parties is a strategy that he hopes will help him beat an incumbent Republican in Donovan and win another seat for Democrats in Congress.
And with that goal in mind, Democrats area cheering him on, even if he's attacking his own Democratic mayor and his own party's leadership in Washington. "Every candidate has to be their own candidate in terms of running the race that's necessary," Rep. Hakeem Jeffries – a Brooklyn congressman rumored to be on the short list of potential replacements for Rep. Joe Crowley as the fourth-ranking Democrat in the House of Representatives – diplomatically told City & State. Even if that means saying you won't vote for current Democratic House Leader Nancy Pelosi to keep her job next session, as Rose, Congressional candidate Anthony Brindisi and a number of other Democrats running in New York have said publicly.
"Look, I'm running against Dan Donovan, but the truth is he's not the only one doing a lousy job." – Staten Island congressional candidate Max Rose
Democrats across New York state are hopeful that they can unseat Republican incumbents, anticipating a "blue wave" fueled by low approval ratings for the first term Republican President Donald Trump. So candidates and supporters are trying out various strategies, some tried and true, others new and novel, to convince voters to throw the bums out.
Jeffries, as a safe incumbent in a deeply Democratic district, is able to focus entirely on helping other candidates win, and he's got a good sense of what he needs to do. He said the party needs to flip at least two seats in New York if the Democrats are going to win the majority in the House. When we talked in mid-September, he thought that Democrats had a chance to pick up four seats: Rose over Donovan, Brindisi over Rep. Claudia Tenney, Dana Balter over Rep. John Katko and Antonio Delgado over Rep. John Faso. But Jeffries was thinking regionally, too, beyond the state borders. Democrats need to hold on to a tight seat in Connecticut, win up to four seats in New Jersey and up to six in Pennsylvania. "There's a possibility that in just these four states we can deliver one-third to half of what Democrats need in order to take control of the House of Representatives," he said.
Jeffries isn't the only one looking beyond the boundaries of his safe blue district. Groups like Vote Blue NYC are chartering buses every Saturday to get Democrats from New York City to knock on doors in swing districts nearby. But no group is more committed to this approach than Swing Left, a national fundraising and organizing group for Democratic congressional candidates. "The folks who are most energized, the most upset about what Trump and the GOP are doing, a lot of them are in these areas where their districts are going to go blue no matter what, and yet they want to do something," Swing Left co-founder and executive director Ethan Todras-Whitehill told City & State. "And the best way to do that is to find the nearest important race near you and help win that election."
"The folks who are most energized are in these areas where their districts are going to go blue no matter what, and yet they want to do something. And the best way is to find the nearest important race." – Ethan Todras-Whitehill, Swing Left co-founder and executive director
So visitors to Swing Left's website can plug in their home address and then be told which is the nearest swing district where Democrats need support. In New York, the group has given the most help to Delgado, running against the incumbent Faso in a district that covers much of the Upper Hudson Valley. According to their latest online numbers, Swing Left has raised nearly $200,000 for Delgado. But Swing Left is also using a time-honored tactic: bringing candidates from far-flung districts to New York City fundraisers. Todras-Whitehill said a Sept. 24 fundraiser at Brooklyn Bowl in staunchly blue Williamsburg raised about a half million dollars, which was spread among Rose, Brindisi, Balter and Delgado.
Brindisi has his own strategies for winning in his vast, Central New York district stretching from Utica to Binghamton – like targeting new citizens. "Utica has a very large refugee and immigrant community," Brindisi told City & State. "We have translated our literature into several languages. This past weekend, I was at a Bosnian festival in Utica and we handed out literature that was translated in Bosnian."
Utica would not be the city it is without its vibrant Bosnian community. Every year the Bosnian Islamic Association of Utica's anniversary celebration is a testament to how strong and spirited this community is. Thank you for having me today it was an honor to celebrate with you! pic.twitter.com/MdfW8bDYyF

— Anthony Brindisi (@ABrindisiNY) September 22, 2018
With the exception of Balter, these swing district Democrats are all running in districts that voted for Trump in 2016. So while the candidates are hoping to boost Democratic turnout, they're also hoping that some Trump voters could be swayed to vote for the other party. That's why Brindisi, like Rose, is reaching out to Republican voters who may be disillusioned with the polarizing hard-right course Trump and and the GOP congressional leadership have taken, hosting a weekly "Republicans for Brindisi" phone banking every Thursday. Meanwhile, to boost turnout among voters who mostly lean Democratic but don't always come out in midterm elections, Brindisi is aiming for the young voters attending college in his district, sending canvassers to register students at SUNY Binghamton, Hamilton College and Colgate.
That's a strategy favored by Democratic Rep. Grace Meng, who's also a vice chair for the Democratic National Committee. She's targeting young voters in the four aforementioned districts, plus one on Long Island, where Perry Gershon is challenging Republican incumbent Lee Zeldin. "I donated $80,000 to hire five organizers in these five districts, because in these five districts, there are 23 college campuses," Meng told City & State. "We will likely win or lose by 800 to 1,000 votes and I'm hoping that our college-age voters will make a difference."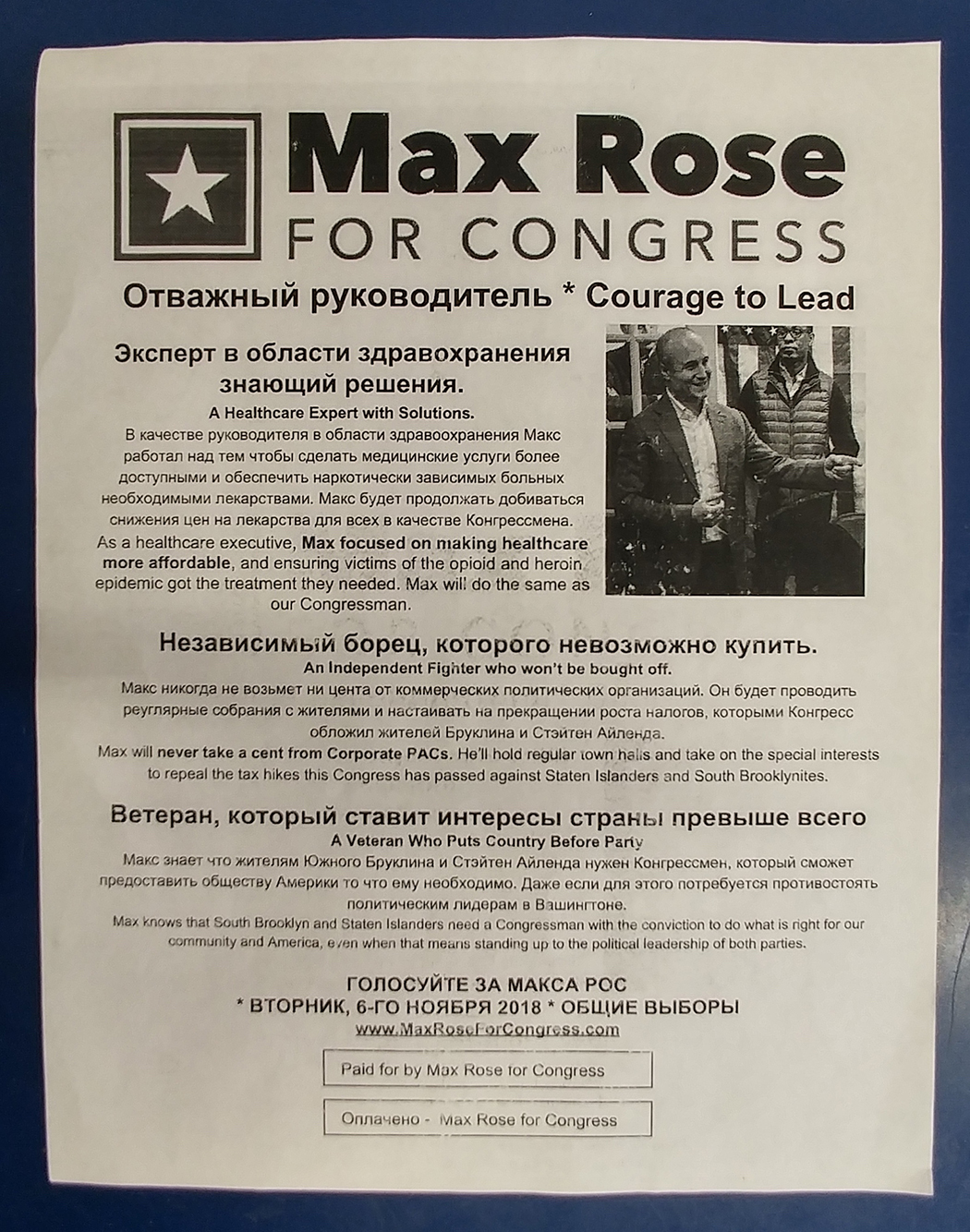 Since Trump has intensified the polarization of the electorate by age, race and education, his presence in the White House may help Democrats turn those college students out. In fact, he might as well be working for congressional Democrats, jokes Rep. Carolyn Maloney, a Manhattan Democrat. "You know, he's one of our best energizers," Maloney told City & State. "He's really on the Democratic side… He unified us, the women came out, they marched the day after his inaugural. He's one of our greatest energizing assets, I must say."
Pundits expect Trump's low approval rating will hurt Republicans across the board in House races. Data site FiveThirtyEight, which aggregates various polls, puts the president's approval rating at about 42 percent – lower than every previous president at this point in their term since Harry S. Truman.
And Maloney expected that the controversial nomination of Brett Kavanaugh to the Supreme Court would only add to voters' discontent with Republicans. "The way the Kavanaugh nomination is being handled only reinforces the notion that voting in the November midterms is the only way for people to hold this administration and the GOP majority accountable," Maloney said in a statement provided to City & State. The state Democratic Party seems to agree, trying to pin Kavanaugh on all Republicans, even those far from the U.S. Senate that would actually vote to appoint him. The state Democratic Committee reportedly released digital ads asking Faso: "do you support this lifetime appointment?"
But that doesn't mean individual candidates are focusing on Kavanaugh. There are no reports that any New York Democrats targeting incumbent Republicans are using the judge's potential appointment in attack ads or on the stump. The New York Times reported that Delgado tried to distance himself from the partisanship of the Kavanaugh Senate hearings at a recent fundraiser.
"You know, (Trump is) one of our best energizers. He's really on the Democratic side." – Rep. Carolyn Maloney
Many of the Democrats in swing districts are careful not to run a race against Donald Trump, presumably on the theory that many blue-collar white voters would be more opposed to the more ideological Republican congressional leadership than the likeable loudmouth from New York that they may have voted for in 2016. Brindisi said he's avoiding talking too much about the president. The Assemblyman is framing himself as an independent who can work in a bipartisan way.
And in New York City, Rose doesn't want to talk strategy at all.
"That's the problem with the Democratic Party today!" he told City & State. "We think we are going to win elections like Staten Island and South Brooklyn by slicing and dicing the electorate, by having specific, targeting strategies which are overly transactional in nature."
His answer? All the usual strategies, of course. Rose is knocking on doors, making phone calls, and giving out literature in a handful of languages, from Arabic to Greek to Hebrew and Russian. He's setting up a big tent, and not inviting de Blasio.
"It's unethical to assume you have some voters in the bag. It's unethical to just talk to certain elements of what you consider your base in the last week of the election and incorporating them into some get out the vote strategy," he said. "There is a long legacy of the failure of elected officials on both sides of the aisle."