New York City
Eric Adams flies his conservative flag
New York City mayoral candidate Eric Adams said he'd carry his gun into faith services.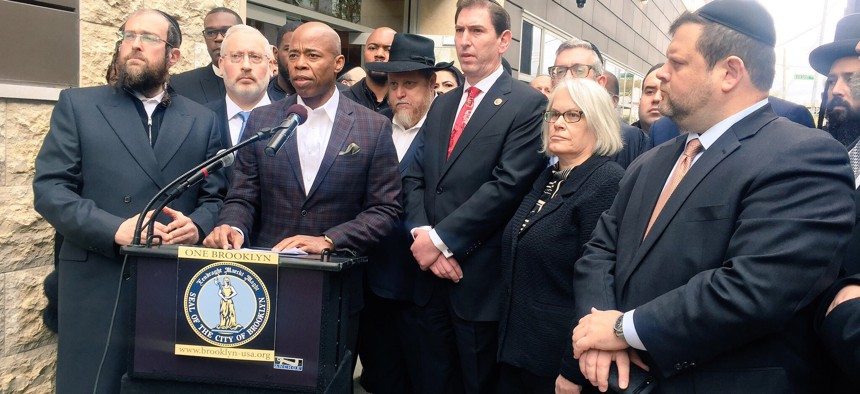 Brooklyn Borough President Eric Adams touched a political live wire on Sunday, by saying in the wake of a mass shooting at a Pittsburgh synagogue that he would carry his gun into houses of faith as a protective measure. The sentiment may seem surprising in deep blue Brooklyn, in a city with some of the strictest gun control laws in the country, but seemingly pro-gun comments weren't off-base for Adams, who is projecting a tough-on-crime stance ahead of a likely 2021 run for New York City mayor.
Adams' comments were reported by the New York Times, and his Sunday speech outside a Jewish social service agency in Midwood, Brooklyn, was captured on video by AM New York reporter Ivan Pereira.
If the first thing the city government does after an attack on faith communities is post NYPD officers outside churches and synagogues, "then it does not seem unreasonable for off-duty police officers who go to their synagogue to worship to protect the people inside," Adams said.
"We have to live in this real universe that we're in," he said. "And if we have officers who are trained on how to respond to emergencies, how to move people to safety, how to properly use a firearm – if they're leaving those firearms at home, I'm saying to them, stop leaving your firearms at home. Do as I do: bring your firearm to church."
Adams served in the NYPD for 22 years and retired as a captain. He plans to run for mayor in 2021, and has considered running for New York City public advocate before that, since the office is expected to be vacated if Public Advocate Letitia James wins her race for state attorney general. City & State profiled Adams in July, where Adams, who is African-American, explained that he would reach out to outer-borough white voters, who are generally more conservative, in part by talking about his tough-on-crime views.
"I'm extremely conservative on crime," Adams said then. That attitude, while perhaps an asset in reaching out to more conservative voters, could prove a liability in a citywide Democratic primary where the majority of voters will be non-white and many will be liberal on civil rights, civil liberties and gun control.
But the borough president's views aren't as simple to classify as he may suggest, since he has been a fierce critic of the NYPD's overuse of stop-and-frisk and advocated for decriminalizing small offenses. Now a Democrat, Adams was registered as a Republican from 1995-2002, which he said was because of his perception Democrats weren't doing enough to stop crime.
"I believe law enforcement is a prerequisite for prosperity," he said during the July interview, in comments that did not make it into the story.
But Adams also noted the loss of freedom that comes from over-policing, noting his disappointment that the NYPD will sometimes not grant block party permits for high-crime areas.
"I can't tell you how many times a community will come over here and say, 'they won't give us a permit because there was a shooting two blocks down from us,'" he said. "I think that's a bad decision that the police department routinely carries out. Here it is, a community victimized because a small number of people commit crimes, but now we're penalizing that entire community."
Adams' response to the Pittsburgh shooting, where 11 people were killed and six injured, was similar to President Donald Trump's, who said that an armed guard would have stopped the massacre. More armed guards is a solution often suggested by pro-gun interest groups like the National Rifle Association.
Adams comments were criticized by some Democrats, including New York City Council Speaker Corey Johnson who said Adam's suggestion was not the answer and not "how we heal and move forward."
New York City Mayor Bill de Blasio also criticized the response at a press conference Sunday. "No, houses of worship do not have to have armed guards to be able to practice their religions," he said. "That's not America."