New York City
Five things to watch for in the Cuomo-Molinaro debate
Viewers can learn a lot about the candidates and the future of New York state.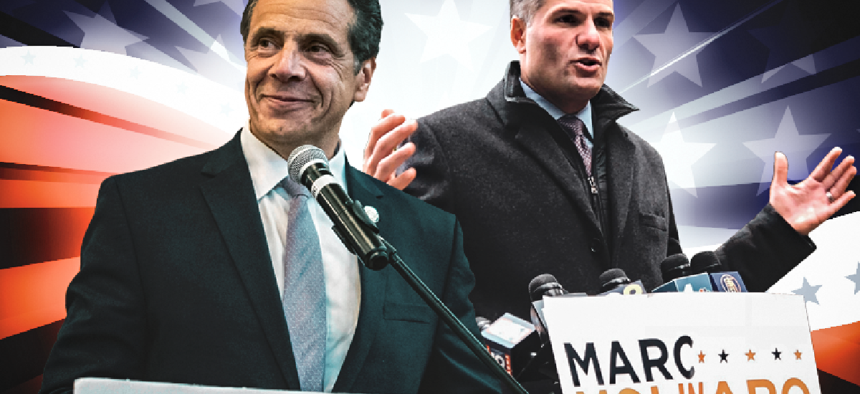 The top two candidates for governor have finally agreed to debate. Democratic Gov. Andrew Cuomo and Republican Dutchess County Executive Marc Molinaro will face-off in a debate airing at 7 p.m. Tuesday on CBS TV and radio affiliates across the state. Cuomo is the overwhelming favorite to win re-election, but viewers can still learn a lot about the candidates, their future and the future of New York state from the one-on-one showdown. Here are five things to watch for:
Terms of debate
Planning this debate took a bit more goading than usual, since Cuomo is way ahead in the polls and has very little to gain by helping his little-known opponent gain exposure. But after four days of the New York Post photoshopping him into a chicken suit, he gave in. Because Cuomo's in control, pay attention to how the event is set up – are the candidates seated? Is the room cold, as he likes it? Are supporters allowed in the room? Cuomo got to negotiate the exact set up he wanted for his primary debate with Cynthia Nixon on CBS, and the network will likely let him do it again.
Lines of attack
After eight years as governor Cuomo has a lot of soft spots that Molinaro could attack, like the state's falling population, the governor's growing list of associates accused of corruption, residents' high tax burden or delays in New York City's subway system. Which ones he focuses on, and how Cuomo responds, could reveal a lot about Cuomo's weaknesses if he were to run for another office in the future. When Democratic donors decide next year who they're supporting in the 2020 presidential cycle, they're going to look at Cuomo's performance in this campaign as a barometer of how he vulnerable he would be to such attacks in a national campaign.
Cuomo might play it safe against Molinaro, seeing that a major attack line against Nixon in their debate – "you're a corporation" – fell flat. But he's guaranteed to attack his Republican opponent for belonging to the party of President Donald Trump, who has a 37 percent approval rating in New York.
Cuomo's counter-attack
Molinaro launched a "CuomoLeaks" website last month seeking input from whistleblowers who wanted to blab about corruption in the Cuomo administration. Team Cuomo then countered with "MolinarosShadyDeals.com" accusing the Dutchess county executive of "corrupt cronyism." The sites were stunts, but Molinaro's knock on Cuomo has some staying power because it refers to revelations that have been trickling out for years. Can Cuomo make his attacks on Molinaro stick? His campaign has proved deft at going negative, but can Cuomo do it effectively in a debate?
Positioning for the future
Cuomo could skate through the debate and play it safe and boring as possible on his way to almost guaranteed victory on November 6. Or he could seize the opportunity of a high profile TV appearance and look beyond the election, whether to build support for his agenda for the state for the next four years or to set himself up for something bigger down the road.
As for Molinaro, this debate will likely be many New Yorkers' first introduction to the charismatic 43-year old. A strong performance could get Republicans around the state thinking about where he could go next – especially if Democrat Antonio Delgado beats Rep. John Faso in the 19th congressional district, which includes some of Dutchess County.
Upstate
Everyone north of the (dearly departed) Tappan Zee Bridge felt ignored by Cuomo and Nixon in the primary debate. Expect Molinaro to turn the focus away from New York City, since he'll need to win big upstate if he wants any chance of keeping this race close. And expect Cuomo to appeal to the same voters by talking about the billions of economic development dollars he has steered upstate. Nevermind that the results seemless impressiveunder scrutiny.
Powered By
NEXT STORY: Do Republican voters care about Chris Collins' indictment?