James calls on GOP rival to release tax returns in attorney general race
New York City Public Advocate Letitia James, the Democratic nominee for state attorney general, called on Republican rival Keith Wofford to make public his tax returns.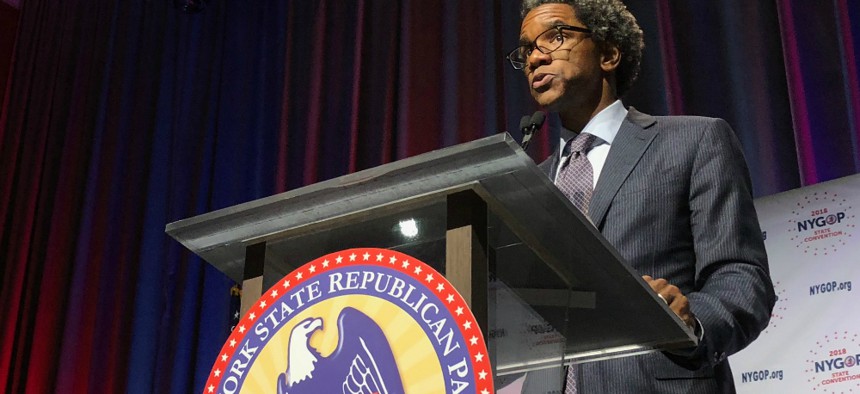 Democratic attorney general candidate Letitia James is calling on her Republican opponent Keith Wofford to release five years of tax returns.
"Transparency is critical. New Yorkers should know where a candidates' income comes from – especially if they are running to be the state's top lawyer," James said in a press release provided in advance to City & State. "Accountability is key. That's why my returns are open for review, and why I'm calling on Keith Wofford to release his taxes."
James released her own returns from the years 2013 through 2017 back in August. She needled her opponents in the Democratic primary to do the same, eventually getting two of her opponents, Zephyr Teachout and Sean Patrick Maloney to do the same. Leecia Eve, another Democratic candidate, never did.
Wofford has not released any tax returns, and his campaign did not respond when asked if he plans to release them. Wofford campaign manager O'Brien Murray did provide City & State a short statement: "Letitia James proves she is a typical politician. She runs from debate requests for a week, then asks for transparency."
There's no record of Wofford publicly requesting a debate with James previously. No debates between the pair have been announced yet.
Candidates in New York are not required to release tax returns, but it has become somewhat of a political norm that gives the public an understanding of a candidate's income, how much they give to charity and potential conflicts of interest. Tax returns also show how much a candidate pays to the government in taxes – a topic which became the talk of the political world Tuesday after The New York Times published an investigation into President Donald Trump's history of "dubious tax schemes … including instances of outright fraud." Trump notoriously declined to release his tax returns while running for president in a break from standard protocol in such campaigns.
James' campaign hoped to tie Wofford to his fellow Republican.
"We know Keith Wofford is a Donald Trump supporter – and he cannot embrace the Trump campaign strategy of refusing to release his tax returns," James campaign spokesman Jack Sterne said in a statement provided to City & State. In response to the Wofford campaign's comment for this story, Sterne added: "Typical Trump response. Asked to release his tax returns, Keith Wofford ignores the question and attacks. It's a simple question. Will he release his returns?"
Candidates are required to provide less detailed personal financial information to the Joint Commission on Public Ethics, which Wofford did in June. Wofford reported 2017 income in the range of $4.35 to $4.45 million, all from his position as a partner and bankruptcy attorney at Manhattan law firm Ropes & Gray. Wofford also reported having retirement accounts with a total value between $1.25 million and $1.75 million, and a stock portfolio valued between $355,000 and $670,000.
James' reported a total income of $196,000 in her 2017 tax return.
James has a strong lead over Wofford, with 50 percent to 36 percent in the latest Siena poll out Monday. Wofford has low name recognition, with 86 percent of respondents saying they didn't know him or didn't have an opinion.
Below are the financial disclosures for Wofford and James. 
Keith Wofford AG candidate 2017 Fds by City & State NY on Scribd
Letitia James 2017 Coib Supplement by City & State NY on Scribd