Donald Trump
Keeping tabs on Saudi ties to Trump's NYC interests
Donald Trump and Jared Kushner's New York businesses depend on money from Saudi Arabia and its allies.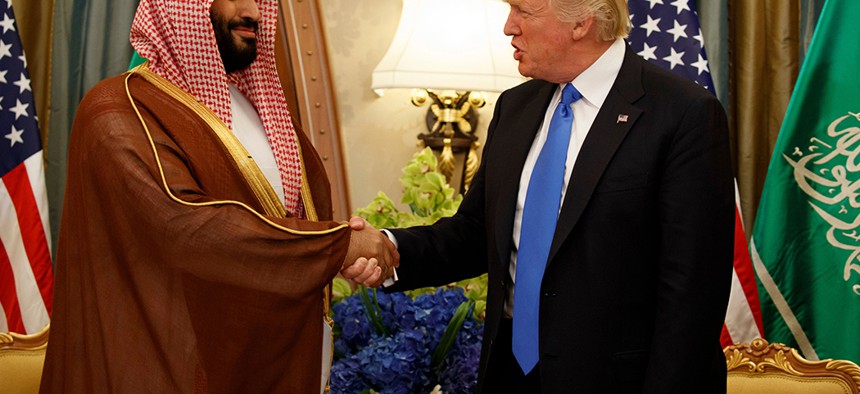 As international outrage grows over the disappearance and apparent killing of Washington Post journalist Jamal Khashoggi in the Saudi Arabian consulate in Istanbul, President Donald Trump is bending over backwards to avoid holding Saudi Arabia accountable, including suggesting – without evidence – that Khashoggi's murder was the work of "rogue killers." The president's strange behavior has observers, including some Democratic senators, wondering what role Trump's personal financial ties to the repressive kingdom might play in his calculations.
Trump and his son-in-law and advisor Jared Kushner do, in fact, both have real estate interests in New York City that benefit from Saudi investment – or its foreign policy.
Trump took to Twitter earlier this week to declare: "For the record, I have no financial interests in Saudi Arabia (or Russia, for that matter). Any suggestion that I have is just more FAKE NEWS (of which there is plenty)!"
He may not currently have any known business interests "in" Saudi Arabia per se, but it's not for lack of trying, according to media reports. There is plenty of money flowing between Saudis and the Trump Organization and there also appears to be a link in how the foreign policy of the Trump Administration follows the needs of Kushner, who more than anyone else has cultivated Saudi Crown Prince Mohammed bin Salman as a top foreign ally.
It wouldn't be the first time that Trump has been accused of putting business before country. There is of course the ongoing special counsel investigation that is partly devoted to probing his relationship with Russia and its oligarchs. While Trump talks tough on trade with China, that hasn't stopped him from benefitting from their help in a real estate project in Indonesia.
Here's a run-down of how it all works – and how it involves various buildings in Manhattan:
 
The Trumps wanted to do business in Saudi Arabia before the election
The Washington Post did report shortly after the election that eight companies were registered three months after Ivanka Trump told the publication Hotelier Middle East in 2015 about how the Trump Organization was looking to do business throughout the region. "We are looking at multiple opportunities in Abu Dhabi, in Qatar, in Saudi Arabia, so those are the four areas where we are seeing the most interest," she said.
 
Saudis are keeping Trump's hotel businesses profitable
Some observers credit the Saudi government with keeping some Trump hotels afloat. The general manager of the Trump International Hotel in Manhattan credited the crown prince's visit earlier this year with contributing so much business that revenues actually rose one quarter after a two-year slump, the Washington Post reported in August. Saudi-based customers have also booked a total of 218 nights at a Trump hotel in Chicago – a 169 increase from 2016. Then there is the Trump hotel down the street from the White House where a lobbying firm linked to the Saudi Embassy has spent $270,000 on food and lodging at the same time they were advocating against a law that would have allowed 9/11 victims to sue the Saudi government. Though they are not the only country accused of trying to gain Trump's favor by helping his bottom line, they have exhibited a unique determination to use hotels to do that, according to the Washington Post.
 
Trump has a long history of selling assets to Saudi officials
"They buy apartments from me," Trump said about the Saudis during an Alabama rally in 2015. "They spend $40 million, $50 million. Am I supposed to dislike them? I like them very much." In 2001, the Saudi government bought the entire 45th floor of a Trump property near the United Nations in Manhattan for $4.5 million. A 10,500-square-foot property in another Trump property on the west side of Manhattan was bought years before the 2016 election by Prince Nawaf bin Sultan bin Abdulaziz al-Saud, who then sold it earlier this year for $36 million.
Saudi money has also come to Trump at some important junctures in his career. There was the time in 1991 that Saudi prince Alwaleed bin Talal helped Trump cut his losses at a time of great financial distress by buying the $29 million yacht that Trump bought from the Sultan of Brunei three years earlier. Talal also helped Trump out a few years later by buying a 51 percent stake in the New York Plaza hotel. "I bailed you out twice; a 3rd time, maybe?" Talal wrote during a 2016 Twitter feud with Trump. What would eventually happen to the "Warren Buffett of Saudi Arabia," as Talal was once known? He would be jailed by the crown prince during the 2017 U.S.-backed crackdown on corruption that also conveniently removed much of the top-level political opposition to Crown Prince Mohammed bin Salman.
 
The Qatari blockade foreign policy may have saved Kushner Companies
The crown prince reportedly said that he has Kushner "in his pocket" and it's not hard to speculate as to why. In the past year, Kushner Companies was desperate to find someone to invest in 666 Fifth Avenue, a Midtown Manhattan office tower that Kushner purchased for $1.8 billion before the 2008 financial crisis. A $1.2 billion mortgage was coming due in Feb. 2019, and Kushner Companies, which Jared Kushner led until he came to the White House in early 2017, needed access to some deep pockets.
At first it appeared that Anbang Insurance Group, a Chinese conglomerate with deep ties to the ruling Communist Party – might be the investor that would save Kushner Companies. But the $4 billion deal fell apart after lawmakers and others cried foul. So the Kushners turned to Qatar. According to The New Yorker, Jared Kushner's father Charles and sister Nicole appeared at the St. Regis Hotel in April 2017 as the tiny oil nation's finance minister Ali Sharif al-Emadi held court to hear investment pitches. But al-Emadi rebuffed the Kushners' request for just under $1 billion. "They could have bought the building – believe me, they have the money," one analyst told the magazine. "They just didn't think it would ever pay off."
That's where the Saudis came in. They had their own qualms with the Qataris over their relationship with Saudi rival Iran and they were looking to whip up support for a naval blockade of Qatar. It's possible that a Spring 2017 meeting between Jared Kushner and Mohammed bin Salman was where the U.S. government gave its backing to the Saudi-led effort to isolate Qatar diplomatically and economically. Qatar managed to emerge from the confrontation more or less victorious, but months later Apollo Global Management – which the Qatari government has a large investment in – lent $184 million to Kushner Companies to refinance the mortgage on a Chicago property, The New York Times reported. More importantly, another Qatar-backed company, Brookfield Property Management, announced in Aug. 2018 that it would save Kushner Companies after all in by taking out a 99-year lease on 666 Fifth Avenue. The analyst cited by the New Yorker observed that the relationship between Jared Kushner and the crown prince was key to securing Qatar's help after it originally refused to invest in the aging 41-story Manhattan tower: "Here's a question for you: If they had given Kushner the money, would there have been a blockade? I don't think so."