New York City
Updated: Categorizing the candidates to be NYC's next public advocate
Categorizing the candidates to be New York City's next public advocate.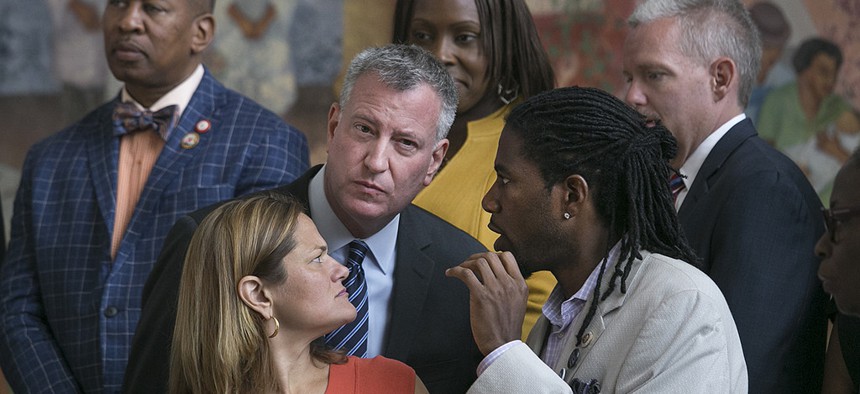 New York City Public Advocate Letitia James' victory in the Democratic state attorney general primary makes it very likely that a new public advocate will be needed come Jan. 1. Speculation on who could replace James if she wins the general as early as in May, and it's heated upbig time, with no less than two dozen possible names in the mix.
Some candidates already declared their plans to run for the seat, including New York City Councilman Jumaane Williams, Assemblyman Michael Blake and progressive activist Nomiki Konst.
Candidates for the potential opening would likely run in a nonpartisan citywide special election in February, then have to defend the seat months later during the normal 2019 election cycle. An open seat hasn't gotten this much attention since … well, about three four months ago, when a bunch of people considered running for attorney general after Eric Schneiderman abruptly resigned. As one former public advocate, Mayor Bill de Blasio, said on Election Day, "Whenever there's an unusual change in the electoral calendar, a whole lot of pent-up ambition comes out."
Then, as now, it's good to separate the real deals from the lost causes, so here's a guide of who could be the next public advocate.
CONSOLATION PRIZE
Jumaane Williams
Fresh off winning the New York City vote in the lieutenant governor primary, the Brooklyn city councilman and "elected official/activist" would be is an early favorite if he decides to run after announcing his candidacy on October 23. He had 436,000 Democrats pull the lever for him on primary day – 150,000 more than James got in the 2017 public advocate primary – and his strongest area is the vote-rich borough of Brooklyn. Left without a committee chairmanship in the City Council so he could run for LG, Williams wouldn't be leaving much behind.
SPEAKERS' CLUB
Melissa Mark-Viverito, Christine Quinn
The former New York City Council speakers both have strong name recognition and fans across the city. But both also have more political enemies than most people, which could snuff a campaign before it starts. However, both have solid bases of campaign cash, with nearly $400,000 on hand apiece. Quinn lost in the 2013 mayoral primary and would love another chance, while Mark-Viverito has been waiting for her moment to get back in the game.
RESUME BOOSTERS
Eric Adams, Michael Blake, Melinda Katz
For pols interested in higher office, public advocate is the perfect perch to boost name recognition. That's ideal for Brooklyn Borough President Eric Adams, who's been talking about running for mayor for decades – and has $1.2 million sitting in a campaign account. It could actually make Queens Borough President Katz relevant in the 2021 mayoral race – or have a job to do until 2025. And it's a good option for Bronx Assemblyman Michael Blake, who has been trying to become a national figure as DNC vice chairman. Blake has been palling around with James during her attorney general campaign, and became one of the first candidates to announce with an October 21 press conference.
ESCAPE FROM THE COUNCIL
Robert Cornegy, Rafael Espinal, Brad Lander, Mark Levine, Carlos Menchaca, Antonio Reynoso, Donovan Richards, Ydanis Rodriguez, Ritchie Torres, Jimmy Van Bramer
That's 10 City Council Democrats, at least, who may be interested in the job. Bed Stuy's Cornegy, Bushwick's Espinal, Sunset Park's Menchaca and Washington Heights' Rodriguez have all admitted interest, though Torres, of the Central Bronx, has raised a perfectly legitimate question: Don't City Council members actually have more power than the public advocate? But it's a heartbeat away from mayor, and all these members are out of a job at the end of 2021 thanks to term limits. A new gig now would let them avoid the upcoming rush and earn them some citywide visibility.
BLUE CITY REPUBLICANS
Eric Ulrich, Joe Borelli, Manny Alicandro
There are 3.4 million registered Democrats in the city, and about 500,000 Republicans. It's a long shot, but as Rudy Giuliani would tell you, it's possible – or at least it used to be. Queens City Councilman Eric Ulrich is already testing the waters, hoping to tap into voters' frustrations with the MTA. And if Staten Island City Councilman – and occasional Fox News Trump defender – Joe Borelli seems like a non-starter … he probably is. But Trump got more than 400,000 votes in the five boroughs, and there's a small path to victory if enough Democrats split the vote in the nonpartisan special. Alicandro, a New York City lawyer who mulled a run for attorney general before the state party passed him over in favor of Keith Wofford, is also considering a run.
INEXPERIENCED PROGRESSIVES
Nomiki Konst, Chirlane McCray, Cynthia Nixon, Zephyr Teachout
None of these individuals have held elected office before, but with the office of the public advocate's almost complete lack of responsibilities, it could be a perfect place to start. Konst, a progressive organizer and former reporter for The Young Turks, announced her candidacy in September with an article in the left-wing publication The Intercept. She was a prominent critic of the state Senate Independent Democratic Conference, and will likely try to rally some of that anti-IDC energy for her own campaign.
A run for public advocate is highly unlikely for any the rest of them. New York City first lady Chirlane McCray said Monday she isn't interested, even though she may run for something after her husband is out of office. Nixon and Teachout have grassroots support after their statewide losses, but their failures were worse than Williams'. Plus, the position wouldn't be worth giving up a plum professorship at Fordham for Teachout or a lucrative acting career for Nixon.
IF AT FIRST YOU DON'T SUCCEED …
David Eisenbach, Eric Gioia, Tony Herbert, J.C. Polanco,
David Eisenbach, Tony Herbert and J.C. Polanco all ran for public advocate in 2017 and lost badly to James – Brooklyn-based community activist Herbert dropped out early, Columbia professor David Eisenbach fell in the Democratic primary, and Republican attorney J.C. Polanco lost in the general. All are clearly interested in the position, but a lack the name recognition or the deep base of political support they would need to turn out in a mid-winter special election. Eric Gioia, a former Queens city councilman who ran for public advocate in 2009 and lost, is also reportedly considering a return to politics from banking.
RANDOM STRIVERS
Dan Garodnick, Ron Kim, Danny O'Donnell, Carlo Scissura
Carlo Scissura is the president of a pro-development industry group, the New York Building Congress. Could Scissura run with Big Real Estate's financial support? It all depends on what the rest of the field looks like.
Other candidates face similar questions, like former Manhattan City Councilman Dan Garodnick, whose nearly $1.1 million campaign account could certainly help him. Also interested are Queens Assemblyman Ron Kim and Manhattan Assemblyman Daniel O'Donnell, who were two of the very few elected officials to endorse the anti-establishment slate of candidates running in the statewide primaries. Kim backed Williams and Zephyr Teachout, while O'Donnell endorsed Cynthia Nixon. If they ran, either would be testing if that progressive support pays dividends at the polls.
Powered By
NEXT STORY: Five things to watch for in the Cuomo-Molinaro debate