media
Which corporations get to sponsor WNYC? It's not so black and white.
Which corporations get to air their messages on WNYC? New York Public Radio President and CEO Laura Walker says it's not a simple process.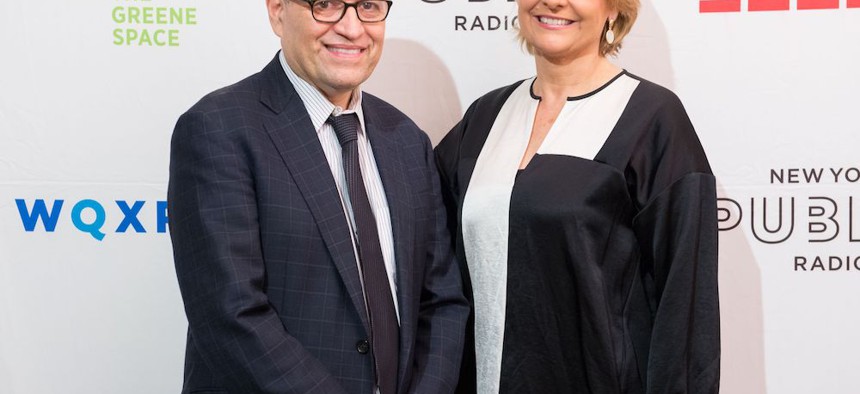 Few news organizations provide an opportunity for members of the public to engage top management with questions about how their enterprises are run or how they screen their commercial sponsors. But New York Public Radio, as a recipient of funds from the Corporation for Public Broadcasting, is required by federal law to do just that under the auspices of its Community Advisory Board.
At the CAB's Sept. 12 public meeting, New York Public Radio President and CEO Laura Walker was the featured guest – and she was a bit on the defensive about how WNYC decides which corporate sponsors are allowed on its airwaves.
One female listener told Walker that she was "appalled" that the public radio company had taken sponsorship money from Purdue Pharma, a drug company that has been probed by the Department of Justice and sued by many states and local governments over allegations that it bears responsibility for the opioid crisis.
"How could WNYC be the vehicle for whitewashing?" the listener asked Walker, the head of the National Public Radio affiliate between WNYC, WAMU and a growing number of podcasts.
"The decision there originally was made in consultation with NPR, with a bunch of other stations that were taking it," Walker answered. Considerable care was taken as to the actual content of the sponsorship spot, she added. "We weren't saying they were great, and they went through a lot of iterations."  
Walker recently pulled the plug on the sponsorship "after Purdue ran for a couple of weeks" and dozens of listeners complained, she said. "Maybe 30 or 40 people wrote in, we got a few phone calls, it might have been a little more than that … and we made the decision we were not going to take them anymore."
It's no surprise that the Purdue sponsorship spurred complaints. The drug manufacturer has been sued by 27 states, Puerto Rico and hundreds of local governments for its role in the opioid crisis, which kills tens of thousands Americans every year. New York state recently filed its own lawsuit. "The opioid epidemic was manufactured by unscrupulous distributors who developed a $400 billion industry pumping human misery into our communities," Gov. Andrew Cuomo said in a statement. The de Blasio administration filed its own half-billion-dollar lawsuit earlier this year.
Purdue denied New York's charges and pointed out that U.S. Food and Drug Administration "continues to approve" of its scientific and medical research, according to Reuters.
Despite the risk of controversy, sponsorships from corporate entities like Purdue are a fast growing share of WNYC's revenue mix, both on air and via podcasts, as City & State reported in July.
Revenue from member pledges, while rising, was surpassed by revenue generated by sponsorships, according to WNYC's latest financials (including 2016 and up until June 30, 2017). While revenue from listeners jumped from $23.7 million to $26.58 million year over year, there has been a seismic shift to sponsorship in just one year. In 2016, sponsorships accounted for $21.5 million. In 2017, sponsorship growth spiked to $30.6 million.
Another controversial WNYC sponsor was The Williams Companies, which was dropped in January after pressure from grassroots anti-fracking environmentalists. The company was building the controversial 125-mile Constitution natural gas pipeline from Pennsylvania in Broome, Chenango, Delaware and Schoharie counties in New York.  
Trellan Smith, one of the anti-fracking activists that pressured WNYC to drop Williams, was back at the September CAB meeting. "WNYC can be a huge voice with NPR in saying we  don't want this sponsorship," Smith said to those assembled at the CAB meeting "They are really untouchable and hard to get through and you can't sit with their president. For WNYC to be really good is even more important."
Walker said she did call up NPR's leadership after she got pushback on the Purdue campaign. "I think I actually convinced (them), I am not sure this is right, both NPR and WAMU, because I also talked to my colleague there, I don't believe they are doing them anymore. So we try to use our voice and share our thoughts and sometimes we make mistakes."
Walker explained to the couple of dozen listeners that attended what was billed as her annual report that such sponsorship deals were "tough decisions" even "if you didn't take money from anybody who was under any kind of investigation or like with Exxon. I was talking to our news director, he had been at the New York Times, the New York Times took a lot of Exxon money  after the Valdez, right? And he was defending that."
Walker said the sponsorship decisions are taken seriously and debated internally. "I bring in the general counsel, certainly, the news head, but we know in our hearts it is about perception. It is not about reality … and I will say, what doesn't really get talked about often is the foundation and individual contributions, which also have a wall but sometimes that wall you find is a little more permeable. … There's a lot of gray."
Attendees also raised concerns about a current radio campaign by Wells Fargo, which has been the subject of multiple federal investigations. In 2016 it was fined $185 million for fraudulently opening 1.5 million bank accounts. In August, the bank agreed to pay a $2.09 billion fine to the Department of Justice for selling thousands of mortgages knowing they contained misleading and incorrect income information, though it admitted no wrongdoing.
Yet there are signs that WNYC has not shied away from scrutinizing the corporate entities that have run paid sponsorships with the radio station. In September, WNYC partnered with other news organizations on reports that were critical of The Williams Companies and its ties to elected officials in New York.
And last year, WNYC ran a segment on the allegations against Purdue. In an October edition of "Money Talking," Charlie Herman spoke with The New Yorker writer Patrick Radden Keefe about his piece "The Family That Built an Empire of Pain," which described the Sacklers' role in the opioid epidemic.
"As health professionals and policymakers push for more funding to tackle the crisis, one group of people has remained largely quiet: the Sacklers, the family behind the pharmaceutical company Purdue Pharma that manufactures OxyContin," WNYC reported.
On Wednesday night, the public will have another opportunity to get a look behind the scenes. The CAB will hear from Jen Chung and Jake Dobson, the Gothamist co-founders, about their plans for the future for the popular hyperlocal news website that New York Public Radio acquired earlier this year.
The deal came just a few months after Gothamist and DNAinfo, another hyerlocal news site, had been shut down by owner Joe Ricketts after the workforce had voted to join a union. Ricketts and his family are major Republican donors as well as ardent supporters of Wisconsin Gov. Scott Walker, whose anti-public union crusade won him a national following.
New York Public Radio has several job openings at Gothamist, but a press spokesperson for the nonprofit said they are not union positions. Roughly 170 members New York Public Radio's 600-person workforce are members of the SAG-AFTRA bargaining unit. When the station was municipally owned, a much higher percentage of the staff were unionized but belonged to AFSCME's District Council 37.
Wednesday's CAB meeting is at 6:30 p.m. in the station's Jerome L. Greene Space, located at 44 Charlton St. in Manhattan.
Editor's note: Bob Hennelly was a reporter at WNYC from 2002 to 2013, when he resigned. He subsequently has appeared on WNYC's "The Takeaway" and "The Brian Lehrer Show" and continues to pitch segments to the station.