Campaigns & Elections
'Blue wave' and Amazon come to New York
Amazon is coming to Long Island City, but not before the Blue Wave. Rounding up the week's political news.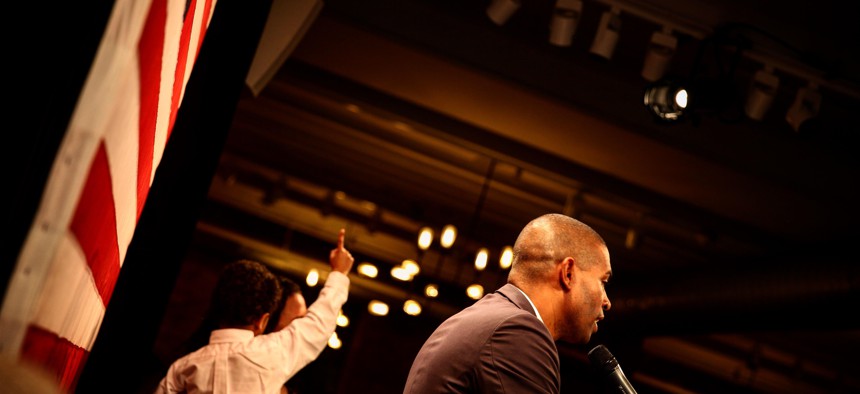 On the lighter side of the news, an exotic duck residing in Central Park has recently captured the attention of New Yorkers. The mandarin duck, dubbed "Mandarin Patinkin," has been a mainstay at the park for weeks now. But suddenly, eager bird-watchers could no longer find the brightly colored fowl, and social media erupted. But worry not, because he soon returned to his pond in Central Park. Now, for the rest of the nonbird-related news of the week.
'Blue wave' hits New York
Although the "blue wave" may not have been as strong as some predicted nationwide, it certainly was in New York. The state Senate flipped blue, with Democrats picking up as many as eight seats, giving them a comfortable majority in the chamber. Republican Reps. Dan Donovan, Claudia Tenney and John Faso each lost their re-elections as well, although Tenney has not yet conceded. Gov. Andrew Cuomo decisively won his re-election against Marc Molinaro, and Letitia James became the first black woman elected to statewide office by winning the attorney general's race. However, the indicted Republican Rep. Chris Collins appears to have hung on by a thread, squeaking out a victory against Nate McMurray, who has also not conceded.
Amazon coming to Queens
Although not finalized yet, Amazon is eyeing Long Island City, Queens, to be home to one of its two new headquarters. Originally planning to build only one, the company decided to split its HQ2 between two locations, the other one likely sited in Northern Virginia. Just hours before the news broke, Cuomo had joked that he would change his name to "Amazon Cuomo" if the e-commerce giant chose New York. However, questions remain about how the headquarters, and the 25,000 employees it could bring with it, would affect the neighborhood – and whether government subsidies are warranted.
No charges for Schneiderman
Disgraced former state Attorney General Eric Schneiderman, who resigned in May amid assault allegations, will not face criminal charges. The decision by prosecutors came after a six-month investigation into the allegations, first detailed in The New Yorker. Nassau County District Attorney Madeline Singas, who led the investigation, said that while the women who accused Schneiderman were credible, there were too many legal hurdles to proceed. One accuser said she felt "vindicated" when Schneiderman admitted to abusing her, but also demanded he donate his remaining campaign cash to groups that combat sexual violence.
Voting woes in New York City
Voters looking to cast their ballots in New York City on Election Day confronted long lines and malfunctioning machines. Some polling places had hourslong delays thanks to multiple ballot scanning machines breaking down. New York City Board of Elections Executive Director Michael Ryan blamed high turnout and the wet weather for the problems, because apparently the current systems are not designed to handle either. City Council Speaker Corey Johnson took to Twitter to criticize the BOE, and called for Ryan to resign.
NYC ballot initiatives pass
All three proposed changes to the New York City Charter put on the ballot by Mayor Bill de Blasio's Charter Revision Commission passed. Enough people voted "yes" despite opposition from several elected officials and editorialboards to the changes, which include lowering the contribution limit for candidates in the city's matching funds program, establishing a Civic Engagement Commission and imposing term limits on community board members.