New York State
How Democrats finally did it on Long Island
The region's large Republican state Senate delegation is no more. Here's why.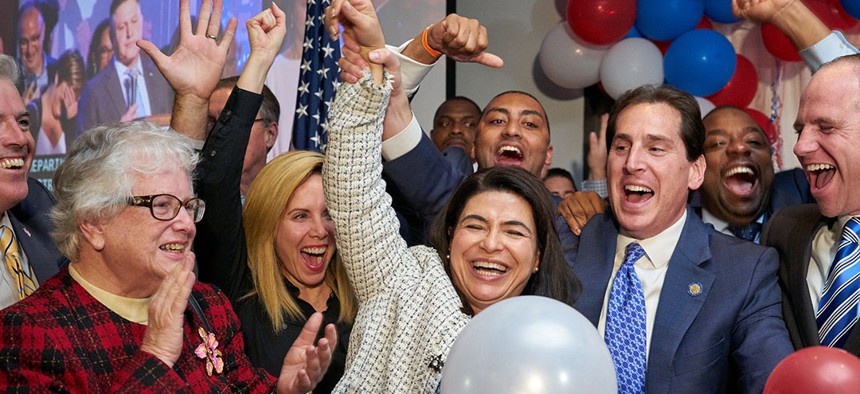 Long Island emerged on Tuesday as the pivotal swing region in New York Democrats' new state Senate majority. Breaking through in a way the party never has before in Nassau and Suffolk counties, Democrats ended election night with five (and perhaps six) of the nine Long Island state Senate seats, up from just two. The victories by state Sens. Todd Kaminsky and John Brooks, as well as Anna Kaplan, Jim Gaughran and Monica Martinez (and the victory claimed by Kevin Thomas) shattered Republicans' last downstate bulwark and provided the foundation for a Democratic state Senate majority of somewhere between 36 and 39 members in Albany.
That result was the outcome of a concerted Democratic focus on Long Island, culminating in the party's state Senate leadership showing up at the Nassau County Democratic Party's party at the Garden City Hotel on election night. Democrats' focus on flipping Long Island was evident from the start of the campaign season. Gov. Andrew Cuomo personally recruited candidates and built a nine-point platform he campaigned on with them. "We drove the knife through the heart of the Long Island Nine," state Sen. Michael Gianaris, who spearheads the conference's elections efforts, told City & State on Tuesday night, referring to the GOP's historic grip on most if not all of the region's state Senate delegation.
State Senate Democratic Leader Andrea Stewart-Cousins, who addressed a screaming crowd in Garden City before even any of the night's winners did, is a suburban legislator herself. Her presence at what became an unofficial state Senate victory rally was a signal that Democrats are trying to show suburbanites – who have historically been skeptical of unified Democratic control of the state government out of fear that it will lead to policies favoring the five boroughs – that they are not just New York City party. "We're going to have a very good representation for Long Island in the state Senate," Kaplan, who made being part of a Long Island bloc in the state Senate part of her appeal to voters, told City & State. "I'm going to suggest we have a Long Island caucus."
Kaplan, Gaughran and Nassau County Democratic Party Chairman Jay Jacobs all credited the party's volunteer operation as making the difference for Democrats this time around. Candidates across the island were aided not only by the party, but by a slew of activists working from New York City and on Long Island itself working to boost Democratic turnout.
Brooks said national Republican policies that were unpopular on Long Island, such as the new federal tax law that takes money from blue state voters and gives it to rich red staters – and the way local Republicans reacted – contributed to the Democratic revolt. "The penalties being put on us in New York by the federal tax laws was absolutely punitive," he told City & State, "and the failure of the (state) Senate Republican majority to address the impact of the tax law, walking away from that, sent a clear message."
And there's the simple fact that in every district Democrats won, they had thousands more registered voters than Republicans did, which translated to a larger advantage in today's partisan political environment than in years past.
Before Jacobs took to the stage and announced the results of the night's state Senate races, the mood in the Garden State Hotel's Kingsley Room was somewhat muted. Partygoers weren't exactly nervous as they drank $8.50 beers and $13 cocktails, but the mixed bag for Democrats nationally and the long wait for state Senate results kept the excitement under wraps. But the vibe was rollicking by 11:30 p.m., with "We Are The Champions" playing from the speakers after a new state Senate majority had been announced on the strength of victories in Nassau and also in the Hudson Valley.
Possibly as impressive for Democrats as their flipping seats in a midterm election, when turnout by their voters has traditionally been low, were the often-wide margins of the victories. Brooks, despite the resources that Republicans put into taking back his seat, which he won by only 300 votes in 2016, never appeared threatened all night and eventually won by 10,000 votes. Kaplan and Gaughran also won by 10,000-vote margins in districts where Democrats fell short by around 3,000 and 2,000 votes in 2016. "It surprised even me," Jacobs told City & State after announcing Kevin Thomas had won his race against Republican state Sen. Kemp Hannon. "I knew we were seeing a blue wave in Nassau, I knew it, but I didn't think it would be at this level."
The priorities of the new majority's supporters, based on shouts from the crowd during victory speeches, included Medicare for All, the Child Victims Act, the Reproductive Health Act and voting reform – the latter being a measure that could expand the electorate and reinforce Democratic power.
Asked her priorities in Albany next year, Kaplan rattled off the "Reproductive Health Act, safe gun laws, Child Victims Act," while Gaughran went with "gun safety, ethics reform, voting reform, Child Victims Act." They're the kind of issues that suburban voters averse to high taxes and runaway spending can get behind, and they are some of the more sought-after Democratic goals that have been stymied by the state Senate's Republican majority. And although some members of the Long Island coalition like Kaplan and Kaminsky lean toward cautious moderation, other winning candidates, like Gaughran and Thomas, ran in support of the New York Health Act, which would create a statewide single-payer health insurance system. Thomas, who led Hannon by 1,300 votes at press time, said "it's not true" that suburban voters are afraid of single-payer and his victory showed it.
Thomas' win shows just how much the ground may have shifted under Republicans' feet. Rather than trying to convince Republicans to switch their votes, Thomas' campaign manager Sam Molik said the Obama and Clinton victories in the district in 2012 and 2016 prompted the campaign to focus on basic voter outreach and reminders that the down ballot races existed. "There were a lot of people who were never talked to about the importance of filling out the ballot all the way down the row, not just voting at the top of the ticket," he told City & State. "And that's what we did, we focused on that."