New York City
NYC public advocate race the talk of Somos
Jumaane Williams, Michael Blake and Melissa Mark-Viverito are hot topics at the Puerto Rico conference.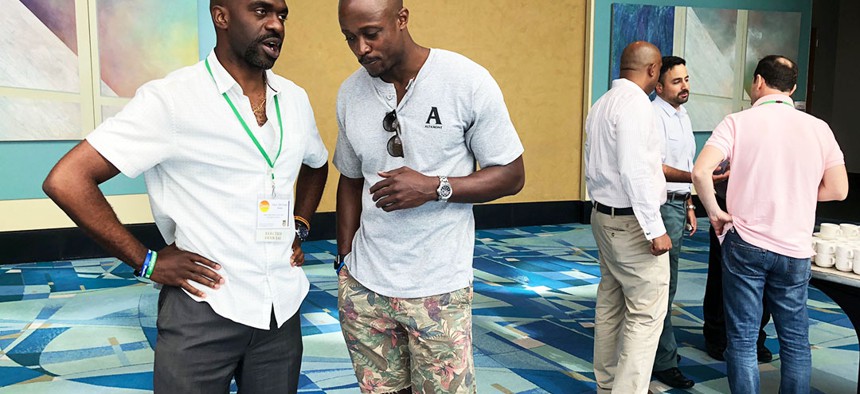 Walking around the Puerto Rico Convention Center Friday afternoon, one could hear the same names peppered into conversations, both English and Spanish: "Melissa." "Blake." "Jumaane."
The people with those names – former New York City Council Speaker Melissa Mark-Viverito, Assemblyman Michael Blake and New York City Councilman Jumaane Williams – are three of the top candidates for New York City public advocate, and chatting about who has the best shot has become the most popular parlor game of the annual Somos conference.
Experienced attendees of the annual post-election political event in Puerto Rico say each year has a theme. Two years ago, it was all about President Donald Trump. In 2013, it was all about the race for New York City Council speaker (which Mark-Viverito, who is from Puerto Rico, went on to win). This year, it's all about who will succeed New York City Public Advocate Letitia James, now that she has been elected as state attorney general.
Once James takes office on Jan. 1, New York City Mayor Bill de Blasio will have to call the first citywide special election in modern history, likely for late February. And though some lawmakers have been considering a bid since the moment James announced her candidacy for attorney general in May, the run-up to the race is much quicker than a typical election cycle, putting pressure on potential candidates to jump in early and make a splash.
The biggest splash so far was by Brooklyn Councilman Jumaane Williams, who announced his candidacy more than two weeks ago and on Thursday rolled out endorsements from a dozen elected officials, including state Sens. Kevin Parker and James Sanders and New York City Councilman Antonio Reynoso, who had been rumored to be considering a run himself. Brooklyn Democratic leader Frank Seddio also gave Williams his support at a closed-door dinner Thursday night in San Juan, a number of Brooklyn political sources also confirmed to City & State. Seddio's support could discourage other Brooklynites who are considering campaigning for the position, like Brooklyn Borough President Eric Adams, City Council members Rafael Espinal and Robert Cornegy, and Assembly members Jo Anne Simon and Latrice Walker. Support from a county organization that can drive turnout to the polls could be particularly important in a mid-winter special election that's unlikely to draw much enthusiasm from those outside the political world.
Williams, not long off his losing primary campaign against Lt. Gov. Kathy Hochul, is a hot topic in San Juan, but he's not here himself, since he has a fear of flying. Instead, his campaign chair, Assemblywoman Rodneyse Bichotte, is doing the rounds as his surrogate.
Williams' absence gave Assemblyman Michael Blake a chance to second guess his rival in an interview with City & State at the convention center on Friday. "You can't ignore the fact that you have a who's who here for two-plus days," he said of the Somos conference. "Being here sends a message if you're serious or not."
Accompanied by Bill Hyers, the political consultant who helped orchestrate de Blasio's come-from-behind mayoral campaign in 2013, Blake laid out his path to victory, sometimes yelling to be heard over the live salsa band blaring upstairs. He's an unequivocally pro-choice black man – while Williams, who now supports a women's right to an abortion, was far less clear in past statements, which proved to be a soft spot for opponents to target in the lieutenant governor's race. Blake also said he's a strong advocate for New York City Housing Authority tenants and comes from a union household, which could help him as he makes his case to labor unions.
But Blake's strongest asset may be money. Blake is a vice chair of the Democratic National Committee, with a reputation as a good fundraiser. He wouldn't confirm how much money he has raised so far, but projected confidence. "I think when the filing comes out, people will see that we're serious," he said.
Manhattan City Councilman Ydanis Rodriguez was also gathering support at Somos, though he hasn't yet officially entered the race. He worked the room at Thursday night's welcome party at the Museo del Arte de Puerto Rico, and stayed on past midnight at the lobby bar at the El San Juan Hotel. A Rodriguez campaign would likely focus on his story as a Dominican immigrant who would represent all immigrants in the city, though he may have a tougher time earning Latino support if Mark-Viverito enters the race. Rodriguez also suggested he could be seen as more development-friendly than Williams, but a real estate source said neither were likely to get much financial help from the deep-pocketed industry, which would prefer somebody like Blake or former City Council Speaker Christine Quinn.
Mark-Viverito was also making the rounds on Thursday, though. The Puerto Rico native believes she has citywide name recognition from her four years as speaker and has been making calls and gunning hard to win support from labor unions who like her progressive politics and could turn out voters for the special election. Mark-Viverito is a former darling of the Working Families Party, but seems unlikely to get their support in this race against Williams, who the party backed for lieutenant governor. Still, Mark-Viverito's actions in Puerto Rico have left observers with no doubt that she's running. "She smiled at me yesterday," a political player told City & State. "She never smiles at me."
Other potential candidates were nowhere to be seen. Quinn, who is considering a run, told City & State she would have liked to be in Puerto Rico, but was attending a wedding upstate. City & State didn't see other declared candidates, like Manhattan Assemblyman Danny O'Donnell or Columbia professor David Eisenbach.
Another declared candidate, progressive activist Nomiki Konst, told City & State she was making a statement by skipping out on Somos. "If you actually want to solve the problems of Puerto Rico, it's not going to be solved by a press junket sponsored by multinational corporations, some of which are responsible for the financial crisis on the island," she said in a phone interview. The Somos conference has dozens of sponsors, from drug companies like Merck and Pfizer, tech companies like Uber and Lyft, and unions like the New York State United Teachers.
For now, James remains public advocate, and was on hand in San Juan as a tangible reminder to her potential predecessors of how the post can be a springboard to higher office. De Blasio, for example, went from public advocate to mayor. James will soon be attorney general.
But first, James told a room full of conference attendees attending a panel on affordable housing, she'll be coming out soon with her annual ranking of the New York City landlords with the most housing code violations. "My last worst landlords list – before I lock them up!" she said, as the room burst out in laughter.
Editor's note: This post has been updated to include comments from Konst and a real estate source.
Powered By
NEXT STORY: 'Blue wave' and Amazon come to New York