New York State
Why Liuba can't lose
Democrat Liuba Grechen Shirley may not be able to knock off Rep. Peter King, but she's impressed her party.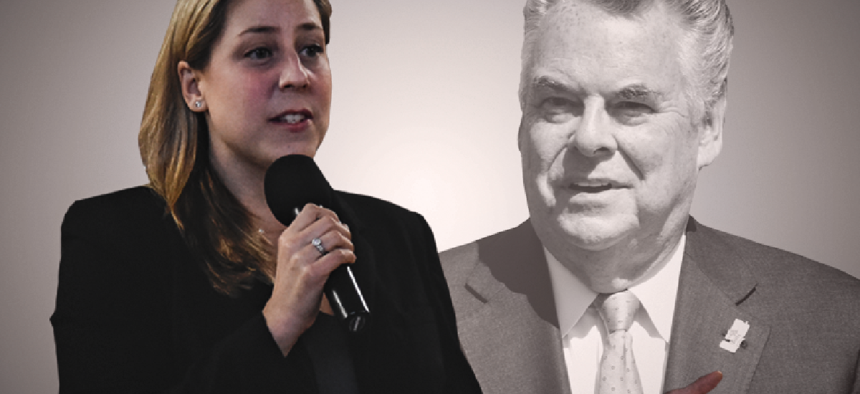 On a cool evening in late October, Democratic congressional candidate Liuba Grechen Shirley was in the basement of the First Baptist Church of Wyandanch on Long Island, preparing to take questions from the 50 or so people gathered there for a town hall. The church's pastor, Bishop Michael Talbert, introduced her, fittingly, with a biblical analogy. "We liken her to David and Goliath," Talbert told the assembled crowd. "And if you have any Bible reference at all, you know who won that fight."
In many ways, the race Grechen Shirley, 37, is running in the 2nd Congressional District is similar to that Old Testament story. The first-time candidate is taking on 25-year incumbent Rep. Peter King, a giant on Long Island, and she faces long odds. Currently, King is the longest serving Republican member of Congress in New York, more entrenched than any other incumbent in competitive races this year, with a record of legislative accomplishment and an image as the consummate Long Islander. There is no public polling in the race, but Grechen Shirley entered the race with no one expecting her to win and she will end it with few observers betting on her to pull it off.
However, Grechen Shirley has run a strong campaign. She put up impressive fundraising numbers, consistently outraising her opponent month after month. The Cook Political Report cited those numbers as one reason they moved district from "Safe Republican" to " Likely Republican. "
Grechen Shirley also became a national feminist hero. At the beginning of the election cycle, when she was still competing in the Democratic primary for the chance to challenge King, she made national headlines when shesuccessfully lobbied the Federal Board of Elections to allow campaign spending on childcare so parents like herself can run for office without the extra burden of personal childcare costs when out on the trail.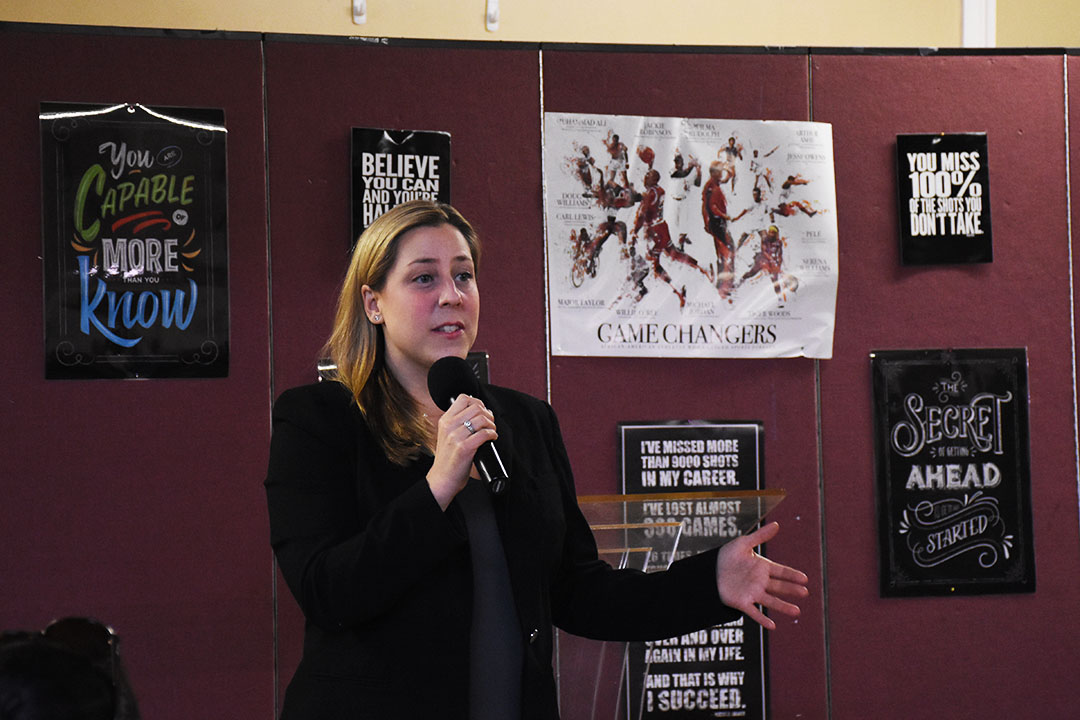 A stay-at-home mom who has worked in economic development, she won her primary without party support and she continues to campaign as an outsider candidate in the general. Her race that could have a lasting impact on the district and potentially propel her to different political office even if she comes up short on Nov. 6. Even if she loses, Grechen Shirley may still come away with a victory for herself, and for the Democratic Party on Long Island.
For his part, King said he is taking the race seriously, but remains very confident that his re-election is not in any real danger. He attributes the media attention Grechen Shirley has been receiving and any momentum behind her as simply part of the "blue wave" that Democrats have been expecting this year. "Everything I'm seeing is very positive," King told City & State while attending a small fundraising dinner for a Suffolk County legislator in Lindenhurst. "Every event I've been to, even non-political ones … I didn't get one negative (comment)."
Hofstra University Dean of Suburban Studies Larry Levy, who has been reporting on or studying Long Island for decades, put it this way: "If there is a big blue tsunami, Peter King is likely to be the last Republican in a competitive district to be washed out to political sea." Though Levy is wary about making predictions, he pointed to King's long tenure and reputation for independence that has earned him both friends and support from across the aisle as difficult obstacles for Grechen Shirley to overcome. As King himself likes to point out, The Lugar Center at Georgetown has him ranked the 10th-most bipartisan member of Congress in 2017. In both 2015 and 2016, he had been ranked number one. King bucked party lines to vote against then-President Bill Clinton's impeachment and vocally challenged Republicans when he demanded more money for 9/11 first responders and increased aid in the aftermath of Superstorm Sandy. More recently, he voted against the federal tax law, citing the state and local property tax deduction cap as a measure that would hurt Long Island. This record has earned him support from moderator quarters, including receivingan endorsement from Newsday and benefiting from a fundraiser former New York City mayor Michael Bloombergheld for him.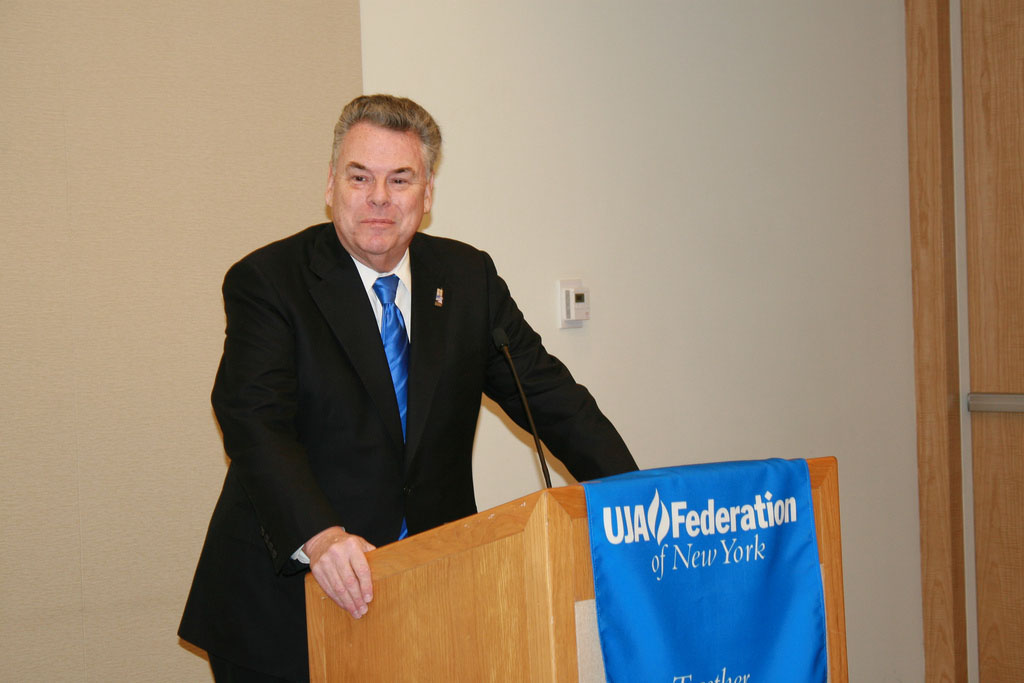 However, Levy noted that the district has changed a lot since King, 74, first took office in 1993. It has been redistricted more than once and the non-white and immigrant population living there has been quickly growing. By demographics alone, the district is split fairly evenly among Democrats and Republicans and would be a prime swing district if King were not such a strong incumbent.
Levy views Grechen Shirley's challenge is one that could put a chink in King's armor. Like Bishop Talbert at the church in Wyandanch, Levy also referenced an Old Testament story, this time comparing Grechen Shirley to Moses. "Moses brought the children of Israel right up to the border, but was not allowed to pass on," Levy said. "He did the hard work in the desert, but it fell to his successors to establish the promised land." In other words, a strong showing from Grechen Shirley on Nov. 6, even if she loses, could lay the groundwork for her or another Democrat, perhaps one with governing experience, to unseat King in 2020. She and her party could also be well-positioned to pick up the seat when King retires.
Currently, CNN is forecasting King will win by a 10-point margin, far closer than his last election in 2016, when he won by 24 point. FiveThirtyEight has the race even closer, with Grechen Shirley coming within five points of King. These outcomes, according to Levy, could demonstrate enough vulnerability for Democrats to view the swing district as one they could win in a presidential election year, when conditions are generally more favorable for Democratic turnout.
And Grechen Shirley herself will likely come out of the race with a bright political future. "I think she's made a name for herself no matter what," Long Island political consultant and pollster Mike Dawidziak. "I think she comes out a winner out of this no matter what."
Dawidziak, who lives in King's district, said Grechen Shirley also has not worn out her welcome over the course of her long campaign, something that can often happen to challengers. "Sometimes, you get really tired of a particular race because they're so nasty on each other. Even as a campaign professional, you get tired of it after a while," Dawidziak said. "This hasn't been that kind of race. It's the kind of race where you can kind of like both candidates."
Grechen Shirley's race has also been a grassroots-building exercise for the left that may pay dividends in future races. Helping Grechen Shirley build this race, even before she officially announced her candidacy, has been The Arena, a progressive group that emerged after the 2016 election to support and train first time candidates like herself. The Arena has heavily invested its energy in the 2nd Congressional District race, according to co-founder Ravi Gupta, because it felt she was a strong candidate who could go toe-to-toe with King. "From our perspective, we knew coming in that we had an opportunity to get Peter King where he is now, which is basically irritable, dismissive of his constituents and defending a record that's out of touch with his district," Gupta said.
Although Gupta would not speculate about Grechen Shirley's potential loss, remaining confident she would win this year, Gupta alluded to Grechen Shirley and the district's political future. "This is long-term too, and I think one of the reasons people love Liuba as a candidate is that the infrastructure she's building has a real shot at lasting beyond this election and the people that she has excited are not going away."
Grechen Shirley said that even though people called her crazy when she started, her campaign has been holding King accountable in ways he has never been before. "For a long time, people haven't paid attention to his voting record, but, this year, people are paying attention," Grechen Shirley told City & State shortly before addressing a town hall Wyandanch. "People are excited."
Powered By
NEXT STORY: NYC Charter Revision Commission: The three ballot questions explained