City & State's best of Page Five
The good, the bad and the silly.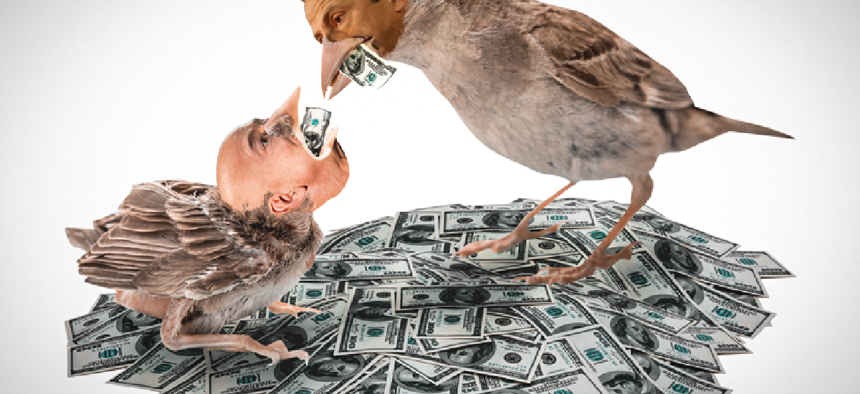 The New York Post has Page Six. And while it may not be well known outside the office, City & State has Page Five. In every weekly print edition, we save the fifth page to produce something that tells a story visually – whether it's a different take on the latest news, an informative numbers-based graphic, or simply something silly or irreverent. Here's a list of our favorite Page Five features in the past year.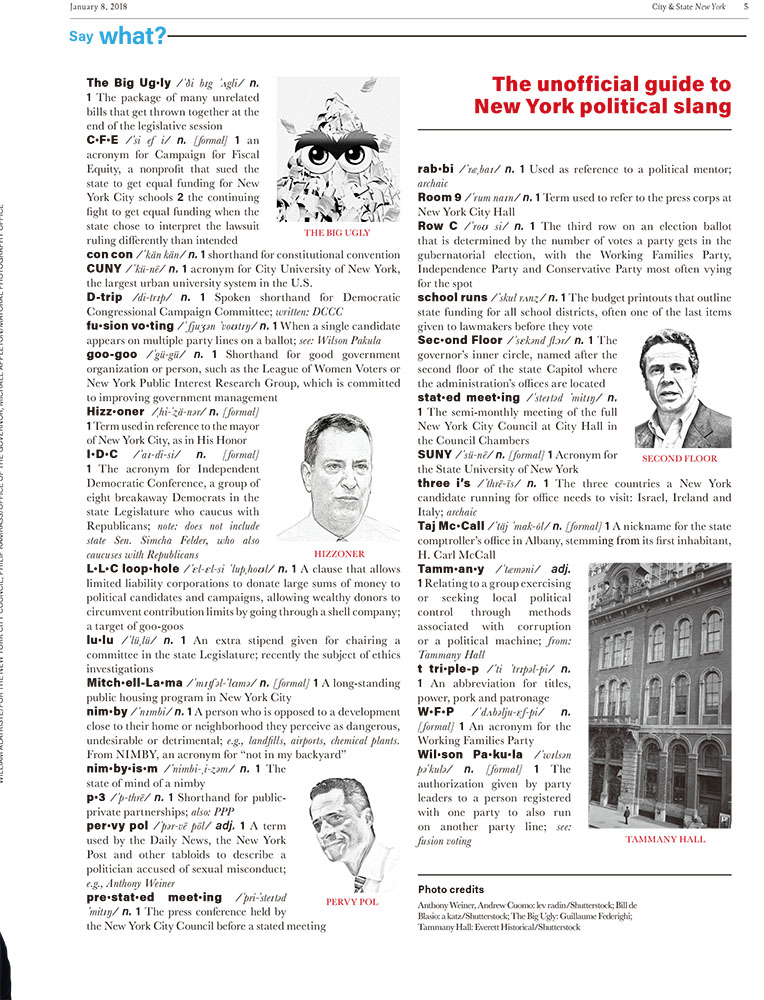 Jan. 8, 2018
"Lulu"? "Goo-goo"? "Big ugly"? To the uninitiated, New York political slang can sound more like playground gibberish. Now that session is beginning in earnest, it's time to brush up on your Albany lingo.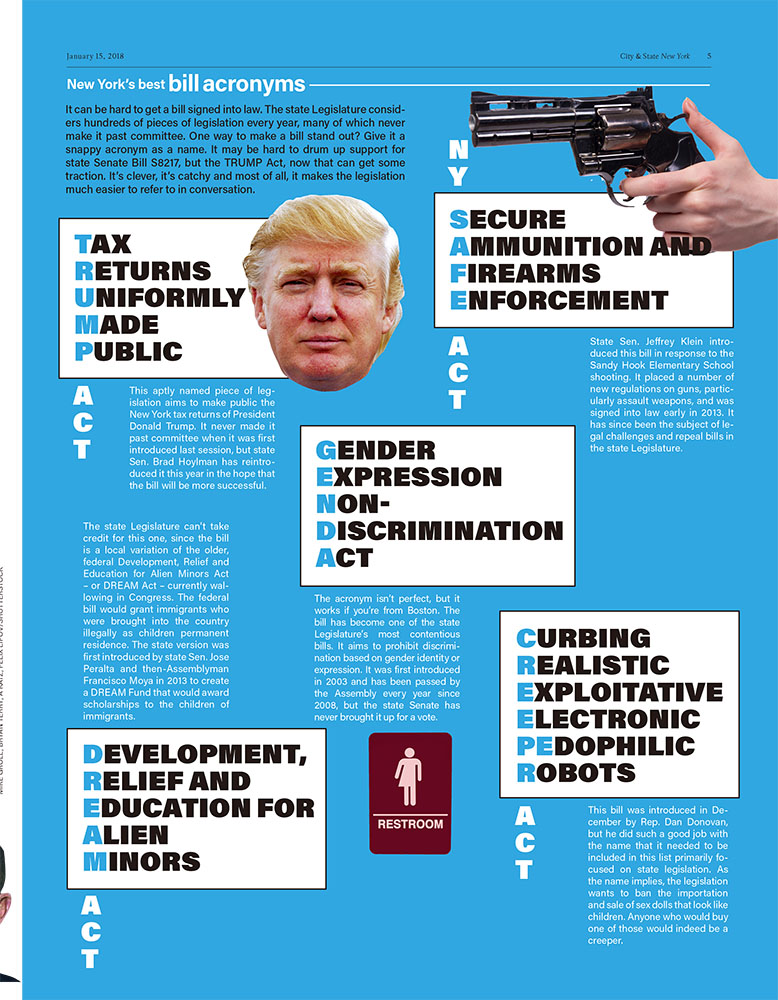 Jan. 15, 2018
It can be hard to get a bill signed into law. The state Legislature considers hundreds of pieces of legislation every year, many of which never make it past committee. One way to make a bill stand out? Give it a snappy acronym as a name. It may be hard to drum up support for state Senate Bill S8217, but the TRUMP Act, now that can get some traction. It's clever, it's catchy and most of all, it makes the legislation much easier to refer to in conversation.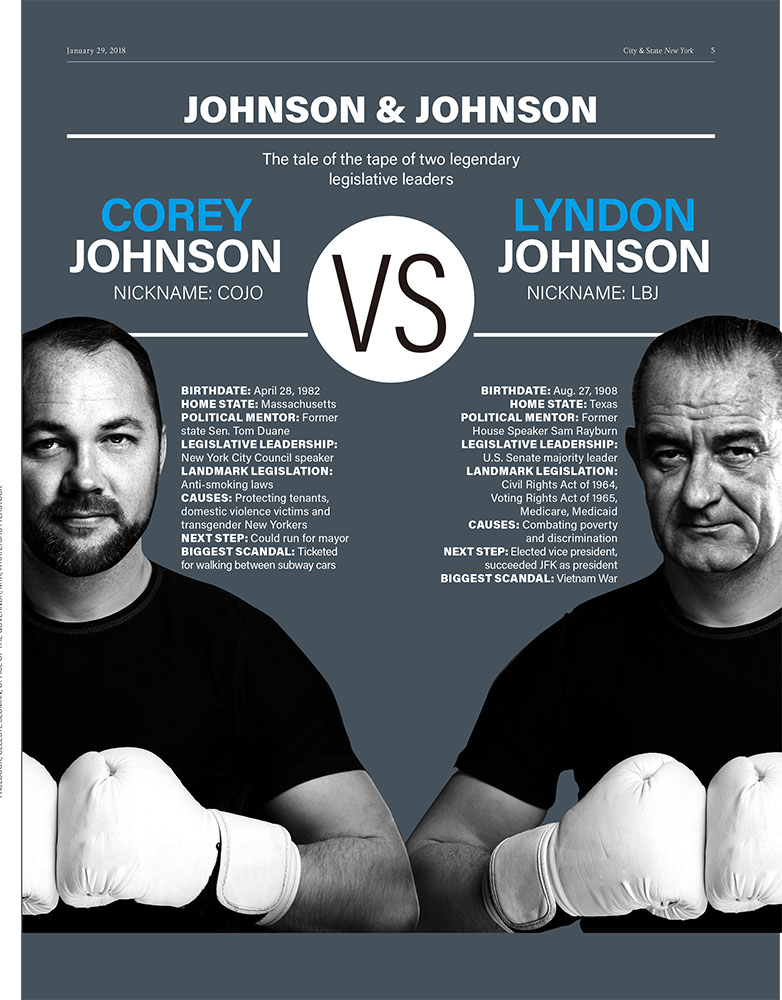 Jan. 29, 2018
Both men have led important legislative bodies. Both have earned reputations for arm-twisting behind the scenes. And the two even share a last name. So how do New York City Council Speaker Corey Johnson and former U.S. Senate Majority Leader Lyndon Johnson compare otherwise?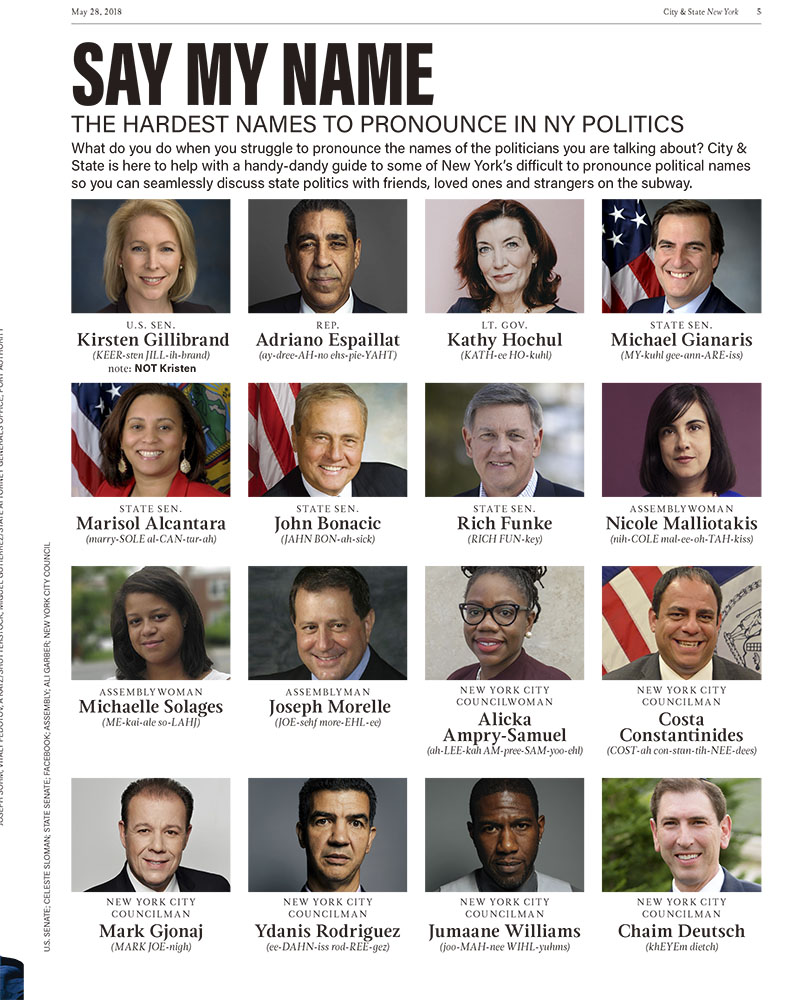 May 28, 2018
New York politics can be confusing. For years, the breakaway Independent Democratic Conference helped Republicans maintain control of the state Senate. Another Democrat, state Sen. Simcha Felder, still caucuses with the GOP. In the Assembly, Democrat Erik Bohen ran and won as a Republican and now can't caucus with either conference. Actress Cynthia Nixon, who shares a last name with (but is not related to) former Republican President Richard Nixon, is challenging Gov. Andrew Cuomo in the Democratic primary. 
If that's not confusing enough, what do you do when you struggle to pronounce the names of the politicians you are talking about? City & State is here to help with a handy-dandy guide to some of New York's difficult to pronounce political names so you can seamlessly discuss state politics with friends, loved ones and strangers on the subway.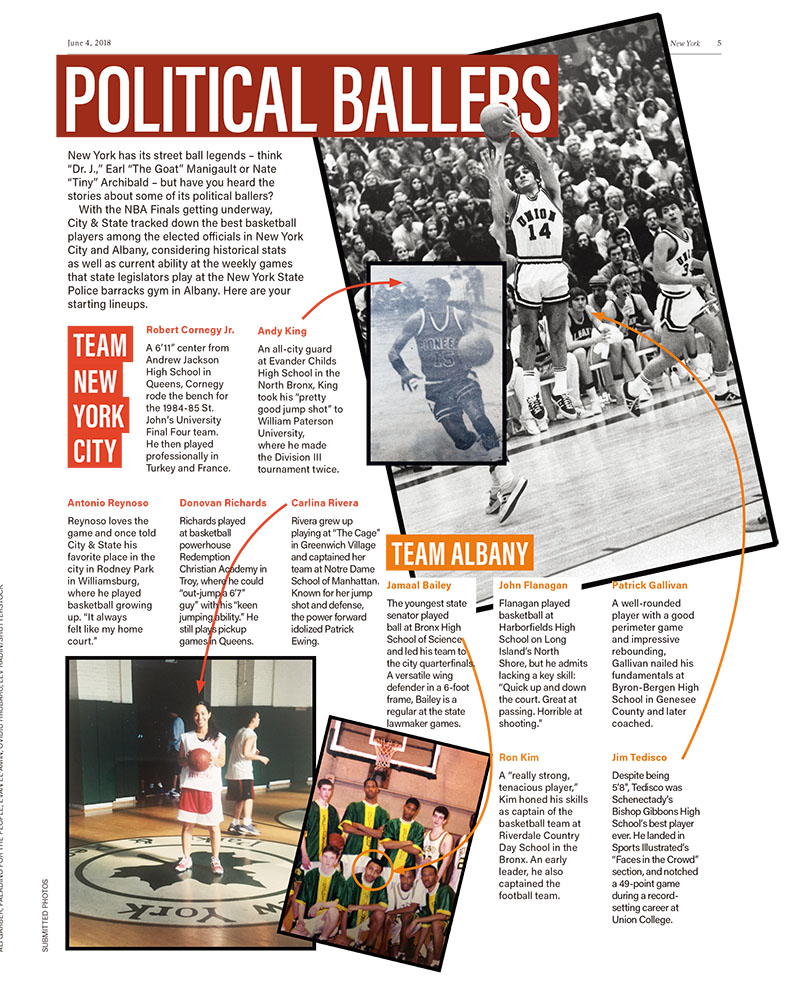 June 4, 2018
New York has its street ball legends, but have you heard the stories about some of its political ballers? There's David Paterson, the legally blind politician who could still steal the ball from Mario Cuomo. Or Cuomo himself, whose passion for the game exceeded his skills, but was a relentlessly competitive bruiser. His son Andrew plays too, and once made the unlikely claim that he injured his hand by hitting it on the 10-foot-high rim. And rumor has it that Ruben Diaz Jr. and Carl Heastie once made a great pick-and-roll combo.
With the NBA Finals getting underway, City & State tracked down the best basketball players among the elected officials in New York City and Albany, considering historical stats as well as current ability at the weekly games among state legislators at the New York State Police barracks gym in Albany. Here are your starting lineups.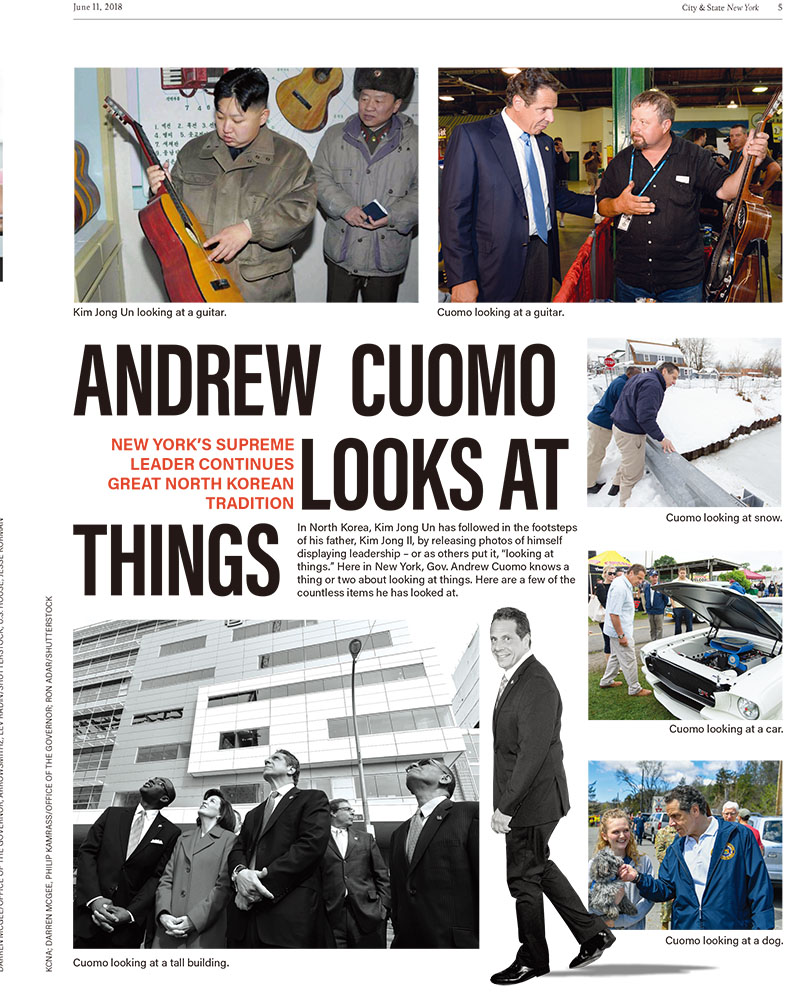 June 11, 2018
In North Korea, Kim Jong Un has followed in the footsteps of his late father, Kim Jong Il, by releasing photos of himself displaying his leadership – or as others put it,"looking at things." Here in New York, our own fearless leader knows a thing or two about looking at things, too. Here are ome of the countless other items Cuomo has looked at.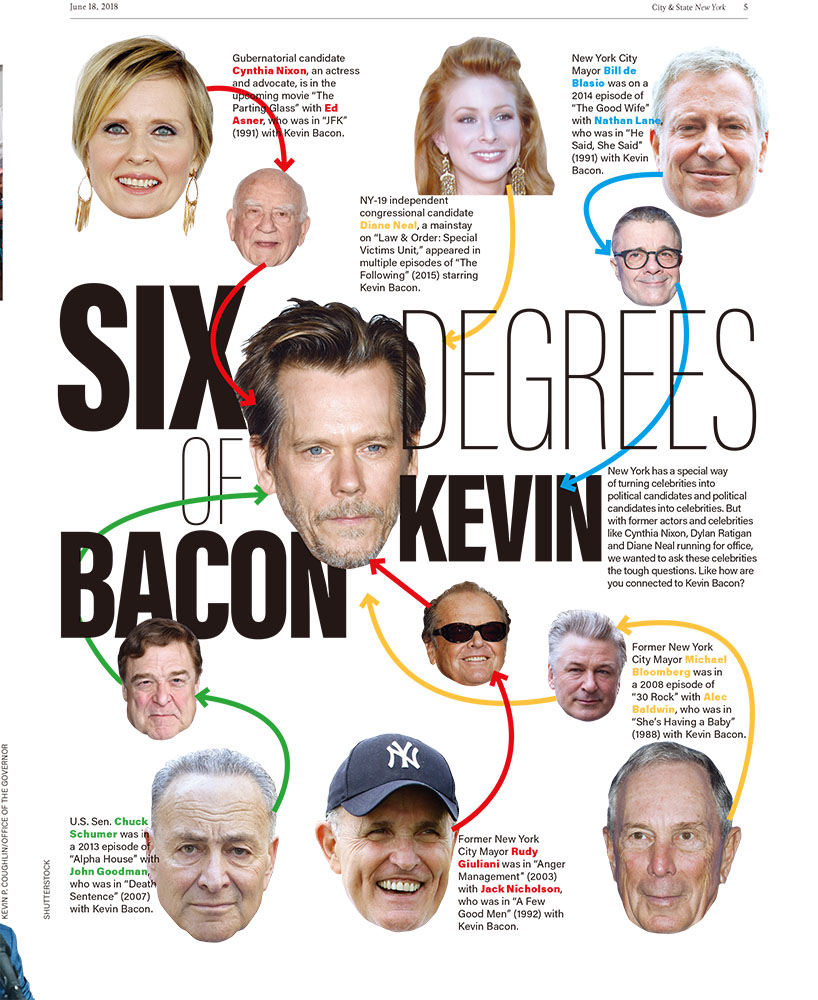 June 18, 2018
New York has a special way of turning celebrities into political candidates and political candidates into celebrities. But with former actors and celebrities like Cynthia Nixon, Dylan Ratigan and Diane Neal running for office, we wanted to take a minute to ask these red carpet celebrities the tough questions. Like how are you connected to Kevin Bacon?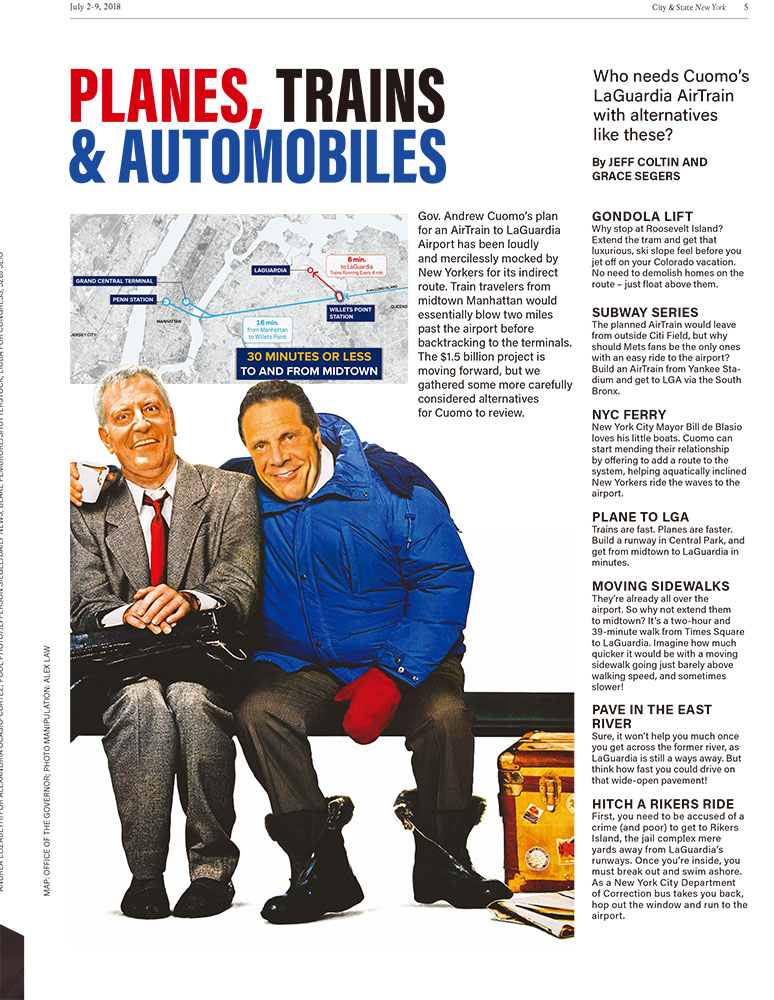 July 2, 2018
Gov. Andrew Cuomo's plan for an AirTrain to LaGuardia Airport has been loudly and mercilessly mocked by New Yorkers for its indirect route. Train travelers from midtown Manhattan would essentially blow two miles past the airport before backtracking to the terminals. The $1.5 billion project is moving forward, but we gathered some more carefully considered alternatives for Cuomo to review.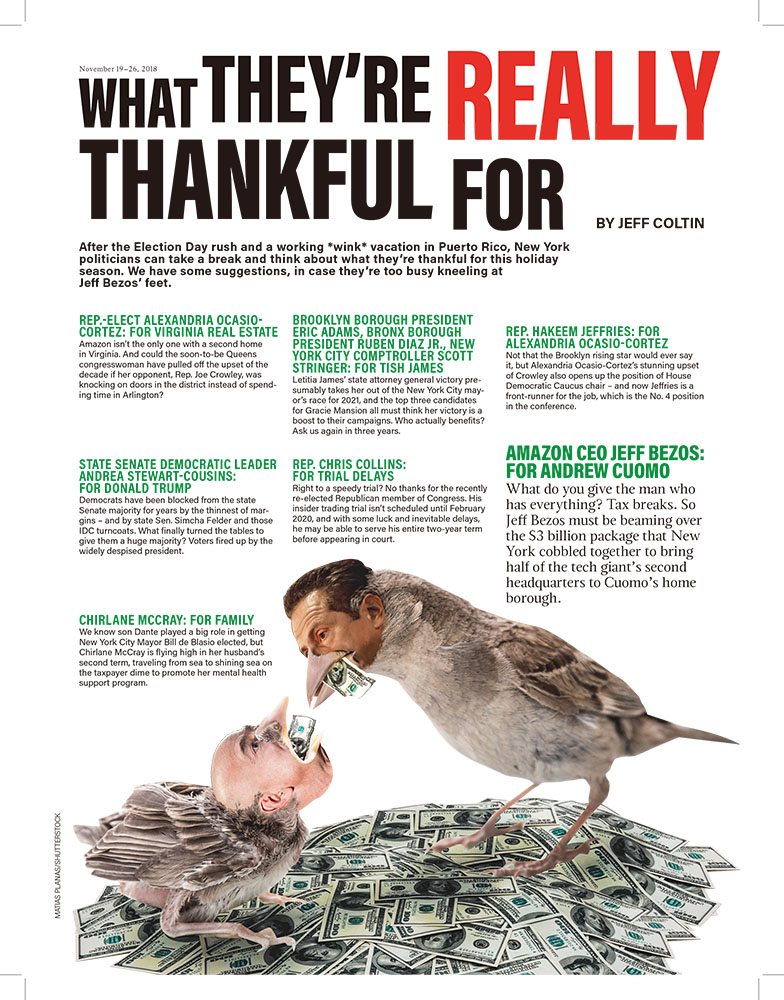 Nov. 19, 2018
After the Election Day rush and a working *wink* vacation in Puerto Rico, New York politicians can take a break and think about what they're thankful for this holiday season. We have some suggestions, in case they're too busy kneeling at Jeff Bezos' feet.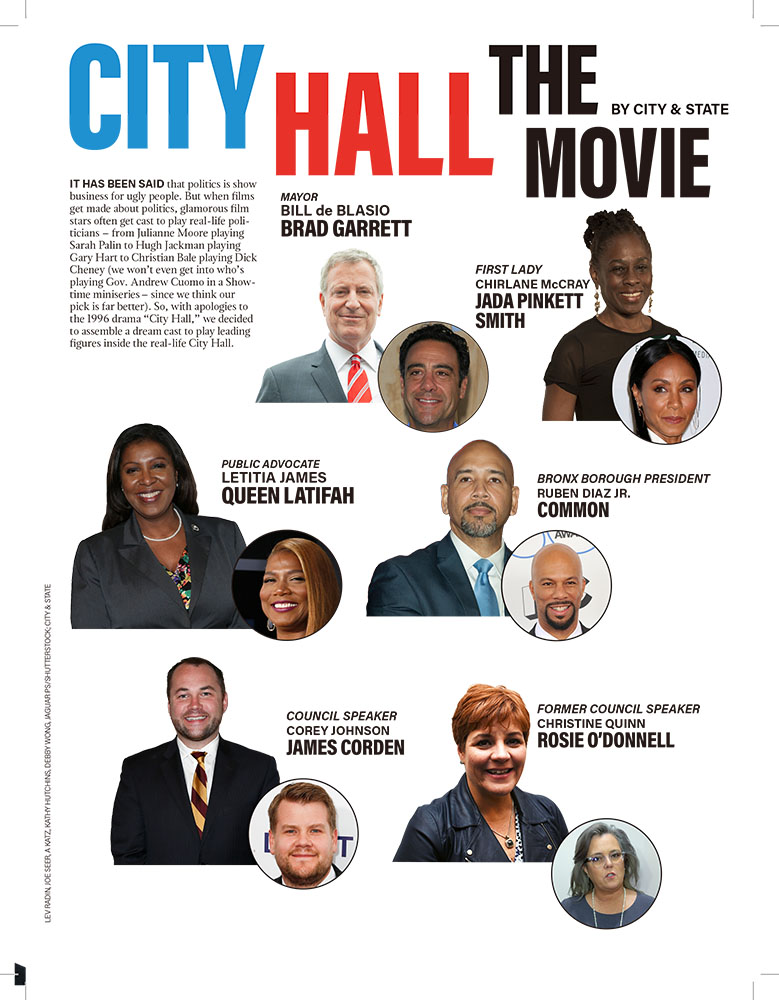 Dec. 10, 2018
It has been said that politics is show business for ugly people. But when films get made about politics, glamorous film stars often get cast to play real-life politicians – from Julianne Moore playing Sarah Palin to Hugh Jackman playing Gary Hart to Christian Bale playing Dick Cheney (we won't even get into 
who's playing Gov. Andrew Cuomo
 in a Showtime miniseries – since we think 
our pick
 is far better). So, with apologies to the 1996 drama "City Hall," we decided to assemble a dream cast to play leading figures inside the real-life City Hall.