New York City
Will de Blasio aim for national audience in State of the City?
New York City Mayor Bill de Blasio will be kicking off his sixth year as mayor with his annual State of the City address on Thursday at 11 a.m. at Symphony Space. Here's what we're wondering about what he'll say.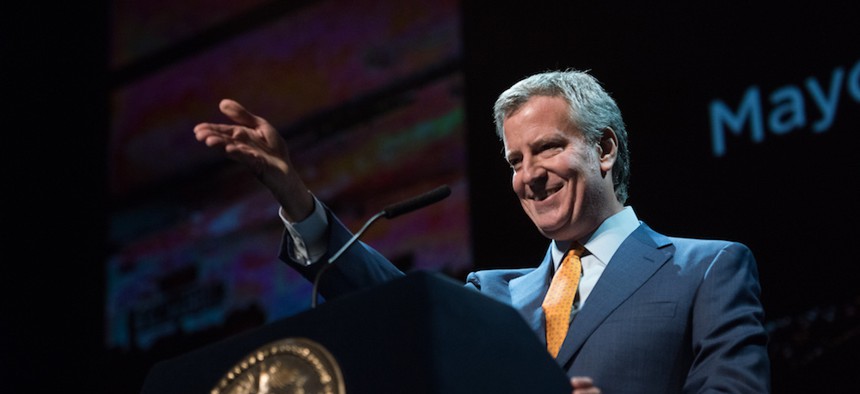 New York City Mayor Bill de Blasio will be kicking off his sixth year as mayor with his annual State of the City address on Thursday, Jan. 10, scheduled for 11 a.m. at Symphony Space, a theater on the Upper West Side. It's an annual opportunity for the mayor to make an extended case for his agenda, highlighting his wins and touting his leadership. It's also an opportunity for bloviating. We'll be weighing which he does more of, and keeping our eye on these other questions.
Will he go national?
The TV networks aren't agonizing over whether to carry the mayor's speech live, like they did with President Donald Trump's Oval Office address Tuesday night. But chances are de Blasio will be speaking as if the nation were watching. He has been testing the waters for a 2020 presidential run and has teased an upcoming national trip to talk about progressive policies. Gov. Andrew Cuomo's inauguration speech earlier this month earned him some national buzz, and it's more than likely de Blasio will try to do the same.
What's new here?
In fact, de Blasio already has taken from Cuomo's playbook, rolling out a couple major initiatives ahead of the speech, namely his Tuesday announcement about expanding and promoting access to primary health care and his Wednesday announcement about mandating two weeks of paid vacation for all working New Yorkers. The mayor suggested there would be a little more to come, but he'll have to introduce more to counter critics who have noted a lack of new ideas in the mayor's second term.
Who will show up?
The New York City Council hasn't been happy with the mayor lately. He slow-walked the rollout of Fair Fares, the council's major budget win last year. Members privately said they felt blindsided by the mayor's health care announcement this week. And council staff noted that the mayor's new paid vacation proposal already existed in concept as a bill sponsored by City Councilman Jumaane Williams.
When Cuomo delivered his inauguration address earlier this month, neither Assembly Speaker Carl Heastie nor state Senate Majority Leader Andrea Stewart-Cousins showed up, apparently signaling a independence from – or a political rift with – the governor. It'll be telling to see how many City Council members and other political figures are in the audience on Thursday.
Of course, anybody skipping may have a simpler reason: Last year's speech was criticized for being a real snoozer.
Will he bother touching hot topics?
One way to ensure it's a snoozer would be to avoid any controversial topics (and no, bashing President Donald Trump doesn't count as "controversial" in this town). It will be telling to see how de Blasio frames Amazon's decision to grow in Queens, if he mentions it at all. And how will he talk about the New York City Housing Authority, as his government puts together a rehabilitation plan attempting to avert a federal takeover?
It'll also be fascinating to see what the mayor says about the Metropolitan Transportation Authority. De Blasio has rightly emphasized time and time again that he does not have much power over the MTA, but both Cuomo and New York City Council Speaker Corey Johnson have talked recently about changing that. Will the mayor back them, or keep his distance?
Why is he doing it so early?
De Blasio delivered his State of City on Feb. 13 in 2017 and 2018, and it was also in February the three years before that. This year, he's speaking on Jan. 10, before Cuomo's budget presentation and before Trump's State of the Union. That early date could be a way to get his agenda in front of Albany early. De Blasio always has a long wish list for the state government, but this year's Democratic takeover provides his best chance to get MTA funding increased, bail reform passed and election laws reformed, among other proposals that have been stymied by the state Senate's previous Republican leadership.
Another, vainer theory? Johnson has been stealing the mayor's spotlight. So de Blasio could be feeling the pressure to kick off the new year with more tweets and a big speech.