New York City
Fact-checking the second NYC public advocate debate
Evaluating the debate claims of the leading candidates in the New York City public advocate's race.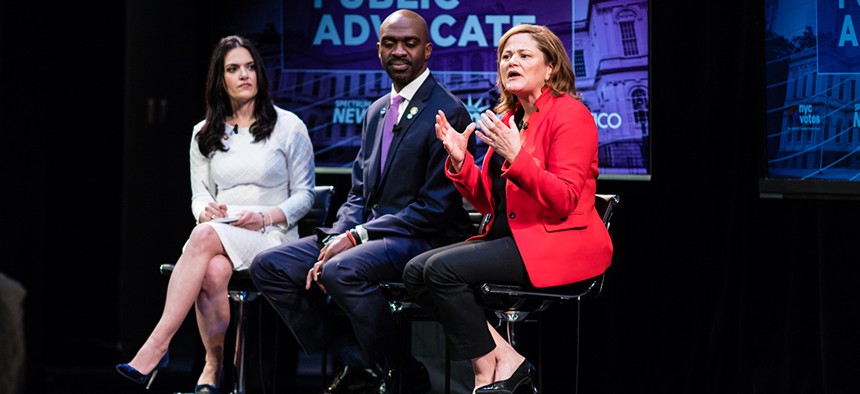 Seven candidates for public advocate squared off in the second and final official debate ahead of Tuesday's special election, and there was no shortage of attacks and accusations. In order to hold the candidates accountable for their assertions, we fact-checked some of their more outrageous – or simply intriguing – claims.
Here's what we found.
Claim: Melissa Mark-Viverito didn't respond to NYCHA residents' lead paint problems.

Debate response: Former New York City Council Speaker Melissa Mark-Viverito broadly defended her record on the city's public housing authority, saying she was successful in getting NYCHA to be prioritized by the city and the state and that she invested more than $55 million in the authority over her four years as council speaker. She also said "we've had hearings on the lead issue."
Fact check: The City Council appears to have held just one public hearing on lead paint in public housing during Mark-Viverito's tenure as speaker, and it came in her last month, December 2017, soon after the New York City Department of Investigation released a report. But the issue of NYCHA tenants with high levels of lead in their blood had been widely known since at least April 2015 (as the questioner, Assemblyman Michael Blake, noted), when the Daily News reported on matter. Mark-Viverito indeed often talked about NYCHA, but was rarely quoted or mentioned in stories on the lead paint crisis, and she publicly defended then-NYCHA chairwoman Shola Olatoye, who stepped down last year after being repeatedly criticized for falsely claiming that NYCHA was following federal lead paint requirements. Then-Public Advocate Letitia James, by contrast, said at the time that Olatoye should resign.
Claim: Candidates have supported homeless shelters in their districts.

Debate response: When asked if every neighborhood in New York City should get a homeless shelter, and whether candidates have ever opposed or fought against one, the candidates were quick to stress their commitment to the cause. However, both Assemblyman Michael Blake of the Bronx and former Council Speaker Melissa Mark-Viverito, whose old district straddles East Harlem in Manhattan and the South Bronx, said they have opposed to what they claim is an oversaturation of shelters in their communities. Mark-Viverito went so far as to claim there are some neighborhoods in the city that have no homeless facilities, specifically calling out Manhattan's Upper East and West sides.
Blake's two-fold approach to the question began with a recounting of his family's personal struggle with homelessness. "This is not some theoretical conversation for me. This is my life's work," exclaimed Blake. In one breath, the assemblyman said, "We can't say to other communities, you will have more shelters and others will not," yet he declared he has previously opposed the opening of a shelter in his home district of the South Bronx on the grounds that the district has been "oversaturated" with shelters. Blake called for increased equitable distribution of shelters to ensure that the city's neighborhoods share the burden of homelessness.
Jumaane Williams said it's easier to enact change when the conversation on homelessness is had with the community. The councilman touted his firsthand experience when he claimed he supported a Women in Need (Win) shelter during an election year. "The shelter is there," declared Williams.
Fact check: Blake is correct in his claim that there's a disproportionate amount of homeless shelters in the Bronx compared to the rest of the boroughs. Seven of the top 10 community districts for highest shelter entry were located in the Bronx, and three in Brooklyn, according to 2015 data provided by the Department of Homeless Services. And while the population in Queens is nearly twice that of the Bronx's population, the Bronx still housed 148 of the 370 homeless shelters in 2011, while Queens housed 15, according to a report by the New York City Comptroller.
Mark-Viverito said she has both supported and been against shelters in her district which spreads across East Harlem and the South Bronx, citing the areas as having a large number of homeless facilities while claiming some communities have none. The councilwoman took jabs at wealthier neighborhoods such the Upper East and West Sides. "Everyone has a responsibility," said Mark-Viverito. "The Upper East Side cannot be immune to it." Mark-Viverito also claimed other neighborhoods throughout the city that "don't have services" cannot be immune to it.
While the South Bronx, Brownsville and Crown Heights had the highest rate of shelter entry in 2015, a part of Mark-Viverito's district in East Harlem follows not so distantly behind it. There do appear to be homeless shelters on the Upper East Side of Manhattan, although there's no comprehensive listing of shelters across the city. A New York Times analysis also indicated there are shelters in the Upper West Side. Staten Island, the borough with the fewest homeless facilities, had six shelters in its borough in 2013.
The Glenwood Family Residence, which opened in 2014 in Williams' Brooklyn district, is consistent with the councilman's claims made in the debate, according to a spokesperson for Win.
Claim: Jumaane Williams evicted tenants.

Debate response: Konst fired a series of claims at Williams as he urged her to formulate a question. One of the claims: Williams "evicted tenants for being short $300 on their rent." Denying Konst's claims, an emotionally charged Williams pleaded, "I can't possibly answer all of your questions. I have never evicted a tenant." The councilman continued to fire back, urging Konst to stay in her lane regarding issues he said black and brown people have been fighting for decades. "Perhaps as an ally, get involved with the people who've been doing this for so long," he retorted.
Fact check: Williams' frequent tenant woes and responses have been documented several times – and he has openly acknowledged evicting at least one tenant in the past. "One tenant finally left owing me about $14,000," he told Politico New York in 2015. "The second tenant, I ended up having to evict, and that was roughly two months ago, last year, and they left owing about $30,000. So it became very difficult." In the same interview, Williams explained, "Given my background, I really tried very hard to work with the tenants to try to get them to be able to pay the arrears. Unfortunately, they didn't respond favorably."
In the case Konst apparently is referring to, Williams did seek to evict another tenant, the New York Post reported in 2014, although the couple initially owed $1,500 in October 2010 when he initiated eviction proceedings. A few weeks later, they still owed $300. And Williams filed a suit against them in December 2010, when his lawyer claimed they owed $1,825. By the time the case was settled in February 2011, the tenants had agreed to pay $4,575.
The councilman is also the plaintiff in four eviction lawsuits filed between 2010 and 2013. According to documents provided to City & State, Williams is also the plaintiff in a still-active civil case where he's suing former tenants and seeking to collect $22,050 plus attorney's fees and interest penalties.
Claim: Nomiki Konst got money "from Washington insiders who were connected to Steve Bannon."

Debate response: Konst said she didn't know what donation City Councilman Rafael Espinal, who made the accusation, was talking about. Espinal also said that Konst "ran for Congress in Tucson, Arizona, a few years ago," to which Konst said "I was never on the ballot. I did not run."
Fact check: Espinal's campaign told City & State that he was referring to a $2,000 donation to Konst's campaign from Patrick Caddell. Caddell, who died on Saturday, was a longtime Democratic strategist, but aligned himself with President Donald Trump in recent years. He reportedly became a good friend to Bannon, the controversial former Trump campaign strategist. Konst received the donation on Jan. 9, then quickly refunded half of it, $1,000.
As for her previous candidacy, Konst announced that she was running for Congress in Tucson in February 2012. She was born there, and attended college at the University of Arizona. She dropped out of the race at the end of May, well before the August primary.
Claim: Airbnb is not paying its fair share of taxes

Debate response: Nomiki Konst argued that the home-sharing site Airbnb was not paying the taxes it should. "Airbnb is also not paying their fair share of taxes, so they're taking two sides of this right now," she said. "They're extracting from the citizens of New York housing stock, and they're also not paying enough taxes back into New York, which is depleting us of housing stock, which is depleting NYCHA, which is depleting the MTA. At the end of the day, we really have to rein in on these monopolies."
Fact check: Airbnb has acknowledged that it does not collect taxes from its hosts, but the company pointed out that it has been actively seeking to pass state legislation that would authorize it to do so.
"We have been fighting for the past three years to be able to collect and remit taxes on behalf of our New York hosts – something we already do in 28 New York counties, and counting," an Airbnb spokesperson wrote in an email. "In fact, the statewide legislation proposed by Assemblyman Lentol would allow us to finally collect taxes, which we estimate would bring in $100 million in additional annual revenue."
Last August, Airbnb donated $10 million to several nonprofit organizations to draw attention to their attempts to pass the Lentol legislation that would allow them to collect taxes – much in the way that hotels do. The company told The New York Times that the donation represented a portion of what $100 million in additional annual tax revenue could do if the company were able to collect and remit taxes. Most recently, Airbnb struck a deal with Orange County for the company to collect local hotel and motel room taxes on its listings in the county.
Claim: NY1's Errol Louis opposed killing the Amazon deal.

Debate response: During a discussion of the scrapped Amazon HQ2 deal, Nomiki Konst was asked – a second time – to actually offer an alternative to attract billions of dollars and thousands of jobs to New York. She then accused NY1 anchor and debate moderator Errol Louis of having been "very actively opposed to killing Amazon" on Twitter. Louis rejected Konst's characterization, saying he had actually been on Twitter "asking the very question I asked you."
Fact check: Louis has indeed been active on Twitter taking a side on the demise of the deal.
"The collapse of the Amazon deal will stand alongside other famous projects killed by a relatively small group of activists. It is the latest example of New York living out the old expression: 'Don't let the perfect become the enemy of the good,'" Louis said in a video segment posted online, citing the Westway project and a plan to convert the Kingsbridge Armory into a shopping mall as other cases "where so-called progressive politicians allowed middle-class jobs and dreams and hopes to die."
"The collapse of the Amazon deal will stand alongside other famous projects killed by a relatively small group of activists. It's the latest example of New York living out the old expression -- 'Don't let the perfect become the enemy of the good.'" -@errollouis pic.twitter.com/SGUVcw7QRw

— Inside City Hall (@InsideCityHall) February 15, 2019
Louis also got into a back-and-forth on Twitter about the jobs that were "killed," citing an estimated 3,000 union jobs that Amazon would have created.
Here's 3,000 you didn't give a damn about: https://t.co/x3rMgflaC5

— Errol Louis (@errollouis) February 15, 2019
Correction: The Daily News first reported on elevated lead levels in NYCHA tenants' blood in 2015, not in 2016, as an earlier version claimed.