New York City
What can Amazon do to sell its HQ2 plan in New York City?
Experts weigh in on the Amazon's $3 billion deal to build another headquarters in Queens and compare it to similar battles in New York City's history.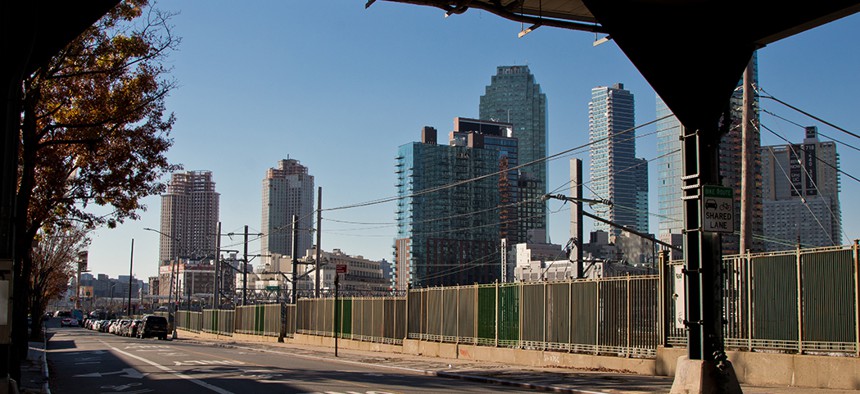 Ever since the announcement last fall that New York City was a winner of Amazon's much ballyhooed HQ2 sweepstakes, the tech company has faced a backlash from some elected officials, activists and inhabitants of the Queens neighborhood where its new offices would be built.
The company has countered by touting the benefits for the Long Island City community and the city as a whole, including thousands of new jobs, billions of dollars in new tax revenue, space for a new school and new tech-oriented training in partnership with local schools.
Still, some elected officials remain unconvinced – including state Sen. Michael Gianaris, a local lawmaker who was recently nominated to an obscure state board that could hold up a portion of the $3 billion in government incentives for the project.
Earlier this week, we asked our readers to weigh in on the matter. As of Tuesday evening, readers were evenly divided on the HQ2 plan, with half in favor and half opposed. Yet a majority – 61 percent – predicted Amazon would ultimately follow through and open a second headquarters in Queens.
A wide range of answers came in response to the multiple-choice question of what Amazon should do – if anything – to make the controversial deal reached with city and state officials more appealing. One in five voters called on the company to invest in subway infrastructure, while 18 percent said Amazon shouldn't do anything extra to sweeten the package. Another 22 percent wrote in their own responses, including Amazon simply rejecting the generous tax breaks offered by the city and the state, finding another site in Manhattan, Brooklyn or upstate, or leaving the state entirely. A number of respondents argued that Amazon should do all of the above – not just subway upgrades, but also investments in public housing and sewer infrastructure, additional hiring and training, and support for unionization efforts.
Now, in this week's "Ask the Experts" feature, we turn to five New York City experts to dig deeper into the issues: Bill Cunningham, a former top aide in the Bloomberg administration who now is managing director at DKC; Suri Kasirer, the founder and president of Kasirer LLC; Jarrett Murphy, the executive editor of City Limits; Julie Samuels, executive director of Tech:NYC; and Joseph Viteritti, chair of the Department of Urban Policy & Planning at Hunter College.
Should Amazon open a second headquarters in Queens?

Jarrett Murphy: I don't know what Amazon should do – Jeff never asks me for advice, for some reason – but I do think local government needs to dramatically revise the terms of this deal. For the city and state to fork over at least $500 million in discretionary subsidies as well as valuable land, and bypass the ULURP process, just to welcome an infamously anti-union company making no substantive local hiring promises and led by the world's richest man is bad policy and just plain wrong. Good-paying jobs are very important, and a more diverse economy is wonderful, but the fiscal cost and civic price must be right. If Amazon does come to New York it will be a major force in local and state politics as it pursues a policy agenda focused on profits rather than the public interest. Those motives would be the same for any company, but Amazon's size, impact on local retail and reach into our personal lives make that prospect unusually problematic. Some of those impacts will be beyond policymakers' control. That's why it is vitally important that the relocation deal – which the mayor, governor and others do control – be as equitable and comprehensive as possible.
Julie Samuels: Absolutely. Amazon's decision to locate its HQ2 in Queens gives Amazon access to all of the amazing people and things that drive New York while also bringing tens of thousands of good jobs to our city. Not only does Amazon's decision help diversify New York City's economy, but it also promises to bring the next generation of tech jobs – specifically to a part of the city that historically relied on manufacturing jobs, which aren't coming back.
Bill Cunningham: I think the city and the state had an obligation to pursue such a massive infusion of jobs, talent and money into the local economy. And so I feel that Amazon should open their second headquarters here. Since it has been announced, it is important to make it work … for Queens and New York City particularly but also to show other companies that the city and the state can deliver so future opportunities do not elude our area. That said, there are issues to address to make it work.
Joseph Viteritti: The prospect of adding 25,000 jobs to the local economy is attractive. But before that happens New Yorkers need more information. They need a public forum for asking questions. Local residents deserve an opportunity to air their concerns. The entire process of negotiation was done in secrecy, which automatically raises suspicion. We need to know in dollars and cents exactly what the city and state have given up and what we can expect in return. We need to know how the move will affect the already burdened transportation system and other public services. We need to know what protections local residents will be afforded against accelerated gentrification that could price them out of their own homes. Decision makers need to be honest about what questions they cannot answer.   
Suri Kasirer: New York City is the global capital of finance and business. More major corporations and public companies call New York City home than any other place in the world. That's a great thing. New York should continue to be a place which is hospitable to businesses and a place where people want to come and contribute. Amazon is a global company that employs over 600,000 people, contributes to economic expansion and is a leader in innovation. Over 238 cities competed in the process and our city's selection should be heralded. I'm confident that Amazon will be a good corporate citizen and that in the long run, their decision to come here will be a positive thing.
What could or should Amazon do to make the agreement more appealing?

Bill Cunningham: Amazon is caught in a political polar vortex. The wind is howling, snow is blowing, and there appears to be no relief. In short, Amazon needs to change the dynamic. They have tried lobbyists, consultants, etc., but the anti-Amazon at all costs opponents are waging an effective guerrilla war with multiple requests, demands and charges. The success or failure here will be laid at Amazon's door for how they deal with these players. So it's Amazon's to lose. Drop the anti-union rhetoric, firstly. If you want to become part of a community, you need to understand that community. Second, now that they've been bloodied at two City Council hearings, there is no reason to not attend every community meeting possible. You get credit here for just showing up in hostile situations. They should not be announcing programs that no one else is aware of, like in the school system. They need to take their negatives – lemons – like their wealth and scope and make lemonade. The 25,000 jobs are 10 years away, so what can Amazon do in the next year or two or five to prove they will be a great neighbor? Finally, they should seriously consider walking away from some of the tax credits and incentives. Just because you are eligible doesn't mean you have to take them.
Joseph Viteritti: An attitude check would be a good start. After announcing that it would give major cities an opportunity to win the prize of its magnificent presence, Amazon acted as though it came to the table with all the winning cards in hand and local leaders did little to alter that impression. The optics of the rollout were horrible. With little substantive information provided, one tangible image that stuck in most people's minds was that of a private helicopter landing pad for Amazon billionaire CEO Jeff Bezos. The arrangement conveyed a sense of entitlement and privilege that does not sit well with your everyday New York City straphanger. One symbolic gesture to demonstrate good faith would be for Jeff Bezos to scrap the heliport idea, and find another way to get to work. Use the money for something that would benefit the community. Then he would be better positioned to participate in the public information campaign outlined above.
Suri Kasirer: The most important thing Amazon can do now is to engage, listen and work with all the stakeholders to make the transition as smooth as possible and beneficial to the local community and the city more broadly. They're doing just that and I think we need to allow that process to play out a bit. However, there've been significant steps taken in just a short period of time. Amazon has already started to fund programs that will directly benefit the community. They've partnered with SUNY, CUNY and LaGuardia Community College to provide a cloud computing certificate program for their students. The program will start in the fall of 2019 and will prepare the students for entry level tech positions. This program will also consist of curriculum development workshops, AWS trainings for faculty, as well as resources to connect the students to relevant tech jobs. Additionally, Amazon has committed to computer science classes in over 130 New York City high schools through its Amazon Future Engineer Program and has committed $5 million matchable by both the state and the city to develop programs to train non-traditional populations.
Julie Samuels: I recognize that a lot of people are concerned about the economic incentives being offered to Amazon, and agree that Amazon can and should make additional investments in the local ecosystem to justify the package. But it is important for us to acknowledge that the vast majority – nearly 85 percent! – of the incentive package comes from pre-existing and established programs. These programs are either permitted or explicitly laid out by a combination of state and city law. These incentives are available to any company and, most importantly, they won't kick in unless Amazon actually brings the jobs and investment to LIC.
It's good we're having a debate about how to use incentives for economic development, but so long as every state offers them, there's no no reason why New York shouldn't do whatever it takes to remain an economic leader, ensuring good jobs are accessible to New Yorkers. To that end, New York can, should and is leaning on Amazon to make sure it is a productive partner supporting educational and workforce development opportunities. The Amazon deal only makes sense if New Yorkers are benefiting. As things stand, it is structured to do so.
Jarrett Murphy: Go through ULURP, be willing to submit to an ironclad community benefits agreement addressing local hiring and other issues, refuse the discretionary subsidies, change your approach to collective bargaining and work with New York state legislators to craft state data privacy laws and other policies to make sure Amazon's version of "innovation" doesn't harm the public interest. Maybe that's a lot to ask. But New York has a lot to offer.
New York City has had other development / land use battles like this before. What past project or proposed project is the best analogy?

Julie Samuels: Honestly, there is no comparison. None of those deals included the promise of 25,000-40,000 permanent new jobs. And that's not to mention the multiplier effect: the five additional jobs that will be realized for each high-tech job. The scope of this deal and the importance of getting it done are unprecedented.
Suri Kasirer: Bringing Amazon to Long Island City is at the core of the city's ongoing mission to diversify our economy away from the traditional finance, insurance and real estate sectors. It's similar to when the city launched its Applied Sciences RFP which brought Cornell Tech to Roosevelt Island, at the time providing $100 million in subsidies in addition to the land estimated at roughly $100 million. At that time, then-Mayor Bloomberg hailed that selection as a game-changer for the city. Bringing Amazon to LIC is another game-changer and with it comes between 25,000 and 40,000 jobs that will pay on average $150,000. It's critical that we have New Yorkers prepared to fill those jobs when the time comes.
Bill Cunningham: Two come to mind … Mayor Bloomberg's proposal for a New York Sports and Convention Center that was proposed as part of the push for New York City to get the Olympics – because of the role played by the Public Authorities Control Board – and the Westway project that wound up in court for so many years it lost public support and eventually political leaders walked away. BTW, the site originally planned for the West Side stadium is now the site of the Hudson Yards development … a much larger project. Amazon's opponents may want to think about that.
Jarrett Murphy: As others have noted, the West Side Stadium comes to mind because once again the Public Authorities Control Board is in the spotlight. Then and now, the deal was cast as a game changer and something that the city simply could not afford to live without. The more we learned about the giveaway of public resources, the less credibility the proponents had. When Shelly Silver finally killed that deal, Mayor Bloomberg said, "Without it, we won't have the catalyst for the growth of this neighborhood." I drive by Hudson Yards every week on the way to church. It appears, despite the stadium's demise, that something is occurring there. Somehow, without the NFL or the 2012 Olympics, New York has soldiered on.
Joseph Viteritti: Oh, it was a while ago. I don't remember all the details, but there was once this Dutch fellow who made what he thought was a generous offer to local natives for a piece of land.