New York City
Who's leading in the NYC public advocate race?
Next Tuesday, New York City voters will cast their ballots for one of 17 candidates for public advocate, so we asked experts their opinion on the outcome of the race.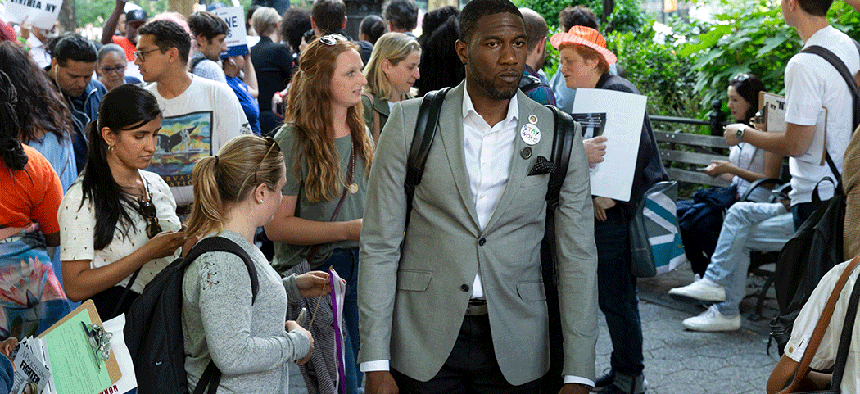 Next Tuesday, New York City voters will cast their ballots for one of 17 candidates for public advocate in a citywide special election. And with a crowded field seeking to fill the vacant office, no major party lines and an unusual February date for the contest, it's unclear who will win.
Earlier this week, we asked readers to make their predictions. In our entirely unscientific poll – which at least a few candidates linked to on Twitter – New York City Councilman Ydanis Rodriguez was leading the pack as of Tuesday evening. (Also, a majority predicted that the next public advocate would go on to run for mayor, while only about a quarter said the office should be abolished.)
Now, in this week's "Ask the Experts" feature, we ask five experts to share their insights: Chris Coffey, who leads the New York practice for Tusk Ventures and for Tusk Strategies; Harry Giannoulis, president of The Parkside Group; Sid Davidoff, senior partner at Davidoff Hutcher & Citron; Ben Max, executive editor of Gotham Gazette; and Lupe Todd-Medina, a political consultant and the founder of Effective Media Strategies.
Who is the frontrunner?
Lupe Todd-Medina: With the lieutenant governor's race in his rear view, Jumaane Williams is the favored candidate for the public advocate seat. He did better than many expected in his run last summer. Jumaane has been able to keep his name on the lips of voters since last June, which enabled him to be ahead of the other candidates when it was time to announce. Since the days of Mark Green and Rudy Giuliani, New Yorkers seem to relish a little scuffle on the City Hall steps between the mayor and public advocate. Jumaane has also been a thorn in the side of Mayor Bill de Blasio for some time now.
Chris Coffey: Jumaane Williams has by far the highest name ID, having won the most votes in the city for lieutenant governor just five months ago. He has also been endorsed by the WFP, which matters in a mostly progressive race with low turnout. That being said, I think the collapse of the Amazon deal creates a bit of an opening for a pro-Amazon candidate. It's not that most city residents were for HQ2, but if the anti-Amazon voters are split over 10 or 12 candidates, the voters who are disappointed that Amazon withdrew could go for Councilmember Eric Ulrich. Still, his supporters should be careful. If an outside independent expenditure group runs run-of-the-mill Republican ads as has been reported, that may actually drive up progressive turnout. So I would still bet on Jumaane, but I would keep an eye on Ulrich.
Sid Davidoff: It's a very tough race to call, with 17 candidates on the ballot. But if I had to guess, I would have to say Jumaane Williams. He has enormous name recognition from the campaign for lieutenant governor last year, when he won in Brooklyn and Manhattan. Daniel O'Donnell and Michael Blake are also strong contenders, based on their organizational support.
Ben Max: Jumaane Williams. He almost certainly has the most name recognition among voters after his 2018 lieutenant governor run, which made him the only viable candidate in this field who has run for an office larger than a single legislative district, and he has the most endorsements, including from a variety of groups that will help him get out the vote. Other candidates have a path to victory, including Michael Blake of the Bronx, who has raised a lot of money and made some inroads in Queens and Brooklyn; Melissa Mark-Viverito, who held a position with citywide responsibility; Danny O'Donnell of the vote-rich Upper West Side; and Eric Ulrich, the lone Republican elected official in the field. It's also worth noting that Rafael Espinal, who has been impressive talking policy on the campaign trail, has put significant resources into opening borough offices and knocking a lot of doors.
Harry Giannoulis: In a low turnout election, the swing vote will be the millennial and formally lazy primary voters activated post Trump. They took out six members of the IDC, beat or almost beat incumbent congressional members, and took out numerous incumbent legislators. Whoever wins this vote, plus turns out their base, wins the special election.
What will be the biggest factor in the race?
Harry Giannoulis: See above. Voters under 50 will be a larger share of the turnout than ever before and the only ones paying attention.
Ben Max: It's obvious, but: who actually gets supporters out to vote on Feb. 26, in what will be a low turnout election. Williams' 2018 run and 2019 endorsements are likely to play a major role here, especially the groups activating their member lists. Mark-Viverito also has her share of backers, including many women's groups and elected officials, as she pitches both her policy resume as City Council speaker and the need for female leadership in citywide offices. I mentioned O'Donnell and the Upper West Side vote. Can Ulrich lure enough moderate Democrats, independents and Republicans to the polls for him? How smartly is Blake spending his money? Whether any late-breaking endorsements come in could also make a difference, like if Blake's old boss Barack Obama puts something out, or if The New York Times editorial board comes in strong for someone, or a large labor union or two decides to make a last-minute splash.
Chris Coffey: Turnout, turnout, turnout. It is so hard to predict who will actually vote in a citywide special election for an office most people have never heard of. Conventional wisdom is that the electorate will consist mainly of progressives. If that's true, it certainly benefits Jumaane and others. What is unclear is what effect Amazon's withdrawal and the pro-Ulrich independent expenditure will have on the race, if any. So far it has been a race to the left, but does Amazon change that in any way? Also what effect does a New York Times endorsement have? At a minimum, it will likely influence both the Upper West and Upper East Side, two engaged neighborhoods where many take cues from NYT editorials and who are likely to vote.
Sid Davidoff: After name recognition, the key factors are field organization, support from major unions and social media, particularly field organization. With a nonpartisan special election in February, turnout will likely be very low. Most people are not even aware of the election. As a result, the campaign that best pulls its voters to the polls will have an edge. Whoever wins will likely win with a small margin, so every vote counts.
Lupe Todd-Medina: The biggest factor is going to be voter turnout – and who turns out. With several black and Latino candidates in the race, neighborhoods with high concentrations of people of color are in play. Also, whoever gets The New York Times endorsement will get a bump in the final days, particularly in Manhattan and outer-borough neighborhoods like Park Slope, Brooklyn. Given he is an outer-borough Republican, I also would not rule out a final push from supporters of Eric Ulrich.
Is the winner likely to run for mayor?
Sid Davidoff: Yes. Not in 2021, but in 2029, after serving two full terms as public advocate. Whoever wins on Tuesday will have the unique opportunity to serve 11 years in office, assuming he or she wins reelection (it's worth noting every New York City public advocate who has run for reelection has won). Winning citywide four times (this coming election, again in November 2019, and in 2021 and 2025) would be an enormous factor in becoming the frontrunner for mayor of New York City in 2029.
Lupe Todd-Medina: Whoever wins will at least consider running for mayor, no matter what they say on Wednesday, Feb. 27.
Ben Max: Eventually, probably. In 2021, maybe. The winner of the special will first have to keep the seat through a possible June primary and definite November general election this year that will dictate who is public advocate for 2020 and 2021. Most candidates have said they won't run for mayor in 2021, but we know how good those types of pledges are (see Kirsten Gillibrand). Williams probably wouldn't run for mayor in 2021, Blake might and Mark-Viverito almost certainly would – she may even run for mayor in 2021 if she's not elected public advocate. If victorious, O'Donnell most likely wouldn't run, Ulrich most likely would. There will also be the more immediate question of who runs for public advocate later this year. And it will be very interesting to see what Dawn Smalls, who has made a strong impression on those closely watching this race, runs for next, assuming she isn't able to shock the world next week.
Harry Giannoulis: There could be three more public advocate races this year. The person who wins on Feb. 26, 2019, may not be the public advocate on January 2020. 2021 is a long, long time away.
Chris Coffey: Whether or not the eventual winner intends they will run for mayor or not almost doesn't matter. A candidate can never say for certain what they will think down the line, until after they win a citywide race and reporters and supporters are asking you to run every day. Jumaane says he won't run. Most of the others are more circumspect. Regardless, there is no way to know until the winner has been in office and weighs their options from their new, citywide perch. So to answer the question, I would bet on yes, whoever wins will likely turn around and run for mayor.
Powered By
NEXT STORY: Poll: Who will be NYC's next public advocate?