New York City
Frank Seddio, the devil's advocate
Kings County Democratic chairman Frank Seddio is known for defending the indefensible.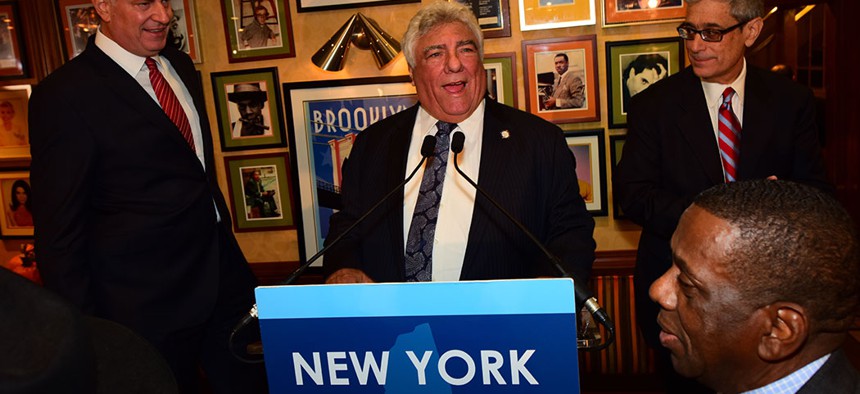 If you're a Democratic officeholder, Frank Seddio's got your back – even if you don't have his party's.
The chairman of Brooklyn's Democratic Party, Seddio has a penchant for defending his most unpopular allies – including even those who have flipped the state Senate to the GOP or disenfranchised Democratic voters. On Tuesday, Seddio stated his opposition to calls for the Democrats to expel state Sen. Simcha Felder, the Brooklynite who caucused with the GOP in the last term, giving Republicans control of the state Senate. "We can't be dictatorial about who can be part of our party," Seddio argued.
This isn't the first time Seddio has stood up for the big guy. From the New York City Board of Elections' extraordinary mismanagement of the 2018 elections to former state Sen. John Sampson being accused of embezzling half a million dollars, Seddio has steadfastly backed even the least sympathetic people in politics. Here are the highlights:
Seddio defends New York City Board of Elections
The Board of Elections has one primary function, to make sure the people of New York can vote. Their biggest moment to shine is obviously on Election Day. The 2018 election featured broken machines and long lines, which deterred some voters from exercising their right to vote. Watchdogs such as New York City Comptroller Scott Stringer blamed the board for failing to prepare for the election. "BOE must assure voters as soon as possible that steps are being taken to address the incompetence we all witnessed last week," Stringer concluded. The comptroller added that the board's response to his audit of its disastrous errors in the 2016 election, such as the many voter registrations that were improperly purged, was "not just tardy but vague in the extreme."
With so many voters encountering problems voting in the last two elections, most New York political observers have come to view the Board of Elections as an incompetent agency badly in need of reform. Not Seddio, however, who sees it as a great artist. "Why isn't (the BOE) considered professional now?" Seddio asked the New York Post. "Even Michelangelo needed a hammer and a chisel to make his statues."
Seddio defends Simcha Felder
Felder earned the enmity of Democratic activists statewide for abandoning his party in order to to aggrandize his power to obtain special treatment for his constituents.
Activist Ernest Skinner wrote a letter in 2018 to Seddio asking Felder to be removed from the Brooklyn Democratic party. "For too long, Senator Felder has betrayed the Brooklyn Democratic party and they have done nothing about it," Skinner said. The letter had 20 signed affidavits from registered Brooklyn Democrats.
Now, with the Democrats back in power, Felder no longer owns an influential swing vote and he has not been welcomed back to the Democratic caucus.
But Seddio isn't open to removing Felder from the Brooklyn Democratic Party. "I don't think we can tell somebody he can't be a Democrat," said Seddio, referring to someone who had chosen, for all intents and purposes, not to be a Democrat. "Why is Simcha Felder any different as a conservative Democrat than a social Democrat?" Seddio asked, changing the subject from Felder's loyalty to his ideology, which no one had called for exiling him over. "We're all encompassing. We accept all people. We don't always agree." By that logic, Democrats don't even need to agree on whether the party should control the state Senate.
Seddio defends John Sampson
There's no shortage of scandals surrounding former state Sen. John Sampson. In 2013, he was arrested on charges of embezzlement, obstruction of justice and lying to the FBI. The lawmaker was expelled from the state Senate Democratic conference, but in the 2014 Democratic primary Sampson was endorsed by Seddio and won the election.
Ever the loyal defender, Seddio spoke of the likelihood that Sampson would win his court battles. "I think John is gonna win this the way he won the election, he's gonna prevail in the courts," Seddio told the Observer.
Sampson was convicted in 2015 and was ultimately sentenced to five years in prison. Alexander Solomon, assistant United States attorney, told the court that Sampson was "manipulative, vulgar, selfish and greedy."
Seddio defends Carl Kruger
In 2011, Seddio was advocating for long-time friend and then-state Sen. Carl Kruger when Kruger was indicted on charges of soliciting bribes from lobbyists and real estate developers. "I don't know what will happen with Carl Kruger but anytime I have dealt with him he has been an honest broker," Seddio told the Observer. "I stand on the belief that you stand by your friends. If that is something that would hurt me so be it. I am not going to shrink away from people that I have a relationship with just because someone made an allegation."
By April 2012, Seddio's "honest broker" friend was sentenced to seven years in prison, after pleading guilty to four counts of federal corruption. It's too soon to say whether Seddio might get behind Kruger's rumored comeback campaign for a seat in the New York City Council.