2020
March Madness: The presidential tournament, round 2
City & State is creating its own Sweet 16 March Madness bracket, now we're down to our Elite Eight matchups of Democratic presidential contenders to see who our readers think will come out on top in 2020. Maybe.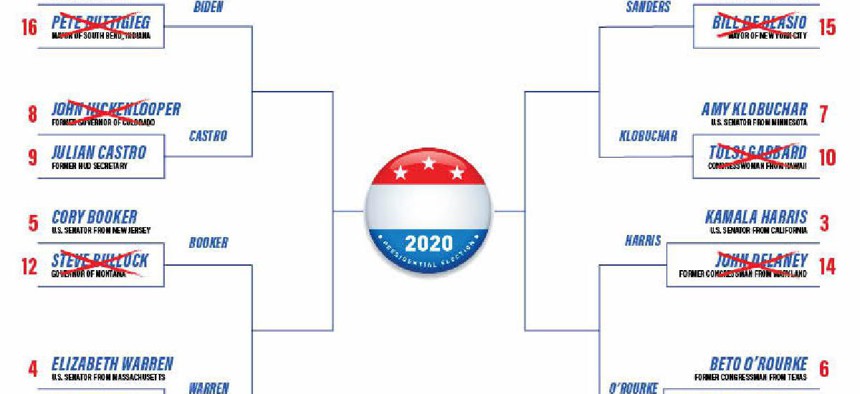 Just like in the real March Madness, there have been hardly any early upsets in our presidential tournament. No. 9 seed Julian Castro did knock off No. 8 seed John Hickenlooper, 70-30%, but otherwise all the higher seeds prevailed.
New York's contenders all flamed out early, with U.S. Sen. Bernie Sanders dominating New York City Mayor Bill de Blasio (89-11%), and former Rep. Beto O'Rourke beating U.S. Sen. Kirsten Gillibrand (68-32%). And across the Hudson in New Jersey, U.S. Sen. Cory Booker steamrolled Montana Gov. Steve Bullock (91-9%), a performance only exceeded by U.S. Sen. Kamala Harris (94%).
In the other races, favorites Joe Biden (65-35% over Pete Buttigieg), U.S. Sen. Elizabeth Warren (87-13% over Jay Inslee), and U.S. Sen. Amy Klobuchar (75-25% over Tulsi Gabbard) all came out ahead.
But the fun's only beginning. Check out the second round matchups and vote for your favorites!
The second round voting will close at noon on Monday, April 1.
Powered By
NEXT STORY: The high-profile bills stuck in legislative limbo