New York City
What NYC should do with the Specialized High School Admissions Test
We reached out to experts Syed Ali, Zakiyah Ansari, David Bloomfield, and Soo Kim to see what New York City should do about its problem with specialized high school admissions test.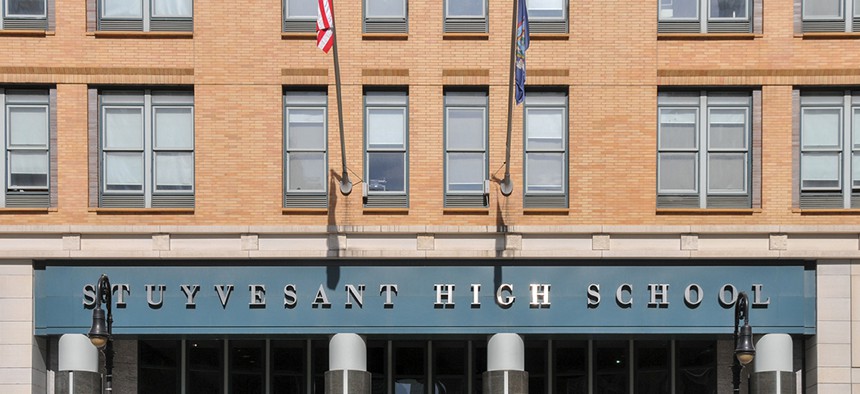 The New York Times headline said it all: "Only 7 Black Students Got Into Stuyvesant, N.Y.'s Most Selective High School, Out of 895 Spots."
But what should be done? Mayor Bill de Blasio had already called for dropping the entrance exam for the city's specialized high schools, but he has made little progress in getting Albany to act. Gov. Andrew Cuomo suggested this week that de Blasio should start by changing the admissions policy at the selective high schools the mayor does have control over – but de Blasio insisted any changes should be made all at once and that the state should allow him to do so.
Earlier this week, we asked our readers to weigh in on whether or not to keep the Specialized High School Admissions Test, or SHSAT. In an entirely unscientific online poll, as of Wednesday evening the vast majority called for keeping the test. Others suggested providing free test prep for minority students, altering the test to remove cultural biases, creating more specialized high schools and making admission contingent on a combination of the test, grades and perhaps an essay. Still others approached the issue more broadly, calling for improved instruction at all schools. (Another vocal subset of respondents took aim at Schools Chancellor Richard Carranza, saying he should be fired.)
Now, we're turning to the experts. In this week's "Ask the Experts" feature, we reached out to Syed Ali, a professor of sociology at Long Island University-Brooklyn; Zakiyah Ansari, the advocacy director for the Alliance for Quality Education; David Bloomfield, a professor of educational leadership, law and policy at Brooklyn College; and Soo Kim, president of the Stuyvesant High School Alumni Association.
Should the admissions criteria for New York City's specialized schools be changed?
David Bloomfield: The admissions criteria set by a 1971 state law must be changed and changeable. The so-called Calandra-Hecht law should be repealed since the Legislature, made up mostly of non-city legislators, has no business uniquely dictating enrollment requirements for Stuyvesant, Bronx Science, Brooklyn Tech, and LaGuardia (by audition). As in every other school district in the state and like it does for other gifted and talented programs, the city should control admissions. New specialized high school admissions might include a single standardized test for some students. But since that system demonstrably favors highly tutored test-takers – mostly white and Asian males – and is of dubious validity, other measures should be added for some students including a mix of class rank and state test proficiency as the mayor has ham-handedly proposed. One thing the mayor and chancellor should do immediately is free the five SHSAT schools established by former Mayor Michael Bloomberg from the test. These are not covered by state requirements. The chancellor has already said, "We need to eliminate the single test for specialized high school admissions now." It is hypocritical to have such a clear position and not make enrollment changes to the schools which are entirely under his control.
Zakiyah Ansari: The Legislature has a bill before it right now that would ensure the top 4 to 7 percent of students in every school are offered a slot at the specialized high schools. This seems like a fair approach that would ensure much more equity. But also we need to raise the quality of education in every school and get away from the "Hunger Games" mentality where there are educational haves and have nots. That means that state needs to provide the $1.4 billion owed to New York City schools and it means the mayor cannot propose a budget that cuts funding.
Syed Ali: As a sociologist, I'm wary to take a political stand. (Yup, copout.) But if the city's goal is desegregation (read: more blacks and Latinos), and desegregation now, then reserving 20 percent of admission seats for kids from underpriviliged (read: poor and largely black and Latino) schools will boost their numbers a bit. Changing the Hecht-Calandra Act so that the city can have the top 7 percent of students from every middle school guaranteed admissions will up their numbers greatly. I actually feel that this won't drop standards at these schools, because these kids coming in will benefit from being around driven peers, and the academically-oriented peer culture will propel them forward. Some won't be able to cut it and will transfer out. That's OK. But I think (based on research about integrating students of different abilities) that the vast majority of students will be fine. But this is a much deeper problem. The vast majority of black and Latino students attend segregated schools and underperform. And if the city truly cared about equity in the high schools, they'd go after screened schools and programs, which account for over a third of all students.
Soo Kim: The latest results of the test are a function of the following: This year there are 5 percent less spots due to Discovery seats yet to be allocated. I am certain that final numbers will be higher this year and actually black and Hispanic admits ticked up from 10 percent to 11 percent for the specialized high schools as a whole. But either way, nothing has changed to the two primary factors below: 52 percent of high proficiency math students in New York City are Asian, 10 percent are black and Hispanic, and almost 70 percent of Asian 8th graders take the test. When adjusted for private school populations, less than 20 percent of white and Hispanic 8th graders take the test, and about 25 percent of black eighth graders take the test. Until we improve both, the problem of representation will continue to exist.
Why are New York City's schools so segregated?
Soo Kim: I don't have much to say about the state of the New York City public schools generally, but I do believe that the system appeared segregated. According to the IBO, the majority of white families don't send their kids to public school. Now there are a number of good public high schools that have strong white populations, but is that purposeful segregation, or are parents opting back into the public system for a handful a better schools? That is a question for greater minds than mine.
Syed Ali: How much time do you have? They're segregated because neighborhoods are segregated and kids largely go to neighborhood schools. Even with gentrification, white parents aren't sending their kids to local black/Latino supermajority schools. In a study on choices parents make on where to send their kindergarten children, the Center for New York City Affairs found that only 60 percent of parents – and 40 percent of black parents – sent their kid to the local zoned school in 2016-17. Which means that a ton of parents, including a lot of black parents, are avoiding "low-performing" schools, i.e., schools where the students are largely poor and black and Latino. Interestingly, the black parents not sending their kids to the zoned schools largely opted for charter schools, which are mostly segregated.
Zakiyah Ansari: New York City's schools have always been segregated. I believe what has really elevated more conversation around this has been gentrification. White families who have moved into historically black communities are now sending their children to black and brown schools which have been denied equity for many years. As they see this inequity, the white families work to address it, which often leads to more white families entering into the school and instead of helping it tends to have the opposite of effect. Gentrification pushes many black and brown families out of the community and ultimately oversaturates another school district or school.
David Bloomfield: Segregation is baked into the American dilemma of race relations, particularly regarding racism against black and Latinx residents. All manner of public policies, not just in schools, have created deep racial divisions in housing, the economy, and community attitudes. Our schools suffer from this legacy with common legal and de facto obstacles to integration, tangled with the racialization of poverty. Noted researchers Kucsera and Orfield have called New York City schools among the most intensely segregated in the country with many schools having less than 10 percent white enrollment with related concentrations of students living in extreme conditions of poverty, home insecurity, and educational need. Racially-drawn community school district lines, proliferation of charter schools, and a surfeit of screened schools increase this pernicious pattern of segregated schooling based on race, ethnicity, academic performance and other factors.
What else should be done to address segregation the city's public schools?
Syed Ali: District 15 in Brooklyn and District 3 in Manhattan have taken huge steps to desegregate by getting rid of academic screens, which lead all their middle schools towards true integration. But the city needs to do this holistically, and not just wait for individual districts to do it, because many, if not most, won't. They need to think big, and they need to desegregate across district and borough boundaries. Move these kids around. K-5, it's hard because they're small, but do it. Use the buses. Will they have to wake up earlier and get home later? Yes. Middle school it's easier because they're already taking buses and subways. Send the Bronx kids to Queens, send North Shore Staten Island kids to the South Shore and vice versa. Parents, especially white and Asian parents, will be pissed. Let 'em be. This is about what's best for the majority of students. Anything else is tinkering around the edges, which is what we've done for decades, and nothing will come of it.
Zakiyah Ansari: We should be centering equity as one of the ways to improve our schools and address segregation. We must have painfully honest dialogue to address the legacy of racism in New York City. I believe Chancellor Carranza understands, from the $23 million for anti-bias teacher training to his vocal fight for the $1.4 billion owed New York City public schools from the state. However we still need the city DOE to implement a culturally responsive curriculum that reflects the diversity of the students in our public schools. There is a tremendous problem with the segregation of educational opportunity where black and brown students are in schools with less high quality programs and not enough supports. We need both the state and the city to end that.
David Bloomfield: The mayor has been largely absent from this debate, not even willing to say the word "segregation" in public. The chancellor has been little better, talking a good game and unfairly taking credit for limited efforts in Districts 1, 3 and 15 which arose out of community designs and organizing. But little system-wide action has been taken. A thin, amateurish 'blueprint" announced by the DOE two years ago has gone next to nowhere and preliminary recommendations by a subsequently empaneled mayoral task force have been ignored by City Hall. What is needed is citywide leadership with community members and expert educators, demographers, lawyers, and other professionals embarking on this most urgent of educational and social missions.