Campaigns & Elections
The free-for-all to replace Rep. Jose Serrano
New Yorkers are bound to see an intense race for New York's 15th Congressional District, now that Rep. José E. Serrano has announced his retirement, here are all of the people gunning for his seat, and those who are still on the fence about entering the race.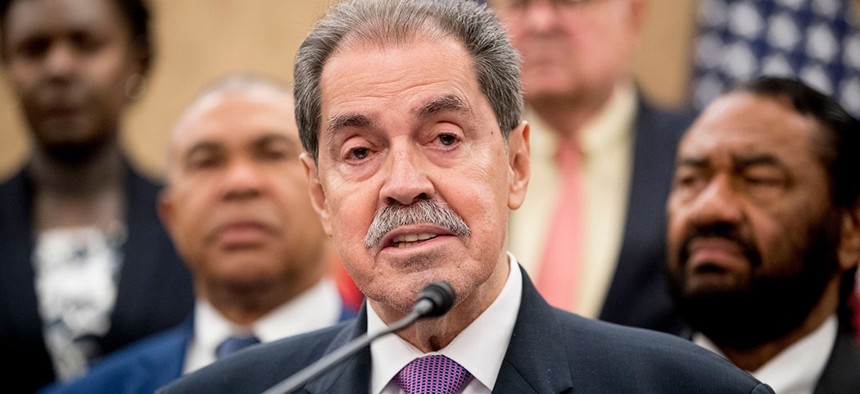 New Yorkers are bound to see an intense race for New York's 15th Congressional District, now that Rep. José E. Serrano has announced his retirement.
The South Bronx congressman last month announced his decision to retire at the end of his current term, citing the effects of Parkinson's disease. "I always tried to speak for those who are marginalized in our society- to give them a voice and a cote here in Washington," Serrano, who has served in Congress since 1990, said in a statement. "Together, we fought to empower our community by seeking social justice and speaking truth to power."
Serrano's district is 63 percent Hispanic and 30 percent black. Neighborhoods within the South Bronx include Soundview, Hunts Point, Mott Haven, Morisannia, West Bronx and Fordham Heights. Locals and tourists alike know it as the home of Yankee Stadium and the Bronx Zoo. The district is one of the most Democratic and also one of the poorest in the nation.
It's early on in the political season with the primary set in June 2020 but three candidates having filed with the Federal Election Commission and several more have stated they're considering a run for the south Bronx House seat.
THE EARLY BIRD
Ritchie Torres, 31
New York City councilman, District 15
Torres was first elected to the City Council in 2013 on the Democratic and Working Families Party ballot lines. The first openly gay elected from the Bronx who is widely seen as a rising star in the Democratic Party, he served as the chair of the Committee on Public Housing before becoming the chair of the Oversight and Investigations Committee in his second term. Torres is one of two candidates that had filed paperwork with the Federal Election Commission before Serrano's announcement. When Serrano made his retirement public on March 25, Torres touted Serrano's leadership to Politico. "Jose Serrano is an icon, he's been an inspiration to young Latino electeds like myself for decades," Torres said. "He should be celebrated for his public service."
While Torres may be the early frontrunner, he doesn't have as cozy a relationship with the Bronx Democratic Party as some of the rumored candidates, a potential challenge in garnering support, political consultant Eli Valentin told City & State.
CONSIDERING A RUN
Rev. Rubén Díaz Sr., 75
New York City councilman, District 18
Díaz, who is from Puerto Rico, used to be a state senator and is currently on the New York City Council. Díaz is a controversial figure known for his cowboy hat and his controversial statements. In a "What You Should Know" column shortly after Serrano announced his retirement, he wrote, "As I look across the political landscape and consider who might have the political experience necessary to serve the needs of our senior citizens, families, business, community in New York's poorest congressional District, I am… at this time considering if I should throw my cowboy hat into a run for Congress."
Yet Díaz stepped into hot water earlier this year for his anti-gay comments, which resulted the dissolution of a subcommittee he chaired, but Valentin told City & State that his controversial remarks may not hinder Díaz's potential candidacy. "He has a lot of influence," Valentin said. "He's really well loved. He's worked for seniors for a really long time ... he can't be counted out and precisely because a lot of those seniors, I would dare say a majority of them, are socially conservative."
Michael Blake, 36
New York state assemblyman, District 79
Blake is used to running in a crowded candidate field, following his failed bid to be New York City public advocate. Previously he worked on Barack Obama's 2008 campaign and then joined the White House as director of African American state and local elected and minority business outreach. Blake, who is African American, is also a vice chairman of the Democratic National Committee.
Despite his failed public advocate run, Valentin doesn't think Blake would be negatively impacted in the congressional race. "He did well enough in the Bronx to at least make a case for himself in a race like this," Valentin said. "He won his home district and he did fairly well in this congressional district, I think it's a positive for him."
Gustavo Rivera, 43
New York state senator, District 33
Rivera, who is from Puerto Rico, is now the chair of the state Senate Health Committee. He is using that perch to push hard for state single-payer health care legislation, a priority for progressives in New York and across the country. Previously, he launched Bronx CAN ( Changing Attitudes Now) in 2011. A spokesperson for Rivera told City & State that since Serrano has announced his retirement, Rivera is thinking about running.
Regardless of name recognition and the ability to fundraise, Valentin told City & State that these four candidates – Torres, Díaz, Blake and Rivera – may still face hurdles in a district that has been impoverished for years. "I think part of the cons would be the perception that they've been elected for a number of years, that they're just part of the problem, if you will," Valentin said. "There's this sentiment among folks, that to a certain degree is erroneous, but there's a certain sense that you can't be progressive and have been in office for a long time. Since they've been elected for a decade some would say they're part of the problem and some would say 'let's look for new blood.'"
OTHER CANDIDATES WHO ARE RUNNING
Marlene Cintron
President, Bronx Overall Economic Development Corp.
Cintron was formerly the executive director of Puerto Rican and Latino Caucus in the state Senate. Although she has not announced her candidacy, nor filed with the Federal Election Commission, Cintron has started a new Twitter account and tweeted that she is in the exploratory phase to run for #NY15.
Jonathan Ortiz
Director of Phipps Neighborhood Finance Empowerment Center
A relative unknown, Ortiz directs the Phipps Neighborhood Finance Empowerment Center, a nonprofit in the Bronx that helps people improve their financial health. In 2018, Ortiz was featured in The Wall Street Journal talking about student debt and affordable education. "I am one of those young, ambitious, people that has dedicated his career to empowering his community," Ortiz told City & State. "I know that there is so much more to do but based on our current elected- we lack innovation, we lack ambition, and we lack doers. That is why I am running." Ortiz officially filed with the Federal Election Commission in November.
Tomas Ramos, 32
Director of Bronx River Community Center
Ramos filed with the Federal Election Commission on April 1, but he has not made a formal announcement. Besides directing the Bronx River Community Center, Ramos is also a facilitator for Project Reset: Bronx Community Justice Program, a diversion program for low-level offenders to avoid the legal system and receive support.
Less name recognition isn't always a hindrance, as seen by several successful grassroots campaign of 2018. But Valentin isn't convinced that Alexandria Ocasio-Cortez's strategy can be replicated in the 15th Congressional District. "I'm just not certain how effective it would be," Valentin said. "And I say that because the dynamic of the district is completely different from the AOC district. I think a lot of issues that play well in her district are not necessarily issues that would play well here. (It's a) predominantly Latino district … that tends to be more socially conservative than what people actually think."
OTHER CANDIDATES WHO MAY RUN
There are at least two additional candidates seriously considering a run.
Elias Alcantara, 32
Vice president for corporate affairs, Macquarie Group.
Alcantara was senior associate director of intergovernmental affairs for President Barack Obama's administration. He began his own consulting firm in the south Bronx and consulted clients on criminal justice reform. He was also named one of City & State's 2018 Rising Stars. Politico Playbook had the scoop on Alcantara's potential run following Serrano's retirement announcement.
Amanda Septimo, 28
Former district director, Rep. José E. Serrano
The former district director for Serrano, Septimo in 2018 ran as the Working Families Party nominee against Assemblywoman Carmen Arroyo in the South Bronx. Gothamist recently reported that she hasn't made a decision yet. Michael Benjamin, a New York Post columnist and editorial board member, told the Gothamist that Septimo's failed state Assembly race wouldn't hold her back. "She acquitted herself well in that race," he said. "People like her."
RUMOR MILL
With so many candidates on the fence, the rumor mill has been stirring. But another factor to consider in 15th district is the influence of the Bronx Democratic Committee.
Among the well-known politicians whose names have been floated are Assemblyman Marcos Crespo, state Sen. Luis Sepulveda and former New York Council Speaker Melissa Mark-Viverito. Others who have had their names linked to the race, before or after Serrano's announcement, include activists Samelys Lopez and Hawk Newsome.
"In terms of the committee, the influence of the party … besides Crespo, I think Sepulveda has been more closely aligned to the Democratic Party machine there," Valentin said. "I think they could play a potential key role and they could still be effective in this type of race because… they know how to tap into that electorate. In a race like this, they can't be counted out."
Valentin wrote about the race for the Gotham Gazette, while the Post's Michael Benjamin has been keeping up with tipsters and rumors. There have also been reports from Page Six and the Gothamist on potential contenders.
NOT RUNNING
Though the list may grow, at least two rumors have been officially squashed. State Sen. Jose Serrano Jr., has said that he will not seek to replace his father. Bronx Borough President Ruben Diaz Jr. has also said that he will not be joining the race since he is gearing up for a mayoral bid.