Bill de Blasio
Where New York Democrats stand on Israel
Recent events have brought fault lines over Israel and Palesine within New York's Democratic Party to the surface. Here is where politically powerful New York Democrats line up on Israel.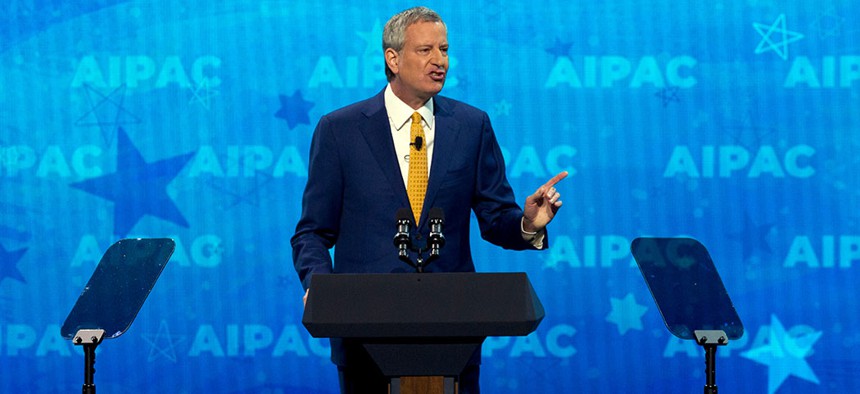 Until just a few years ago, New York City Councilman Kalman Yeger's recent dismissal of Palestinians' existence would not have necessarily triggered any condemnation from his colleagues – much less removing him from a committee. For the first half-century of Israel's existence, the Democratic Party was consistently more pro-Israel than the GOP. Jewish voters have always leaned Democratic and Israel was historically socially and economically progressive in its domestic policies. Those facts, as well as Israel's identity as a nation founded as a homeland for a persecuted minority in the Middle East and Europe, endeared it American liberals.
Now, shifting demographics in the United States and Israel's growing rightward tilt have changed the political playing field – with major reverberations in New York. Israel's government has grown increasingly aggressive in its posture toward Palestinians and the occupied territories, granted increasing power to the ultra-Orthodox and adopted extremist religious openly aligned itself with the Republican Party. Meanwhile, living conditions in the occupied territories have worsened and support and sympathy for Palestinians has grown on the left. That has created a split between the rising tide of left-wing insurgents such as Rep. Alexandria Ocasio-Cortez and state Sen. Julia Salazar and New York's Democratic establishment.
New York state is home to 1.75 million Jews, the largest concentration of Jews in any state and far more than in any country besides Israel. New York City alone has 1.1 million Jews, making it the city with the largest Jewish population in the world.
New York elected officials have generally been especially supportive of Israel, often taking trips to visit the country and regularly churning out op-eds and votes, both symbolic and substantive, in support of its interests.
However, even in New York, fault lines are beginning to form as lawmakers find themselves forced to contend with new and changing ideologies and identities among their constituents. The number of self-identified Arab-Americans in New York state has increased by 27%, to 153,000, between 2000 and 2013, the most recent year for which data is available. Muslims, which includes not only many Arab-Americans but also immigrants from Africa, south Asia and southeast Asia and their descendants, along with some converts, are now an estimated 6% of New York state residents, compared to Jews' 9%. Recent events, ranging from comments from Rep. Ilhan Omar, a Muslim refugee from Somalia, about the influence of Israel in American politics to a Yeger's assertion that Palestine does not exist, have brought these fault lines to the surface.
Here is where politically powerful New York Democrats with prominent stances on the Middle East line up:
Combatively pro-Israel
New York City Councilman Kalman Yeger
Yeger, who represents a large Orthodox Jewish community in Brooklyn, takes Israel's side in the conflict with Palestinians and evinces none of the concern for Palestinian rights or feelings that more mainstream Democrats try to. In late March, he tweeted that "Palestine does not exist." (Before he was a councilman he had tweeted similar sentiments.) His recent comment led to several rallies, both for Yeger and against him. Yeger refused to apologize and the City Council leadership removed him as a member of the Committee on Immigration.
Former Assemblyman Dov Hikind
When pro-Palestinian protesters gathered outside Yeger's office, though were outnumbered by counter-protesters, egged on by former Assemblyman Dov Hikind, who used to represent the same area as Yeger. Hikind has long battled with the left when it comes to Middle East policy. In 2011, his endorsement of Republican Bob Turner, intended to send Democrats a message over Israel policy, helped Turner win a special election to replace former Rep. Anthony Weiner. Hikind went on to appear with Republican Texas Gov. Rick Perry and Israeli conservative politician Danny Danon at an event in New York where he criticized Obama's Israel policy. At the recent pro-Yeger rally, Hikind falsely claimed Linda Sarsour, a Palestinian-American activist who has become something of a boogeyman to Israel supporters and someone whom Hikind has attacked before, had organized the Yeger protest. At one point during the counter-protest, Hikind led the chant "Linda Sarsour is a terrorist," despite her not being there, having nothing to do with the event and having never even been accused – much less convicted of any actual terrorist activity. At another point, a counter-protester asked if an Arab-American child brought a bomb.
Mainstream Israel supporters
U.S. Sen. Charles Schumer
Schumer is a longtime supporter of Israel. He has even described himself as the guardian of Israel in the past. In 2018, called the boycott movement against Israel "anti-Semitic" during his speech at the annual AIPAC conference, earning him criticism among his party's progressive wing. Schumer also asserted the true obstacle to peace is the fact Arabs don't want a Jewish state in the region at all. Unlike many of his Democratic colleagues who did not attend the conference this year, Schumer still delivered a speech at the 2019 AIPAC conference, where he denounced Omar for making what he said were anti-Semitic statements against the lobbying group. However, he voted against the anti-BDS bill when it came up for a vote during the 2019 government shutdown, saying he would not pass anything until the government reopened.
Additionally, Schumer formerly opposed the Obama administration's agreement with Iran to stop it from obtaining nuclear weapons, which Israel's government opposed, though he has since offered tepid support for its continuation when President Donald Trump said the United States would withdraw from it.
Reps. Eliot Engel and Nita Lowey
Engel and Lowey share very similar stances on Israel and Palestine. The pair have consistently voted in line with the interests of the Israeli government, including withholding support for President Barack Obama's Iran nuclear deal. More recently, the pair individually condemned Rep. Ilhan Omar for statements they said were anti-Semitic. Lowey called her statements "hurtful, damaging and unacceptable," and later implied that Omar employed the anti-Semitic trope of dual loyalty. Engel made similar comments, saying Omar's comments were "outrageous and deeply hurtful," and that it is "unacceptable and deeply offensive" to call into question lawmakers loyalty for America given their support of Israel. Engel and Lowey were among the loudest voices calling for a resolution condemning anti-Semitism in the wake of Omar's comments.
New York City Mayor Bill de Blasio
Despite touting himself as an ardent progressive, de Blasio remains hawkish comes to Israel and Palestine. When other liberal presidential hopefuls, of which de Blasio may be one, sat out the 2019 AIPAC conference, he still spoke there. And before that, he made an unpublicized appearance at a private event hosted by AIPAC. De Blasio also called out Rep. Omar for her comments about loyalty and allegiance to Israel, calling them "absolutely unacceptable" and suggesting that his own strong support for the state Israel does not mean he feels beholden to it. He did, however, call on City Councilman Kalman Yeger to apologize after Yeger said Palestine does not exist. De Blasio has long had a close relationship with Orthodox Jewish community, some of whom he represented during his tenure in the City Council.
Gov. Andrew Cuomo
Cuomo continues to support Israel and its conservative government, often visiting the country. He declared in a 2016 op-ed in The Washington Post that if any company boycotts Israel as part of the BDS movement, the state would not do business with it, calling boycott efforts an "insidious" way to delegitimize the state of Israel. He made that declaration official through an executive order and later quietly released a short of list of companies his administration found to boycott Israel, though none were in New York, or even in the United States.
Pro-Israel, but willing to defy it
Rep. Jerrold Nadler
Nadler was the only Jewish member of New York's congressional delegation to support the Iran nuclear deal, despite strong pressure from pro-Israel allies to oppose it and his own history of strong support for Israel and its causes, earning him harsh criticism from Orthodox leaders. However, this was one of the only times the Nadler – whose district is both liberal and heavily Jewish – has broken from the Israeli government's stance. He remains opposed to the Boycott Divestment and Sanctions movement, which he said is neither progressive nor pro-peace, and recently introduced a resolution to condemn it. Nadler also called out Omar for her criticisms of AIPAC and Israel, saying she "failed that test of leadership" by "tread(ing) into the waters of anti-Semitism," and helped craft the anti-Semitism resolution later passed by the House in response to her statements. Outside of his support of the Iran nuclear deal, Nadler's positions are similar in nature to most other New York politicians, consistently voting in favor of pro-Israel policies.
Pro-Israel, but moving left
U.S. Sen. Kirsten Gillibrand
Gillibrand, like most lawmakers from New York, has a history of support for Israel. She has in the past opposed the Boycott, Divest and Sanction, or BDS, movement. However, despite originally co-sponsoring legislation that would have allow the federal government to refuse to do business with companies that boycott Israel in 2017, she withdrew her support later that same year over civil liberties concerns. She asserted that she did not support BDS, but that she said she wanted to see the bill rewritten to comply with the First Amendment. When it eventually came to a vote in 2019, Gillibrand voted against it. Gillibrand also skipped the 2019 conference hosted by the American Israel Public Affairs Committee, or AIPAC, a powerful pro-Israel lobbying group. She also stopped short of fully condemning or defending Rep. Ilhan Omar after she made statements about the Israel lobby's influence that some charged were anti-Semitic, or at least deployed anti-Semitic tropes. Gillibrand said that Omar should be able to criticize Israel without the use of such tropes, the same way others who criticize Omar should use not Islamophobic language. Gillibrand's recent leftward trend on the issue of Israel seems to align with her presidential bid, as she has moved left on a number of issues. Gillibrand also supported the Iran nuclear deal in 2015.
New York City Councilman Brad Lander
Lander, who is Jewish and a leading liberal on the Council, described himself in an op-ed for Buzzfeed News as a progressive Zionist. He has in the past said he supports the right of Palestinian self-determination and laid the blame for violence in the region and death of Palestinian civilians at the feet of both Hamas and Israeli Prime Minister Benjamin Netanyahu. Lander has also said that while he opposes BDS, he also opposes Israeli occupation of the West Bank and Gaza, language generally avoided by other Democrats. In the Buzzfeed op-ed, published in the aftermath of comments from Rep. Omar and the ensuing divide it seemed to create between mainstream and progressive Democrats, Lander said that progressive Zionists like himself must do more to call out Israeli human rights violations of Palestinians and of Israel's occupation of Palestinian territories, while asking members of the emergent left to make room for those who believe in Israel's right to exist and to be more active in rooting out anti-Semitism when it appears. Lander asserted that he does not believe that his fellow City Councilman Kalman Yeger is not a bigot following Yeger's comment that Palestine does not exist, but nonetheless voted to remove him from the Immigration Committee.
New York City Speaker Corey Johnson
In response to Yeger's tweet that Palestine does not exist, Johnson, who is considering a run for mayor, denounced the comment, calling it "unwelcome and unhelpful." He however asserted his strong support for both Israel and a two-state solution that "respects the dignity of both the Palestinian and Israeli people."
Supportive but critical of Israel
Rep. Alexandria Ocasio-Cortez
Ocasio-Cortez represents the younger, more left-wing perspective on Israel, unafraid to criticize it while still maintaining support for Israel's right to exist and a two-state solution. After her election and before officially taking office, she called for an end to the Israeli occupation of Palestinian territories. She also referred to the deaths of protesters in Gaza at the hands of Israeli military as a "massacre" and that Democrats should not remain silent on the plight of Palestinians. Ocasio-Cortez was one of several progressive members of Congress to defend Rep. Ilhan Omar following Omar's statements criticizing the influence of money and lobbying efforts on behalf of pro-Israel interests, which many considered either anti-Semitic, or at least utilized anti-Semitic tropes. However, she does not go as for in her criticism of Israel or support of Palestine as either Omar nor Rep. Rashida Tlaib, Muslim-Americans who are considered parts of the same new, young progressive class of Congress and who both support the BDS movement. However, the Democratic Socialists of America, of which Ocasio-Cortez is a member, is staunchly supportive of BDS.
Far-left anti-Israel
Assemblyman Charles Barron
Barron, a former New York City Councilman and Black Panther activist, is one of the few New Yorkers who is staunchly pro-Palestine and anti-Israel. He has defended Hamas, the Palestinian political party in power in Gaza that is considered by America to be a terrorist group, and often conflates the lobbying power of Israel as the "Jewish lobby," which is widely seen as anti-Semitic rhetoric. He also attacked Rep. Hakeem Jeffries, who defeated Barron when he ran for Congress, for stating that the U.S. should have vetoed a United Nations resolution calling for an end to Israeli settlements in the West Bank. Beyond criticisms of the Israeli government, Barron's comments have veered into blatantly anti-Semitic territory, such as making the odd, historically inaccurate claim that people from sub-Saharan Africa, not Jews, are the "real" Semites. He has also defended the highly controversial leader of the Nation of Islam Louis Farrakhan, who himself is anti-Semitic.
Powered By
NEXT STORY: Measles outbreak, another Y2K and Trump's tax returns