New York City
For 15 minutes, Michael Blake had a glowing Wikipedia page
A few days before the New York City public advocate election, Assemblyman Michael Blake's Wikipedia page was briefly updated with positive spin about him, in violation of the online encyclopedia's rules. Who was behind it?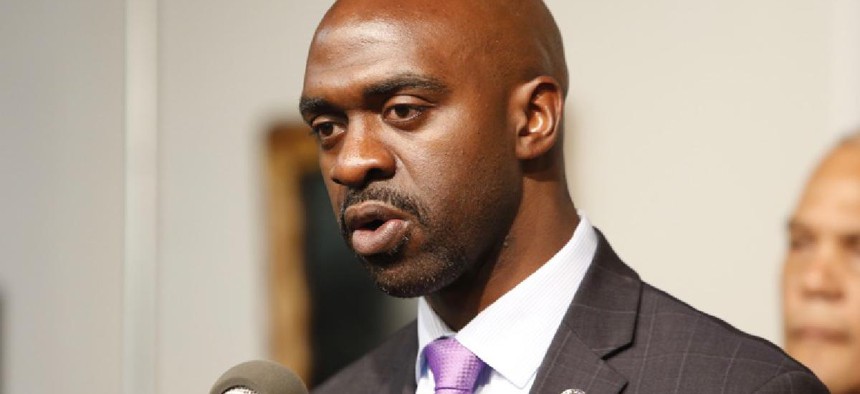 Late on the Saturday night before the New York City public advocate special election, someone made a flurry of updates to the Wikipedia page of Assemblyman Michael Blake, one of the leading candidates in the race.   
"Blake was honored as one of 'The Root 100' in 2012, featured in Jet magazine as one of 15 black politicos behind President Obama's re-election and by MSNBC in 2011 as one of the Top 10 Black Politicians on the rise," the person wrote at the top of his page.
In another addition to his page, a 2007 Time magazine article gushed that Blake, who was then-candidate Barack Obama's Iowa deputy political director, "may have more to do with Barack Obama's chances of becoming President than anyone besides the candidate himself." Yet another line was added directly quoting Obama, who said, "We wouldn't be here without Michael Blake."
The same person also deleted a link to a Daily News story from 2014 with a headline the campaign would rather hide: "Ahead of ex-Obama operative Michael Blake's Bronx Assembly run kickoff, residency questions."
Who was behind it all?
The edits came from an account, Mikedrake178, which might seem like a Mike Blake alias as obvious as Homer Simpson giving the name "Homer Samson." But it turns out Mike Drake is a real person who worked for Mike Blake as a campaign staffer, and Drake's polishing of Blake's bio violated Wikipedia's rules. That earned Drake a rebuke from another Wikipedia editor, who deleted most of the new passages from the page.
The Bronx assemblyman and vice chair of the Democratic National Committee is also, as of Sunday, a congressional candidate, hoping to replace retiring Rep. Jose Serrano in the Bronx. At the time of the Wikipedia edits, Blake was running for public advocate, a race in which he would eventually finish in fourth place. Drake was Blake's co-director of communications for the campaign, and campaign finance filings show the campaign paid Drake $3,000 after the election as a "content creator." Blake campaign spokeswoman Alex Pilla confirmed that Drake made the edits.
That Saturday night, Drake made 10 edits within 15 minutes, adding information that reflected well upon Blake and removing a link that could be seen as negative. Everything Drake added to the page appeared to be factually accurate. One section noted Blake became a lay minister "so that he could channel the power of faith to uplift his community." Another section said that Operation Vote, a program Blake worked for, "helped expand the diverse electorate who voted for President Obama."
Wikipedia's system automatically flagged Drake's late-night edit storm as suspicious, letting more experienced editors know that a newly created account was removing references and adding information without including references to other sources. Anybody with an internet connection can edit pages on Wikipedia, but fans of the online encyclopedia rigorously check new edits to make sure they follow a lengthy set of internal rules.
An unregistered Wikipedia user, identified only by his or her IP address, saw Drake's edits, then jumped in to fix some of the changes. This kicked off a brief edit battle in which Drake added Blake's power list appearances to the page three times, and the unregistered user repeatedly deleted it.
Within two minutes, that user deleted other language Drake added to Blake's page, and posted a stern warning to Drake's user page: "Please stop adding unreferenced or poorly referenced biographical content." The editor then added a coda: "Please read the above guidelines. Seriously. And stop removing sourced content. Thank you."
Drake seemed to get the message, and stopped editing the page. Despite the time spent adding to Blake's biography, he did not catch that Blake's birth date listed on the page was incorrect – something another user noticed and fixed a week after the election.
Drake's edits violated Wikipedia's conflict of interest rules. "Activities regarded by insiders as simply 'getting the word out' may appear promotional or propagandistic to the outside world," the rules say. "Political candidates and their staff should not edit articles about themselves, their supporters, or their opponents."
The Blake campaign did not make Drake available for comment, but Pilla, Blake's spokeswoman, emailed a statement to City & State saying that "all the changes were factually correct and simply a matter of providing accurate and up to date information." She continued: "The campaign member who made the edits complied with their understanding of the Wikipedia editing rules and provided the expected level of transparency in updating the Assemblyman's page. The final changes went through the typical review process by fellow Wikipedia users."
Even overlooking the clear rule against political staffers not editing candidates' pages, Drake appeared not to follow Wikipedia's transparency guidelines by apparently neglecting to disclose his conflict of interest while making edits. Editors with conflicts of interest are encouraged to suggest edits on a discussion page, rather than making edits directly.
Pilla said that the edits were suggested by the campaign's political director after noticing that information on Blake's page was incorrect, and that the campaign went through a "month-long editing process with senior members."
This explanation, however, doesn't reflect the edits that Drake made, none of which appeared to correct or remove allegedly inaccurate information.
Still, editing a Wikipedia page isn't surprising for a 21st century campaign, Fordham University political science professor Christina Greer told City & State. "Often times that's the first thing that pops up when people are doing a quick search," Greer said. "Blake is tech savvy, millennial savvy, all that stuff."
And candidates have been massaging their biographies since the beginning of time. "Everyone has to have an origin story," Greer said. "It's the best version of the truth of yourself."
Political staffers have a long history of editing politicians' Wikipedia pages, particularly on Capitol Hill, where Blake hopes to be working by 2021. There are two Wikipedia pages devoted to the phenomenon of "congressional staff edits to Wikipedia." The edits to Blake's page were relatively minor compared to other incidents, like staffers cleaning up the pages for U.S. Sen. Dianne Feinstein and then-Sen. Joseph Biden.
Other edits veer toward the bizarre. In 2016, a staffer in the House of Representatives apparently edited the Wikipedia page of Betsy Ross, who may have designed the first American flag, to also credit her with creating the bacon, egg and cheese. Much like the edits to Blake's page, it was quickly removed.