Andrew Cuomo
What Cuomo's endorsement of Biden means
New York Governor Andrew Cuomo is backing Joseph Biden for president – but why? In this week's' "Ask the Experts" feature, we explore why he did it, what the impact will be, and which post could tempt the governor to return to the White House.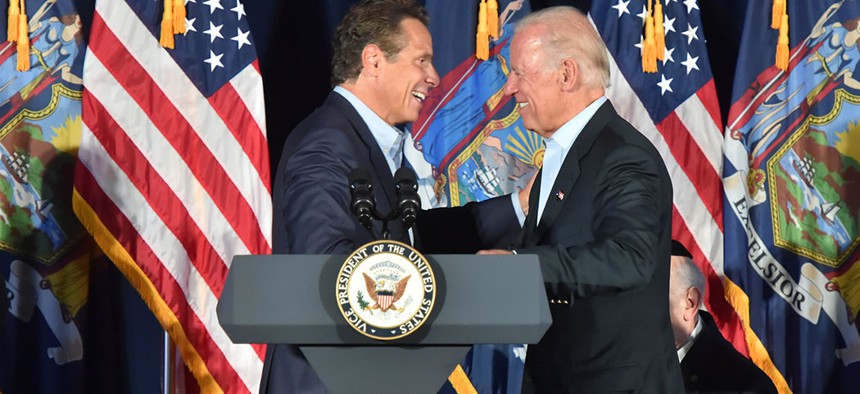 Gov. Andrew Cuomo is backing Joseph Biden for president – but why? According to the governor, he believes in Biden because he "can beat Trump" and "can actually get something done."
Among the other possible reasons? Similar political views, to get a post in a Biden White House, to help New York should Biden become president, and – without running for president himself – to stay relevant on the national stage.
In a City & State online poll this week, many of our readers suspected that all of the above factors are at play. A majority also said Cuomo made the right move in getting behind Biden early, while nearly half said the best post for Cuomo in a Biden administration would be U.S. attorney general.
Now, we're turning to the experts. In this week's "Ask the Experts" feature, we reached out to Thomas Doherty, a partner at Mercury Public Affairs; Bruce Fisher, director of the Center for Economic and Policy Studies at SUNY Buffalo State; Justin Lapatine, a partner at Global Strategy Group; Ken Lovett, vice president of communications and Albany director for Metropolitan Public Strategies; and Jeanne Zaino, a political science professor at Iona College. Here's what they had to say.
Why is Gov. Andrew Cuomo backing Joseph Biden?
Ken Lovett: The governor not only has been a longtime ally of Biden, who as vice president and after has appeared frequently with Cuomo, but sees him as the same type of centrist Democrat he believes is needed to win. Cuomo doesn't believe a hard leftist can win. He sees the progressive left as talkers, not doers. He had tried to paint Biden the same way he portrays himself, a progressive who gets things done. It's also not a coincidence that Biden practices the same kind of old-school politics with which Cuomo is most comfortable. They are not from the same generation, but they are close. And though she's from his own state, Cuomo has never had a particularly close relationship with Kirsten Gillibrand. Lastly, Biden represents Cuomo's best chance of all the candidates of getting a cabinet post if he wants an out as governor.
Jeanne Zaino: Governor Cuomo recently published an op-ed in The Washington Post in which he asked 35 questions about this election season. Questions 20 and 21 reflect recent comments made by Joe Biden's former boss, as well as Cuomo's own thinking ("when did the political left become an enemy of the political left and the Democratic Party become a circular firing squad?"). This isn't surprising after the challenges the governor has faced from the progressive left in New York, particularly in the last two elections, and it explains in large part why he is backing Biden – he believes he represents the "big tent."
Bruce Fisher: Cuomo's strong gestures toward Biden go back at least a year. It's not just their personal ties, it's their political histories: These are two mainstream Democrats who have advanced policies usually identified with the progressive wing, getting way forward on $15 minimum wage, family leave and gay marriage, without alienating business or talking down to the middle class.
Justin Lapatine: There is a ton of mutual respect and admiration between the two, so I don't think it's a surprise at all. And I think the governor sees Biden as his kind of "pragmatic progressive" and the candidate with the best chance we have of beating Trump.
Thomas Doherty: Cuomo's endorsement of Biden's Presidential run certainly starts with a longtime personal relationship. I sense that friendship extended to Biden's son Beau who served as Delaware's attorney general during the time Cuomo held the same position in New York. Dating back to 2015, Cuomo encouraged Biden to enter the 2016 race. On multiple occasions they have appeared together at various government and political events. I also think Cuomo must feel that Biden's center left political agenda has the best chance to beat Trump.
What impact will Cuomo's support have?
Jeanne Zaino: Biden and Cuomo are adhering to something that some people say may be a thing of the past – the idea that in this new age of social media, big-name endorsements still matter. That remains to be seen, as does the related question of whether in this environment they can sometimes backfire?
Bruce Fisher: New York matters. The Biden campaign is reaching out already to Cuomo's network here, both for fundraising and for campaign help. Early on, Cuomo's donors are getting the message: Biden is the way to go.
Justin Lapatine: The governor can certainly help Biden fundraise. The vice president is off to a good start but will need all the help he can get. If the governor pushes his donors to support the VP, it will have a significant impact. As a surrogate, the governor will have no problem going after Trump and making the case for a Biden presidency. Finally, while I don't think elected endorsements carry much weight with voters, governors are certainly the most prized, especially as it is highly likely that the field will still be very full by the time New York votes.  
Thomas Doherty: You can never underestimate the political muscle of a sitting governor, certainly not in a state like New York. In a delegate-rich state, Cuomo controls the political apparatus and that will be an immense help to Biden. This will be particularly true in what already is an enormous Democrat field. Just as important will be Biden's ability to tap into a very large and organized fundraising operation.
Ken Lovett: Limited impact. Obviously, it could help most in New York, though not if there is a strong progressive primary turnout. Cuomo would argue that his primary last year shows that while the progressives may talk the loudest, they represent more the vocal minority among New York Democrats. While Cuomo's favorability rating is not strong, suggesting it would be hard for him personally to move the electorate in the state to Biden, he does control the party apparatus, which if it gets involved for Biden could be a big help. And certainly, if he sets his vast fundraising network in play for Biden, that, too, would help. But even there, Biden is a national figure who should have little problem raising money on his own. Cuomo could potentially have some impact as a surrogate in a state like Florida, where his father's name may still hold some sway with older New York expatriates. But it's questionable how well he'd play elsewhere.
If Cuomo were to get a post in a Biden White House, what would be the best fit?
Justin Lapatine: Infrastructure czar, what else?
Thomas Doherty: While vice president doesn't seem like an option, in large part due to the Democrats intent on having a minority or woman on the ticket, it certainly can't be completely ruled out this early. Due to the power associated with the office of New York governor, it does limit administration posts which may interest Cuomo. While secretary of state would hold the gravitas needed, Cuomo doesn't have any international experience. The most senior position would seem to be attorney general. Personally I wouldn't rule out White House chief of staff. It's a position which requires a close personal relationship, as well as an ability to understand and carry out both the legislative and political agendas of the president.
Ken Lovett: While it's more likely he'll run for a fourth term than return to Washington for a cabinet post, perhaps he'd be enticed if Biden asked him to be chief of staff, attorney general or homeland security secretary. Having been a HUD secretary, Cuomo in the past has had a "been there, done that" attitude when asked about potential roles in the White House. But a high-profile role might be enough to entice him to give up thoughts of a fourth term and dealing with an increasingly hostile state Legislature.
Jeanne Zaino: I suspect we would see him in line for attorney general or transportation secretary. Although it might be fascinating to finally see a Cuomo nomination to the Supreme Court.
Bruce Fisher: Cuomo has already been HUD secretary. He wants to be president. Cuomo's portfolio needs a foreign policy item. The route to 1600 Pennsylvania Avenue may be through Turtle Bay as President Biden's UN ambassador. Short commute.