New York State
What Democrats got done in Albany by the end of session
Lawmakers have reached deals in recent days on some high-profile issues like sexual harassment reforms but it remains to be seen whether Democrats will be able to achieve all their legislative priorities before they adjourn for the year this week. Here's a rundown of the state of play on the top issues.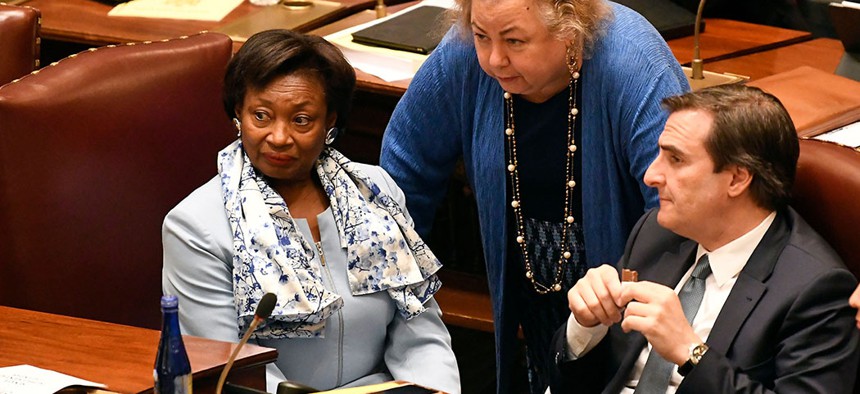 As Democrats raced late into the night on Thursday to pass their final bills of the year, they demonstrated how state government has changed during the first year of one-party rule in Albany.
The passage of a litany of high-profile bills in recent weeks by Democratic state lawmakers has shown that the second half of a state legislative session can be just as productive as budget session – the period leading up to April 1 that in past years had been the primary time to get big proposals through the state Senate and Assembly.
Despite striking major deals on congestion pricing, education and criminal justice reforms, Gov. Andrew Cuomo and state lawmakers left a number of controversial issues unresolved when they agreed to a final budget deal earlier this year. While there had been fears that this delay could jeopardize the passage of some proposals, lawmakers in recent weeks were able to reach landmark deals on issues including rent regulations, climate change, sexual harassment and driver's licenses for undocumented immigrants.
"This was I believe the most productive legislative session in modern political history," Gov. Andrew Cuomo told reporters at a Friday morning press conference in the state Capitol. "Change comes when the planets line up and the people are ready for change. … The product was extraordinary at the end of the day."
Failed efforts to legalize recreational marijuana, limit solitary confinement and expand the prevailing wage were rare disappointments for progressives. Apart from those measures, Democrats passed legislation in recent days on bills addressing a number of issues they campaigned on last year to win control of both houses of the Legislature for the first time in years.
Democrats did this without resorting to using an omnibus "big ugly" bill to passing controversial proposals. A "slim ugly" bill taken up by the state Senate and Assembly on the morning of June 21 instead tied up loose legislative ends like capital funding, technical fixes and tweaking residency requirements to allow state Budget Director Robert Mujica to sit on the board of the Metropolitan Transportation Authority.
While lawmakers say they are done for the year, both houses of the Legislature have abided by a tradition in recent decades whereby they go into recess without formally adjourning. This allows legislative leaders to jointly summon lawmakers back to the Capitol if and when they choose. Neither Assembly Speaker Carl Heastie nor Senate Majority Leader Andrea Stewart-Cousins have announced such a move, though some activists have urged them to do that in order to address marijuana legalization and other issues.
Here is what Democrats have gotten done in Albany in the final stretch of the 2019 legislative session.
Rent reforms
Among the biggest unknowns after the budget was to what extent lawmakers would renew the state rent laws in tenants' favor. Activists proposed nine bills that not only would address rent stabilization in New York City, but also dramatically expand tenant protections statewide. In the end, eight out of the nine bills passed the Legislature, with some modifications. This included measures that abolished vacancy decontrol, expanded the Emergency Tenant Protection Act statewide and curtailed the ability of landlords to raise the rent after renovating a building or apartment. An omnibus bill passed on June 21 includes some tweaks to the legislation to address unexpected issues.
Sexual harassment
Lawmakers passed a bill that includes sweeping reforms to the state's sexual harassment laws. This includes changing the state's "severe and pervasive" standard that must be met to prove sexual harassment. The new standard will require that employees prove they experienced "inferior terms, conditions or privileges of employment," according to The Wall Street Journal. A final omnibus bill also incorporated provisions of other related proposals as well. The bill prohibits non-disclosure agreements in workplaces from barring employees from speaking out about discrimination. The statute of limitations for sexual harassment complaints will be raised to three years under the state Human Rights Law. Domestic workers and independent contractors are included in the new protections, and punitive damages and attorney fees can now be awarded in employment discrimination actions. A failure to make a complaint will not longer absolve an employer of liability for harassment, and mandatory arbitration of discrimination claims will be prohibited by the new legislation.
Driver's licenses for undocumented immigrants
One of the most contentious issues of the years came down to a close vote in the Senate, where Long Island and Hudson Valley lawmakers had opposed a bill that will allow undocumented immigrants to get driver's licenses. Critics on the right said that the legislation would enable voting fraud and reward the violation of national immigration laws. Critics on the left expressed concerns that the bill would not include adequate protections to guarantee that federal immigration authorities could not use the personal information of drivers to round up undocumented immigrants. After a lengthy debate and last-minute confusion about whether Cuomo was for or against the proposal, the bill was passed and quickly signed into law. A group of upstate county clerks plans to challenge the new law in federal court.
Recreational marijuana
For much of the year, a proposal to legalize recreational marijuana appeared to be on the way to passing the Legislature. Despite optimism that the proposal could still pass as the session wound down, concerns about how to use revenues and whether local communities could opt in or opt out of allowing recreational sales proved barriers too high for lawmakers and Cuomo to clear.
It was announced early on Wednesday that theycould not reach a deal on a proposal that would fully legalize recreational marijuana. The Legislature, however, did have a backup option since state Sen. Jamaal Bailey and Assembly Majority Leader Crystal Peoples-Stokes had introduced a bill to decriminalize smoking marijuana in public and establish a mechanism for vacating certain marijuana offenses. The proposal passed the Legislature and Cuomo said he will sign it.
Climate change
The state passed a bill in the final week of session that has made the state an international leader on climate change policy. The Climate Leadership and Community Protection Act requires, among other provisions, that a minimum of 70% of the state's electricity be generated by 2030 from renewable sources, reaching 100% by 2050. While the bill will make New York a leading state on climate change policy, the legislation includes some big changes from its original version, which had been called theClimate and Community Protection Act. Changes to the legislation include slowing the pace of reducing greenhouse gas emissions by 2030, increasing the speed of the state's transition to using renewable energy, and tweaks that give the Legislature more influence over a climate action council that would help determine implementation of the legislation. While lawmakers and activists did not get limits on emissions that were as strict as they had originally hoped, passage of the bill marked a remarkable turnaround for the proposal, which Cuomo had suggested weeks before was not going to pass this year.
Women's rights
Cuomo championed several proposals in the final weeks of the session that aimed to even the playing field between men and women. This include a successful effort to raise the statute of limitations of rape in the second and third degrees from five years to 20 and 10 years, respectively. An Equal Rights Amendment to the state Constitution is moving forward, and a bill that requires equal pay for men and women also passed both chambers.
LGBTQ rights
A proposal to legalize gestational surrogacy, which can help some same-sex couples have children, stalled in the Assembly, despite conversations about the bill between Cuomo and key lawmakers like Assemblywoman Deborah Glick. Her resolve on the bill appears to have not been shaken by the revelation on June 18 that she had promised her support for a version of the bill when seeking the political endorsement of the Stonewall Democratic Club of New York City last year. Either way, the impasse on that bill did not keep Cuomo and lawmakers fromagreeing to abolish the "gay panic defense," which means that criminal defendants can no longer cite as a criminal defense the shock of learning someone is LGBTQ.
Labor
After a lengthy debate in both houses of the Legislature, lawmakers passed a bill that will dramatically increase the labor rights of farm workers statewide, including making them eligible for overtime pay. Opponents say the proposal would negatively affect family farms by giving workers overtime pay and the right to strike. A provision in the proposal would also grant farm workers collective bargaining rights statewide, an issue that a recent court decision made moot.
A deal on expanding the use of the prevailing wage fell apart in the final hours of session despite expectations that lawmakers and Cuomo would reach an agreement. Among the biggest sticking points on the union-backed bill was to what extent to tailor the proposal's provisions to different areas of the state.
Education
One thing the Legislature did not act on this year was addressing the admissions process for New York City specialized high schools, though an Assemblycommittee did vote to bring one proposal to the full chamber on Tuesday. Charter school supporters did not secure an increase in the state cap on charters, despite Cuomo's stated support for the effort.
Minority- and women-owned enterprises
Lawmakers in both chambers passed a bill that renews the state program to help MWBEs get a share of state contracts, which would expire at the end of this year without further action. A top sticking point had been a proposal from Assemblywoman Rodneyse Bichotte, who led efforts in the Assembly on the issue, to eliminate a cap on the personal net worth on people eligible for the program. The Legislature on June 20 voted to raise that cap from $3.5 million to $15 million, among other changes, the Times Union reported.
Criminal justice reform
The state budget included new limits on cash bail and other criminal justice reforms, but lawmakers wanted to go further in the second half of the session through several additional proposals. An effort to restrict the use of solitary confinement in state prisons and jails appeared to fall short Wednesday night, as have efforts to give automatic parole to elderly inmates and to make the disciplinary records of NYPD officers more transparent. Despite the efforts of activists that included a hunger strike, lawmakers did not pass legislation that would have curtailed the use of solitary confinement in prisons and jails across the state.
Other issues
One of the biggest surprises on the final day of the session happened with a legislation aiming to implement automatic voter registration. Lawmakers supported the proposal but it had to be pulled on the final day because of a technical flaw that could have allowed ineligible people to register to vote. Stewart-Cousins and Heastie said in a statement that they would pass the updated bill "at the next available opportunity when we are in legislative session," but that it "will not impact the implementation of this corrected legislation because, like the original legislation, it does not go into effect until 2021."
A bill that would decriminalize prostitution did not pass this year, nor did a proposal to legalize mobile sports betting, but a bill authorizing the use of e-scooters did get passed.
Lawmakers did succeed in abolishing the religious exemption on mandatory vaccinations as well as passing two controversial bills that concern President Donald Trump. The first would allow state tax authorities to disclose the tax returns of individuals if three congressional committees request them, giving Democrats in Congress a new legal weapon to use in their pursuit of Trump's tax returns. The second bill allows state authorities to prosecute individuals for the same crimes they might be pardoned for at the federal level, an effort to make sure that Trump could not use his pardon power to protect associates, such as former campaign manager Paul Manafort.
New York City Mayor Bill de Blasio scored a win in the home stretch of the session when the Legislature voted to extend design-build authority to some city agencies, which can help streamline capital projects.
Powered By
NEXT STORY: Independent group airing pro-Cabán TV ad this weekend