New York City
Why the Queens machine didn't get out the vote
Aren't political machines supposed to deliver votes?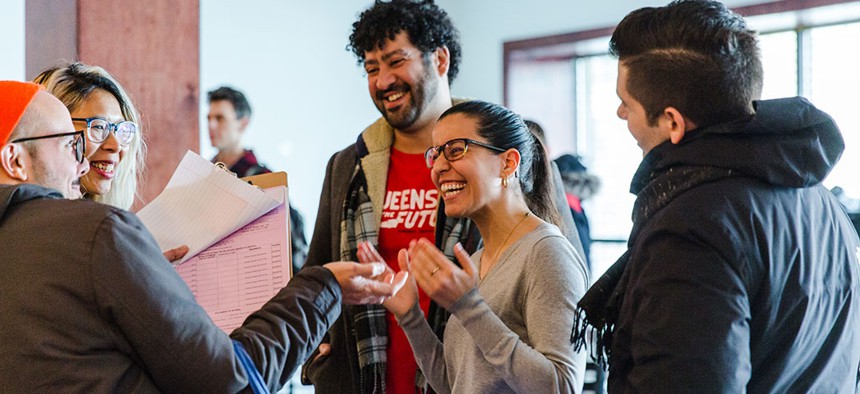 The Queens political machine experienced its second stunning defeat in as many years with Tiffany Cabán's presumptive victory in the borough's district attorney Democratic nomination – and that raises the question as to why it is so incapable of mobilizing its own supporters. The public defender bested the county party and union-backed Queens Borough President Melinda Katz just a year after now-Rep. Alexandria Ocasio-Cortez unseated then-Queens Democratic Party Chairman and Rep. Joseph Crowley. 
Traditionally, political machines' power has sprung from the ability to turn out the vote for their preferred candidates and thereby win low-turnout primaries. Despite what seemed like a more robust campaigning effort from Katz, compared to Crowley, many Queens residents reported being frequently visited by Cabán's canvassers and never once on behalf any other candidate. 
Ocasio-Cortez and Cabán won gentrifying areas, filled with newcomers who have no connection to the local political clubs or the county committee – or any loyalty to the longtime local elected officials who mostly backed Katz. But the organization is stronger in areas such as Southeast Queens, which has propelled its candidates to victory in the past. 
But part of the establishment's current problem lies in the fact that the county organization has too long rested on its laurels and remains largely unprepared to counter a strong challenge. One Queens Democratic insider, who requested anonymity to speak candidly, said that the county organization has largely taken for granted the mostly black Southeast Queens community, simply assuming that the voters there would support their candidate. He said that while he was aware of ground efforts in other parts of the borough, he did not see much activity in Southeast Queens. 
Although Katz did perform well in that area, the turnout was not nearly as strong as it was in gentrifying neighborhoods in western Queens. Although turnout overall was low, about 11%, Cabán effectively mobilized her base in neighborhoods like Astoria and Long Island City, giving them disproportionate influence on the result of the election. Katz, on the other hand, failed to inspire the same kind of energy among the establishment base she relied on. For example, Caban received 6,174 votes in her strongest Assembly district, which is represented Aravella Simotas in Astoria and 4,658 in her second strongest, which stretches from Long Island City through Sunnyside to Ridgewood and is represented by Catherine Nolan. Comparatively, Katz only got 3,296 in her strongest, and 3,105 in her second strongest: Alicia Hyndman's district, covering portions of Jamaica, St. Albans and Laurelton, and Vivian Cook's, which includes Springfield Gardens, South Jamaica and portions of Jamaica.
State Sen. James Sanders Jr., who backed Cabán late in the game after having previously supported New York City Councilman Rory Lancman, who dropped out, also observed a lack of ground effort in his district, which includes South Jamaica, South Ozone Park and Far Rockaway. Sanders concurred that the establishment knew they had those votes locked up. "And the leaders of Southeast Queens were agreeing with them over and over," Sanders told City & State. "Everybody had a mutual admiration society instead of a campaign."
Another Queens political insider suggested that the county organization is simply not what it used to be in terms of sheer strength in numbers of supporters. So when Cabán turned out with an army of volunteers who could knock on thousands of doors, the party did not have the manpower to match it. A spokesman for the county party did not immediately respond to a request for comment. 
However, Katz was endorsed by a number of major unions including the politically powerful 32BJ SEIU and 1199SEIU. Both are known for their strong ability to mobilize for candidates. A spokeswoman from 32BJ SEIU said the union had 1,000 volunteers, who knocked on 50,000 doors and texted over 100,000 people for Katz, and suggested the strength of the effort was not something the union does for every candidate it backs. 1199SEIU did not respond to a request for comment from its political director. 
The machine also arguably failed by choosing a candidate who did not inspire residents to vote in the new June primary. In March, Katz campaign strategist Doug Forand told Gotham Gazette that they intended to utilize a "volunteer army knocking on doors" to get out the vote. On Thursday, a spokesman for the Katz campaign told City & State they ran "an aggressive boroughwide voter contact operation" with 300,000 doors knocked and 240,000 phone calls. But he said the field campaign was "focused in a different area than Cabán."
On Tuesday, the establishment-backed candidate, Wyatt Gibbons lost in a landslide to the insurgent Lumarie Maldonado Cruz in the smaller, but still significant, Civil Court race. That race also illustrates the party's struggles to adapt to the changing political field in Queens. 
Historically, the party effectively appoints judges in local posts, nominating their chosen candidate, who cruises to victory. Insiders say Gibbons did not really campaign. The party's shortcomings are arguably starker in this race than in the district attorney primary. In a head-on race between two candidates for a post the establishment has long controlled, it's hard to blame factors outside of a failure of party influence for Gibbons' loss. Gibbons did not immediately respond to a request for comment. 
While the Civil Court primary was fairly clear cut, the district attorney race did include a wide array of candidates that affected the outcome of the race as well. Originally, seven people had competed for the position. Two of them – Lancman and Lasak – stood to take a nontrivial number of votes that would most likely have gone to Katz had she been the sole mainstream candidate running. (Although Lancman is a progressive, he has strong ties to the county party.) When Lancman dropped out and endorsed Katz shortly before the primary, it presumably helped her as there was now one less person splitting her vote. But Lasak stayed until the bitter end. Given Cabán's very narrow margin of victory, Lasak's absence could have put Katz over the top and enabled her to win. One could argue that the county organization failed here once again by allowing multiple party-supported candidates to make it onto the ballot, but Lancman eventually dropped out and Lasak had been eyeing the seat for years.
The success of Cabán in the district attorney race, as well as Maldonado Cruz and Ocasio-Cortez, demonstrates a pattern of diminishing power for the Queens County Democratic Party. When faced with strong challenges, it hasn't mobilized its voters to the same degree as the insurgents. Rather than forming coalitions with new populations moving into western Queens, it remains entrenched in its old ways. "The machine did not stay abreast with the times, they did not like fresh blood and they certainly hated fresh ideas," Sanders said. "So you put all of those things together, along with the rise of new communities, and they were in a world of pain."