New York City
State law on affidavit ballots could determine the Queens DA race
The recount and battle over affidavit ballots in the Queens district attorney Democratic primary are confusing, but we've got answers to the key questions as to how state law will shape the final result.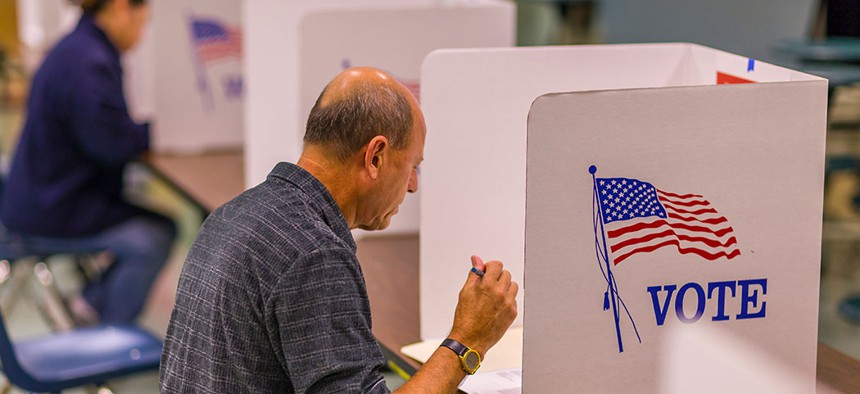 Whether Queens Borough President Melinda Katz or public defender Tiffany Cabán emerges victorious from the contested Democratic primary for Queens district attorney will likely depend on how a few dozen voters filled out affidavit ballots, also known as provisional ballots, two weeks ago.
These are the ballots that voters fill out on when their names are not found in the voting rolls at polling sites, the validity of which is determined later. More than 2,500 affidavit ballots were submitted in the Queens district attorney race. Of those, about 500 were found to be valid. 
A manual recount of the roughly 90,000 votes cast, scheduled to begin later this week, will also may alter the final result of the race.
A state Supreme Court judge in Queens on Tuesday is scheduled to consider the fate of 114 provisional ballots that the city Board of Elections deemed invalid following the June 25 election because a voter had not indicated a party affiliation. The judge, however, will not rule on the case until after a recount is completed.
Katz currently is up by only 16 votes, thanks to her dominance among absentee ballots that wiped out Cabán's narrow election night lead of 1,090 votes. The recount process will begin Tuesday by sorting the ballots before elections official begin to count each vote later in the week. A spokeswoman for the Board of Elections said Monday it was unclear how long officials would need to count the ballots.
Up until the final result is certified, lawyers from each side could also press for the board – or the courts – to reinstate other ballots that were deemed invalid, either because the voter was not deemed eligible to vote in the primary or because of technical mistakes in how the voter filled out the affidavit ballot. "We expect both campaigns to request additional affidavit ballots be opened, so that every eligible voter has his or her ballot counted," said Jerry Goldfeder, an election attorney working for the Cabán campaign.
Some progressive elected officials, such as state Sen. Alessandra Biaggi, and progressive activists, like Intercept columnist Shaun King, have claimed that Queens County officials were trying to tilt the election in favor of Katz. Katz received the endorsement of the Queens County Democratic machine and prominent elected officials like Gov. Andrew Cuomo, and Board of Elections and local judges are typically chosen by the party machine. 
Other observers dismiss these allegations, noting the lack of evidence. "I've been doing election law for 48 years now, and I've never seen the Board of Election stealing an election. They don't do that. They follow the statute," said veteran New York election lawyer and former Democratic state senator Marty Connor. "It's rather shocking, frankly. It reminds me of Trump: 'The election is rigged if I lose.'"
Though about 4 out of 5 provisional ballots were tossed by the Board of Elections, Connor said that is well in line with past primary elections in New York. "Many people think they're a Democrat because they vote Democratic all the time in November," he said. "But they're not a Democrat because they are not registered. I've seen that a zillion times."
While no one knows how the race will end once all the valid votes are counted, here are the answers to five key questions as to how the law will shape the final result.
What is an affidavit ballot?
An affidavit ballot is filled out by a voter whose name does not appear at their local polling site. In some cases, a name is not there because a voter recently moved, changed his or her name or did not properly register to vote. Other times it could be a clerical error. Anyone who still claims to be an eligible voter at a polling site is required to fill out an affidavit that resembles a voter registration – except it's printed on an envelope. This form includes spaces for a voter's name, address, date of birth, party affiliation and signature. The voter is then given a ballot to fill out. After voting, the ballot is sealed inside the envelope, which is opened only if and when the affidavit ballot has been validated by the Board of Elections. Ballots are kept by the board for two years after an election.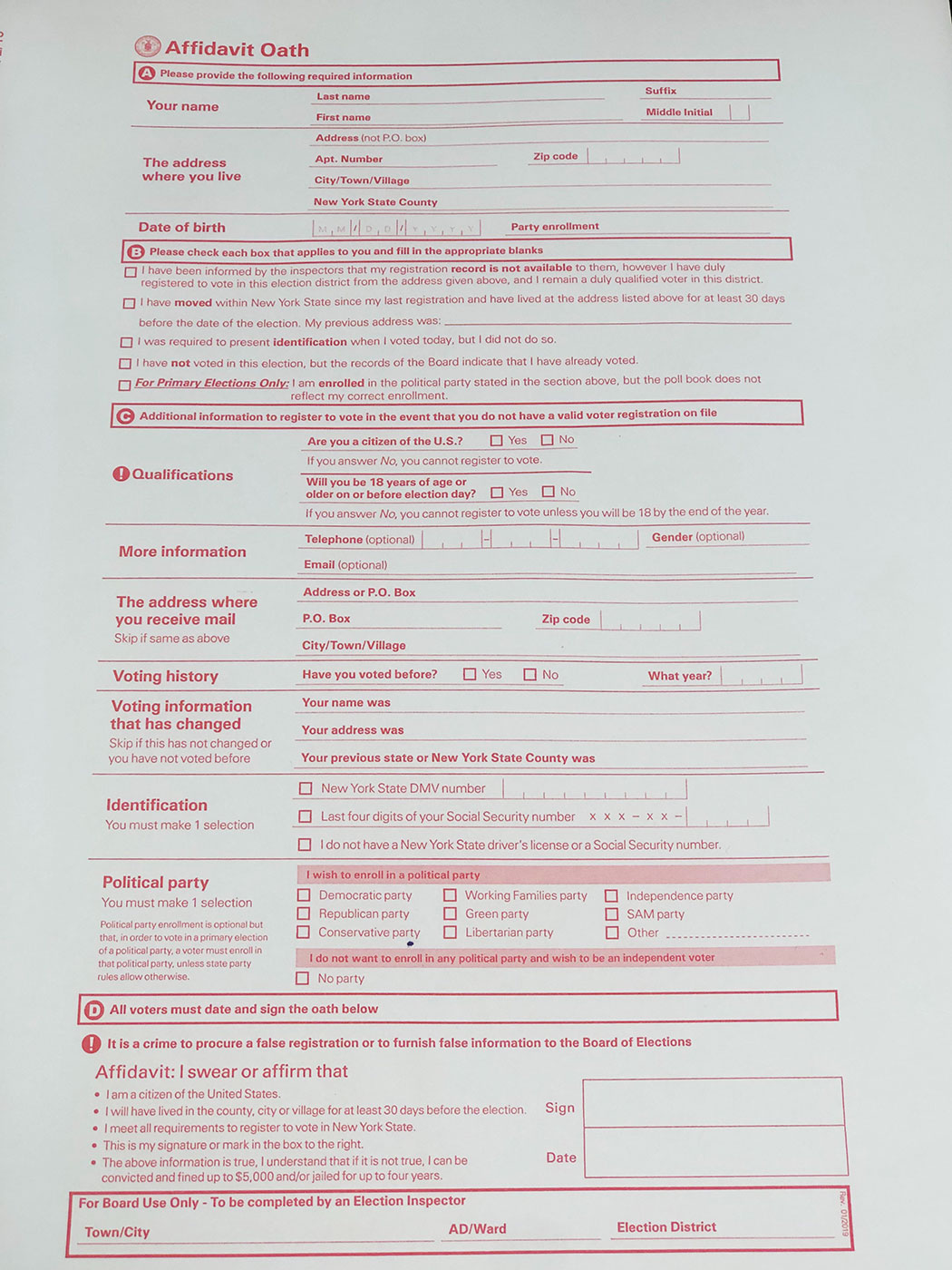 Why would an affidavit ballot be invalidated?
Election officials determine whether a provisional ballot is valid based on voter registration records and the information that a voter filled out on the affidavit itself. Reasons that a ballot would be invalidated include that the person did not register to vote in time for the election or that the person was not registered with the relevant party in a primary election. (In the case of Cabán, who appealed to many young voters who may not be Democrats, lack of correct party registration may be an especially prevalent problem.)
The current affidavit ballot form includes a box asking which party the voter is registered with. New York state has closed primaries, which means that anyone who was registered as an independent or a member of a third party like the Green Party or Working Families Party would not have been eligible to vote in the June 25 Democratic primary. Even if voters are registered Democrats who simply neglect to check the box on this unfamiliar affidavit ballot, they can be disqualified for not having checked the Democratic box. The state is not lenient with affidavits that are not fully filled out, according to election lawyer Sarah Steiner. "The statute says that all sections of the affidavit ballot envelope must be filled out, and the board has an obligation to follow the existing law," she said. That's why on Friday, Amanda Berinato, chief clerk of the Board of Elections, ruled against Cabán's request that a number of ballots lacking party identification be counted. Courts have ruled in the past, however, that ballots can be opened if a voter has "substantially complied" with instructions, Steiner added.
How are disputes over local elections handled?
The civil division of the Queens County Supreme Court will handle any cases regarding the district attorney election. Given their time-sensitive nature, elections cases are generally expedited through the court system. While the Queens district attorney case is notable for being more high-profile than other county elections, the issues in dispute over provisional ballots hardly make it an outlier in state election case law. "This case is not unusual except that the race is so high-profile and so close," Steiner said. "The arguments each candidate is making are similar not only to standard arguments in similar cases, but also to each other."
It is unclear which candidate would benefit more from validating more outstanding provisional ballots. The Katz campaign has claimed that it merely wants clarity from the court on whether a voter must fully fill out the affidavit. The Cabán campaign has adopted a more confrontational approach to the Board of Elections by implying wrongdoing in its public statements. "We will be in court Tuesday morning to make sure these voters are not disenfranchised," Monica Klein, a spokeswoman for the Cabán campaign, said in a statement. 
To what extent will a recount change the results?
State law prescribes many of the details of what counts as a vote and what does not. This includes the rules governing affidavit ballots as well as what counts as a valid vote. Generally speaking, if a voter uses a check mark or an X to mark a ballot – rather than fully filling out a bubble – then the vote is deemed valid and counted. Elections officials can make a determination of a voter's intent by examining how they filled out the rest of the ballot. 
A ballot that is marked by a voter in a way that would make it "identifiable" is against the law – for example, by including a signature or other marks that hint at one's identity – and could be invalidated. 
The initial count for the Queens district attorney race was done entirely by machine, which can only read ballots where the bubbles are fully filled in. This means that the final result of the race could come down to the manual recount as much as any court order that validates provisional ballots. 
Could Gov. Andrew Cuomo change the election results?
If the governor acted quickly, he could theoretically alter the results of the primary. The state Legislature passed a bill last month that would loosen the requirements for validating a provisional ballot. Basically, the failure of voters to provide a past address on an affidavit ballot would no longer be grounds for nullifying their votes – as long as they "substantially complied" with other requirements. The bill would take effect immediately if it is signed by Cuomo. While the state Senate and Assembly passed the legislation in mid-June, it has not been sent to Cuomo's desk. The reason why remains uncertain, though the governor often requests that the Legislature hold on to a bill while gubernatorial staff review it. Otherwise, the governor has just 10 days to either sign or veto legislation before it would automatically become law. A spokeswoman for the Assembly, which would have to release the bill, did not respond to a request for comment. A spokesman from Cuomo could not confirm whether or not the governor has requested the bill. Normally, such a proposed change would not affect the outcome of an election. However, with fewer than two dozen votes now separating Katz from Cabán, every vote counts – until they don't.
Powered By
NEXT STORY: Jeffrey Epstein's New York connections