New York State
The presidential field's New York connections
On Sunday, The New York Times revealed that presidential candidate and advice guru Marianne Williamson got her spiritual start in New York City. Here are all of the non-New Yorker presidential candidates who have little-known relationships to the Empire State.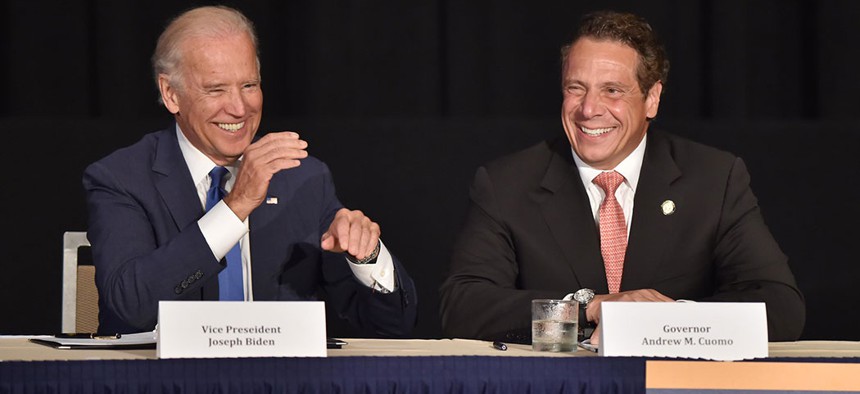 Earlier this year, City & State compiled a list of the prominent New Yorkers who are running for president in 2020, including President Donald Trump, New York City Mayor Bill de Blasio, U.S. Sen. Kirsten Gillibrand, former Gov. Bill Weld, U.S. Sen. Bernie Sanders and entrepreneur Andrew Yang. On Sunday, The New York Times revealed that presidential candidate and advice guru Marianne Williamson got her spiritual start in New York City, showing that there may be many candidates with less-obvious New York connections. (Williamson lives in California.) Here are all of the non-New Yorker presidential candidates who have some relationship to the Empire State.
Marianne Williamson
The bestselling author of books offering spiritual guidance and inspiration received a lot of internet attention for her curious statements in the first Democratic primary debate. She found the book, "A Course in Miracles," that inspired her career during the time she spent in New York City in her 20s. The book was written by Helen Schucman, a Manhattanite who believed in the 1960s that she was channelling revelations directly from Jesus Christ. (Schucman, who lived on the Upper West Side and worked as a research psychologist at Columbia-Presbyterian Medical Center, was raised secular by parents who were both half-Jewish, but she converted to Baptism as a child.) Williamson, who was raised Jewish, is the person most credited with promoting the book starting in the 1990s and has given spiritual advice to many prominent celebrities based on its contents. According to the Times, "A Course in Miracles" inspired Williamson's long-shot presidential bid and is the basis for some of her most statements in the first debate. 
Former Vice President Joe Biden
Democratic front-runner Joe Biden's connection to Gov. Andrew Cuomo gives him a very strong financial backing from the Empire State. Earlier this year, Cuomo opened his formidable fundraising apparatus exclusively to Biden's 2020 campaign. Cuomo said in interviews that he would only consider running if Biden didn't because he thinks Biden has the best chance of beating Trump. The two formed their alliance back in the days of President Bill Clinton's administration, when Cuomo was Department of Housing and Urban Development secretary and Biden was a U.S. senator from Delaware. Cuomo is reportedly going to be much more involved in helping Biden's White House bid than he was in Barack Obama's or Hillary Clinton's. Some staffers in the state Legislature think Cuomo is expecting a prominent Cabinet position should Biden prevail. 
U.S. Sen. Elizabeth Warren
The anti-corporate candidate from Massachusetts spent a short time in New York City in 1975, when she was a summer associate at Cadwalader, Wickersham & Taft while attending law school. The white-shoe firm is, according to its own website, "the oldest continuing Wall Street law practice in the United States." 
U.S. Sen. Kamala Harris
The U.S. senator from California doesn't have any apparent New York connections apart from her success at soliciting donations from some of the state's most powerful financiers. Harris reportedly raised $911,000 from New York-based donors in the first quarter. In June, Marc Lasry, Avenue Capital Group CEO and co-owner of the Milwaukee Bucks, and Blair W. Effron, who co-founded an investment bank and is a prominent Democratic donor, along with Ray McGuire, the vice chairman of Citigroup, held a fundraiser in New York for Harris that reportedly raised almost $200,000. Also in June, Brad Karp, the chairman of the law firm Paul, Weiss, co-chaired a lawyers' lunch for Harris. CNBC reported that Harris is seeing a large surge in attention from prominent New York donors, following her break-out performance in the first Democratic primary debate in June.
South Bend, Indiana, Mayor Pete Buttigieg
The South Bend, Indiana, mayor is much more popular with New York's donor class than New York City Mayor Bill de Blasio so far. Buttigieg, a former McKinsey consultant, has successfully courted major Wall Street donors, including the executive vice chairman of Blackstone, Hamilton E. James, who hosted Buttigieg at his home in June. "Mayor Pete," as he is often called, also had a dinner with Anna Wintour, the editor-in-chief of Vogue magazine. He has also hired a full-time New York fundraiser. Buttigieg's successful media strategy was crafted by New York City-based political operative Lis Smith. She has been credited with lifting Buttigieg out of obscurity and making him a top-tier candidate. 
Former Rep. Beto O'Rourke
Beto O'Rourke's days as a struggling musician in New York City during the 1990s stand in stark contrast to his rock star U.S. Senate campaign last fall. O'Rourke, who grew up in El Paso, Texas, attended Columbia University and stayed for three years after graduating. He struggled to find a job and ended up working as a nanny to wealthy Upper West Side families while residing in a cheap Williamsburg artists' loft before the neighborhood became trendy and expensive. O'Rourke had hopes of making it as a musician in New York, but he was mostly unsuccessful. The former congressman doesn't look back on his time in New York fondly and has described himself as adrift during those years. 
U.S. Sen. Cory Booker
The New Jersey senator grew up in North Jersey's New York City suburbs and rose to fame as the mayor of Newark. He has deep ties to the New York donor class. After U.S. Sen. Kirsten Gillibrand, Booker raised the second-largest amount of money ($1.2 million) from New York donors who gave contributions of at least $200 in the first fundraising quarter of 2019. Booker is also backed by New Jersey Gov. Phil Murphy, formerly of Goldman Sachs, and Donald Sussman, who is a billionaire hedge fund manager. 
U.S. Sen. Amy Klobuchar
The Minnesota senator's political legacy seems to be moving out to the East Coast. Her daughter, Abigail Bessler, is the legislative director for New York City Councilman Keith Powers, who represents East Midtown and part of the Upper East Side. 
Former Gov. John Hickenlooper
John Hickenlooper, the former governor of Colorado, has a lot in common with fellow moderate and successful entrepreneur Michael Bloomberg, the former New York City mayor – including an interest in gun control policies. Hickenlooper joined Mayors Against Illegal Guns coalition, which Bloomberg co-founded, when he was mayor of Denver, in 2006, along with more than 100 mayors from around the country. 
U.S. Sen. Michael Bennet
The Colorado senator's mother Susanne Bennet is a Holocaust survivor who emigrated to New York City with her parents in 1950. There they opened the Klejman Gallery, named for the family, which catered to celebrities and star political players like the Rockefellers and the Kennedys. Bennet's brother, James Bennet, is the editorial page editor for The New York Times. 
Rep. John Delaney
The Marylander at the far back of the presidential pack grew up across the Hudson River in Wood-Ridge, New Jersey, and attended Columbia University for his undergraduate degree. Delaney was also the youngest CEO of a company traded on the New York Stock Exchange. 
Tom Steyer
Tom Steyer, a wealthy Democratic donor who floated a run for president earlier this year and traveled to Iowa only to decide he was not running, announced Tuesday that he is running after all. Steyer is a former hedge fund manager and a large donor to environmental and other progressive political causes. Although he lives in California, he was raised in Manhattan, where he attended the upper crust Buckley School.