New York City
What you need to know about de Blasio's new $58.4 million bike plan
Will this finally put an end to the recent spate of cyclist deaths?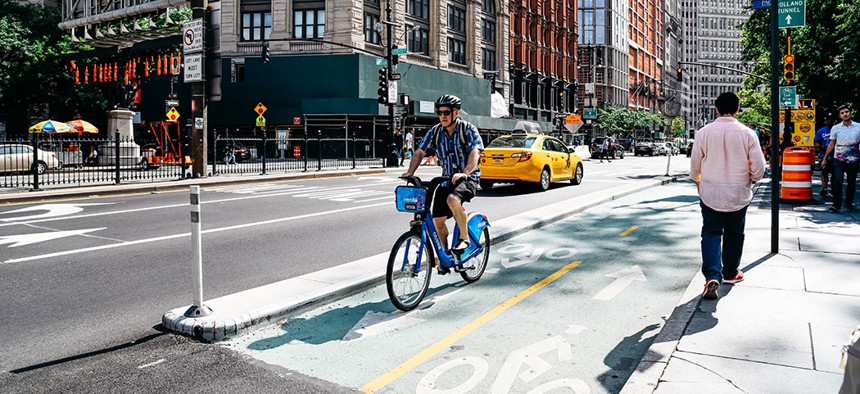 Move along Vision Zero – the "Green Wave" plan is here to save the day. (Or so we're told.) 
Following a much-publicized spike in bicyclist deaths over the past few months – and an overall cyclist death toll of 17 so far this year – New York City Mayor Bill de Blasio on Thursday announced his new $58.4 million plan to make the city safer for cyclists.
The plan will expedite the installation of 30 miles of protected bike lanes, redesign 50 intersections and hire 80 new city transportation workers to carry out "bike improvements." The new plan has also resolved to create "75 miles of bicycle infrastructure" in 10 separate "bike priority districts" in Brooklyn and Queens. 
Another significant aspect of the plan is having the NYPD crack down on cars speeding and parking in designated bike lanes, with special attention focused on reducing "conflicts between trucks and cyclists."
On July 1, de Blasio released a statement promising to "take action," given the uptick in cyclist deaths, though his message did not make any mention of a forthcoming plan. Cycling advocates weren't appeased, and organized a large "die-in" demonstration on July 10 to call out the recent jump in deaths. Now it appears the mayor has actually heeded their pleas.
And what about Vision Zero, you ask? Well, Vision Zero, unlike de Blasio's new plan, is concentrated on preventing all traffic-related incidents and deaths, not just cyclists. Though the program has received significant criticism – mainly from cycling advocates, who say it doesn't do nearly enough to prevent cyclist deaths – overall traffic-related deaths have declined since it's been in effect, thanks to a drop in motorist deaths.
"We think on paper (the Green Wave plan) looks good – we need more protected bike lanes," Jon Orcutt, the communications director for Bike New York, told The New York Times. "But the devil is in the implementation."
No word on a specific plan to curb pedestrian deaths; 114 people were killed on foot last year.
Powered By
NEXT STORY: Why Rosselló's resignation won't quell Puerto Rico's anger