New York City
Eric Adams: Hakeem Jeffries is not my rival
The borough president called it an 'idiotic belief' that the two Brooklyn politicians can't get along.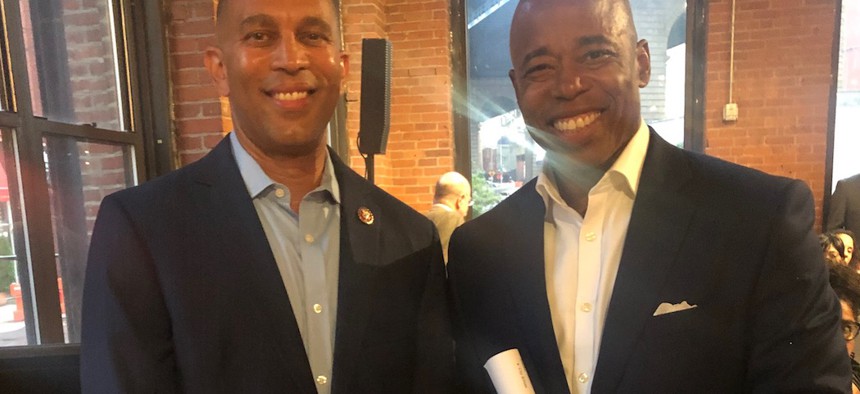 Spread love, it's the Brooklyn way – and Borough President Eric Adams' way too, as he sealed his friendship with Rep. Hakeem Jeffries by kissing him on the cheek at City & State's Brooklyn Power 100 event Wednesday night in Dumbo.
The two Brooklyn power players have occasionally found themselves on different sides of electoral battles, most recently endorsing opposing candidates in the Democratic primary for state Senate District 20. Adams backed then-state Sen. Jesse Hamilton. Jeffries endorsed Zellnor Myrie, who toppled him the incumbent. And their status as black, Democratic, rising political stars in Central Brooklyn has looked like a rivalry to some – as enshrined in a Politico New York story from 2014 with the tongue-in-cheek headline: "The great not-rivals of Central Brooklyn politics."
But when they were introduced Wednesday night, Adams cut the tension by running on stage and planting a kiss on Jeffries' cheek.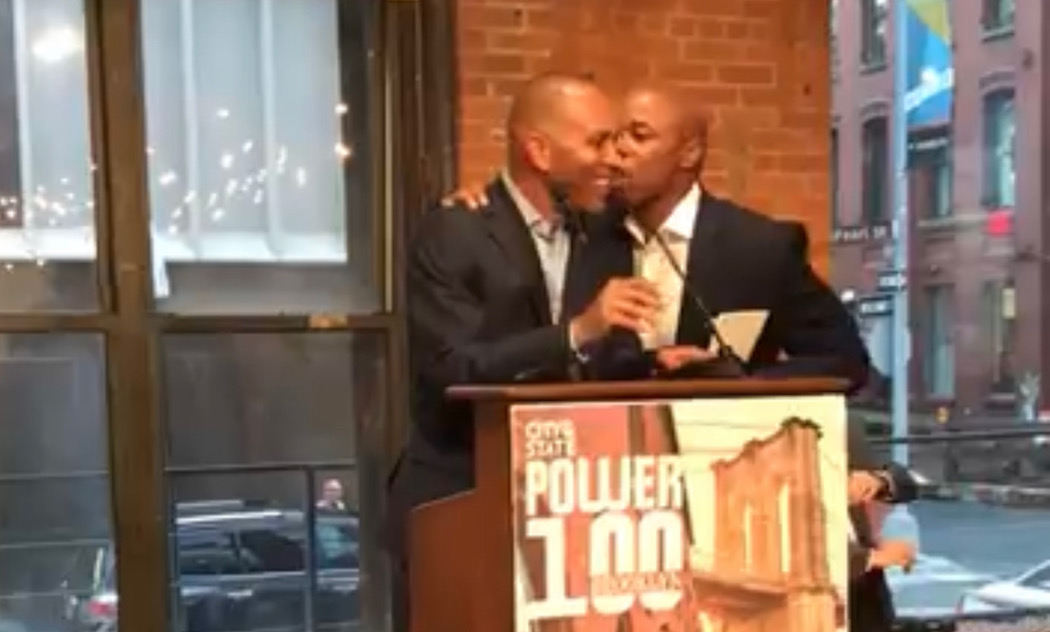 And when it was Adams' turn to speak, he spoke of the definite lack of any rivalry.
"There is this idiotic belief … that black men can't get along. That black men are constantly in conflict," the borough president said. "You've never heard these two black men attacking each other. … Nothing has gotten in the way of this ascension of what we're doing to make this borough and city and country a better place."
Adams – ranked 4th on City & State's Brooklyn Power 100 – didn't directly mention his own ambitions to be elected mayor of New York City in 2021, nor did he mention Jeffries' potential to succeed Nancy Pelosi as speaker of the U.S. House of Representatives. But Adams proudly spoke about other Brooklynites' political power – including Jeffries, the current of No. 1 on the power list.
"The public advocate, Jumaane Williams, from Brooklyn," Adams said. "Letitia James, the attorney general, from Brooklyn, who is challenging Donald Trump at every stand – Brooklyn. The No. 5 leader in the House, Hakeem Jeffries – Brooklyn."
Many other Brooklyn politicos in attendance went unmentioned, including Rep. Nydia Velázquez, state Sens. Myrie and Julia Salazar, and Assemblyman Joe Lentol. Manhattan City Councilwoman Helen Rosenthal crossed the East River to attend, joined by a likely rival for city comptroller in 2021, Brooklyn City Councilman Brad Lander.
Powered By
NEXT STORY: State Sen. Kevin Parker draws a challenger