New York City
Johnson's saucy post sparks debate about double standards in politics
After New York City Council Speaker Corey Johnson posted a photo of a topless man on his personal Instagram on Thursday night, former spokeswoman for his rival Scott Stringer called him out, sparking debates online about double standards for men and women in politics.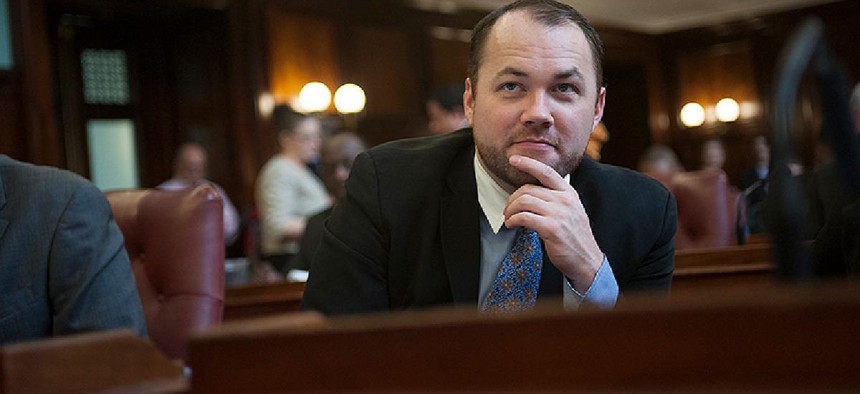 Looks like New York City Council Speaker Corey Johnson is a fan of late night snacks – and no, we're not talking about food.
After Johnson posted a photo of a topless man on his personal Instagram on Thursday night, former campaign spokeswoman for New York City Comptroller Scott Stringer and current CEO of the women-only workspace The Wing, Audrey Gelman called him out (in a now-deleted tweet), sparking debates online regarding the double standards for men and women in politics. "Corey Johnson, the NYC Council Speaker, posted this photo on social media at midnight. If a woman elected official did this, they wouldn't have a job in the morning," said Gelman.
Reactions to Gelman's criticism of Johnson's photo left people divided. Some agreed with Gelman's point and took issue with Johnson's lack of professionalism, while others felt that she didn't understand Johnson's personal brand, which is built on a Millennial-friendly, intimate and informal social media presence. (It's also worth considering that Stringer and Johnson are gearing up to be rivals in the 2021 mayoral race, in which they will be competing for the same lane as Manhattan-based progressives.) 
How about some professionalism? I mean, Srsly i don't want to see this. I don't need to wonder why he did this or what if a woman --- it's unprofessional, shows a lack of maturity & an abundance of self-absorption. Is this account personal or professional? It shouldn't be both.

— Endora (@MsAnthropist999) August 9, 2019
And a woman doing the same would be treated like a liability not a trailblazer

— Caroline Moss (@CarolineMoss) August 9, 2019
Imagine the shit storm AOC would face if paparazzi caught a pic of her in a bikini on a beach.

— Michael Carnahan (@mike_carnahan) August 9, 2019
I think it's just very hard to compare with a generic theoretical person, male or female, because Corey is so unique and new to NYC politics. Before him, you could have easily argued that no one could talk about being a former addict and be the frontrunner for mayor, also.

— Chris Rovzar (@Rovzar) August 9, 2019
Respectfully disagree. We live in an era where celebrities and electeds sometimes post about the people they are dating. Corey speaks more openly about his personal life than most politicians - sobriety, HIV status, even singledom. It's part of his public persona.

— Chris Rovzar (@Rovzar) August 9, 2019
You're both right. Audrey is correct that there's a clear double standard for women in public life. Zachary is right in asking if there should exist such a standard at all.

— Charlotte Clymer (@cmclymer) August 9, 2019
Nah, it's cool. Corey is real. What a breath of fresh air. If a female pol did that, it would be awesome

— The Mensch Mentality (@MenschMentality) August 9, 2019
Johnson is exciting precisely because he is vulnerable, personal, fun&emotional in public, and governs with that same passion. I get that your boy could never, but don't possibly come out here arguing that CJ (an out gay, HIV+,sober man) benefits from a double standard.

— Rachael Bedard (@rachaelbedard) August 9, 2019
When I saw it, I couldn't decide if this was a new level of transparency and work/life integration that @CoreyinNYC was bringing to politics...or just plain TMI.

— Ann Shoket (@annshoket) August 9, 2019
Audrey Gelman: Free the nipple!

Audrey Gelman: woah not that nipple

— Evan Thomas (@EvanDerekThomas) August 9, 2019
Other Twitter pundits noted that because Johnson is gay, he doesn't have the same privilleges as a straight male politician. Critics argued that Gelman's chiding of Johnson pits straight women and gay men against one another.
are you thinking about who you are targeting here at all? this is an openly gay councilman. feminism isn't about tearing down ppl from other marginalized groups when they get to be themselves on a public platform, fyi

— Anna Lipin (@AnnaLipin) August 9, 2019
I disagree so completely with this tweet — and your decision to post and defend it. Pitting women and gay people against each other isn't only retrograde and unhelpful, it's baked into the history of homophobia. (And if you want evidence of that, look to this thread's responses.)

— Kurt Soller (@kurtsoller) August 9, 2019
targeting a gay man in politics like this in the name of feminism is a weird move

— Connor Goldsmith (@dreamoforgonon) August 9, 2019
you're not wrong about the double standard but using a photo an out gay man posted of his partner was so not the way to make that point. it feels like moralizing, and in this specific context it's just painful bc morality culture has been weaponized against lgbt ppl since forever

— bluth banana (@yeoldetownroade) August 9, 2019
Gelman isn't wrong for bringing attention to the fact that a woman in politics would most likely not post a similar picture – and that she probably would be widely criticized if she did. In fact, we can't even think of an example of a female elected official who has done something similar – though, two examples of male politicians posting risqué photos of themselves do come to mind.
In 2011, then-Rep. Chris Lee, a Republican from Western New York, resigned from Congress after it was discovered that he had sent a shirtless photo of himself to a woman who had posted an ad on Craigslist's "Women for Men" section, despite being married and having a young child. And then, of course, there's former Rep. Anthony Weiner, the Brooklyn Democrat who accidentally posted a lewd photo of himself on Twitter in 2011, resulting in his resignation from Congress. In 2013, Weiner's comeback came to a screeching halt when "sexts" and nude photos sent to women (who were not his wife) were leaked in 2013 during his mayoral run. 
However, neither Lee nor Weiner's scandals are remotely analogous to what Johnson did. As a single man, Johnson is not cheating on a partner. He's simply posting a photo of a topless man. Johnson is known for speaking openly with the public about his sexuality, history of struggling with drug and alcohol addiction, HIV-positive status and dating life. 
Even Republican Councilman Joe Borelli stood up for the Speaker, saying that his vulnerability is seen as a "positive" in the eyes of many politicians.
No one's suggesting this isnt consequential to @CoreyinNYC's career. Just the opposite, & the overall reaction has been the opposite of yours. He (like many pols) uses social media to reveal his personal side & private life. That's consqential. And most pols find its a positive

— Joe Borelli (@JoeBorelliNYC) August 9, 2019
"For Mr. Johnson, a Democrat who is exploring a run for mayor in 2021, the political has always been personal," wrote The New York Times' in its profile of the Speaker in June.
So, is it any wonder that Johnson posted a picture of his hot date? Not really. Would a woman in politics be able to skirt criticism for doing something similar? Probably not. But perhaps the public is warming up to the idea of politicians revealing their more human side and Johnson is helping to alter people's expectations of elected officials.
Powered By
NEXT STORY: Progressive? Better not like shopping!