New York City
Takeaways from de Blasio's CNN town hall
There was no viral moment, but the quixotic campaign continues.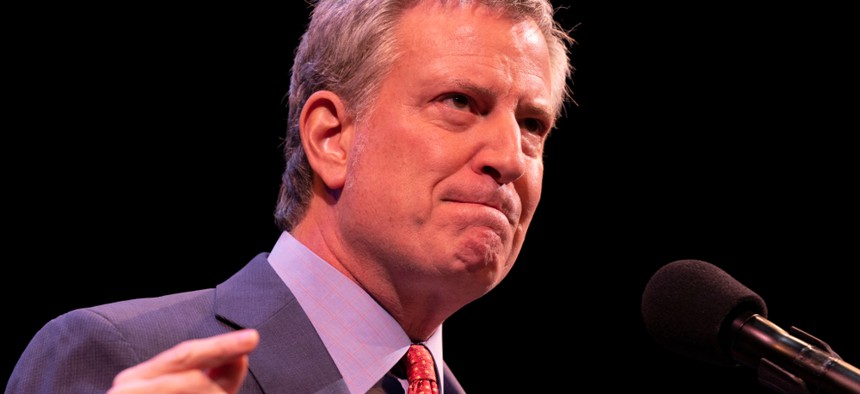 New York City Mayor Bill de Blasio's presidential campaign is struggling. He is polling at 1%, his fundraising is overwhelmingly dependent on one labor union with business before the city, and the press is already smelling political blood in the water – not only for his presidential campaign, but his mayoralty as well. To say that Sunday night's CNN town hall gave him a much-needed opportunity to shift the narrative would be an understatement.
During the hour-long program, de Blasio made the case for his candidacy to a national audience at a time when the Democratic primary field is beginning to narrow. De Blasio avoided any high-profile gaffes during his question and answers with voters and CNN host Ana Cabrera as he highlighted his accomplishments as mayor of the nation's largest city, including a universal pre-K program and record low crime levels. One question about mental health allowed de Blasio to open up about how he was affected by the suicide of his father, a veteran of World War II who struggled with alcoholism. Another question gave de Blasio a chance to talk about his multiracial family, an identity that he hopes will attract black voters in South Carolina, a key early primary state.
Like Montana Gov. Steve Bullock – who appeared in his own CNN town hall earlier in the evening – de Blasio needs all the help that he can get to jump-start his campaign. He failed to generate a viral moment, but he did get some exposure before a national audience that could theoretically give him a boost in the polls and fundraising. 
It's not just about family
The mayor is not one to shy away from bringing up personal experiences on the campaign trail. One audience member asked him how being the father in a multiracial family has affected his approach to race relations. De Blasio responded by launching into a story about meeting his wife Chirlane for the first time, and noting how she rejected his initial advances. But de Blasio did not dwell long on what he learned as the husband of a black woman. Instead, he pivoted within about 30 seconds to a call for unity across the country. He noted how the city's schools now have Muslim holidays and segued to the NYPD's shift to community policing before ending his minutes-long response by blasting white supremacy. "We had white supremacy before," de Blasio said. "But it's been put on a pedestal by Donald Trump and the vast majority of Americans don't want that. They actually want a country for everyone again." 
De Blasio has built his political brand over the years by highlighting the perspective his family gives him, but the approach might be wearing a little thin – even for him. De Blasio has been quick to note in past television appearance how his father's struggles with depression give him insight into mental health. On Sunday night, Cabrera actually had to bring it up after a voter asked about his position on mental health. Yet de Blasio did give a shout out to his wife's ThriveNYC mental health initiative, which has drawn sharp scrutiny. 
De Blasio likes a bully pulpit
Since a Democratic president might have to contend with a Republican-controlled Senate, one voter asked De Blasio how he would confront this considering that the New York City Council is almost entirely controlled by fello Democrats. In response, de Blasio pivoted to how he helped get his pre-K initiative funded by the Republican-controlled state Senate in Albany. This happened, he said, "not because they intended to, not because they liked me, because we built so much momentum, so much public demand, that our children get a high quality early child education, that even Republican state senators were not able to say no to their constituents."
De Blasio then highlighted the social ills that he thinks he can conquer by using the bully pulpit as much as possible if he defies the doubters and gets elected president. How might he approach gun safety? Hold rallies in the states of recalcitrant Republican U.S. senators, de Blasio said. He promised to do the same on early childhood education and health care. Not only would he push into Republican territory to fight for these initiatives, de Blasio promised, but he would create an advocacy army among local residents. "Using the bully pulpit of the presidency, organizing on the ground, which has never been done by a recent American president … I think it'd be done," de Blasio said. 
It's unclear whether de Blasio's tactics would overcome the entrenched opposition of Republicans in the Senate. But de Blasio appears to be selling himself as the toughest combatant in the Democratic primary. 
Grilled on New York City issues
Like with President Donald Trump, de Blasio has plenty of reasons to avoid the city where he made his name. For starters, neither of them is very popular. Sunday night's town hall showed why the mayor may not be eager to return to a city where his presidential campaign is the subject of widespread mockery. The fact that the town hall was held in Manhattan only made it easier for pesky protesters to get into the venue once again – a problem that afflicted de Blasio in the Aug. 1 debate in Detroit. On Sunday night, de Blasio once again had to confront the police killing of Eric Garner, an unarmed black man who died in Staten Island in 2014 after being confronted by police over allegedly selling untaxed cigarettes. The officer who was responsible for his death, Daniel Pantaleo, was found guilty of using an illegal chokehold in an NYPD disciplinary trial earlier this summer and was fired by the police commissioner. The federal government declined to charge Pantaleo, but waited five years to make a final decision. Though the city could theoretically have acted earlier to fire Pantaleo, de Blasio asserted that the case shows the need for new federal rules that require the U.S. Department of Justice to make quicker decisions on such cases. But then the moment was interrupted as a woman in the audience shouted that de Blasio has not done enough to hold police accountable.
A nurse in the city asked how he would protect public hospitals in the city. Despite the financial challenges facing public hospitals in the city, de Blasio responded, "You're now part of a public health care system that has turned around, that is strong and solvent and moving forward and modernizing."
Then once again he pivoted to another talking point that has been criticized for being misleading. "I went the opposite direction, I said until Washington finally acts, until we finally have a universal health care policy in this country that's worthy of the American people, we're going to do it ourselves and you and your colleagues are in the vanguard, because right now, we are guaranteeing health care for any New Yorker who does not have health insurance – guaranteeing," he said. 
While the facts of the matter do not match up with the idea that the mayor has set up a universal health care system in New York City, that did not stop de Blasio from giving that impression on national television. 
Powered By
NEXT STORY: Pantaleo fired, public financing and a pizzeria saved