New York City
With Katz on the way out, who's running for Queens borough president?
Melinda Katz has secured the DA nomination. A large field is shaping up to replace her.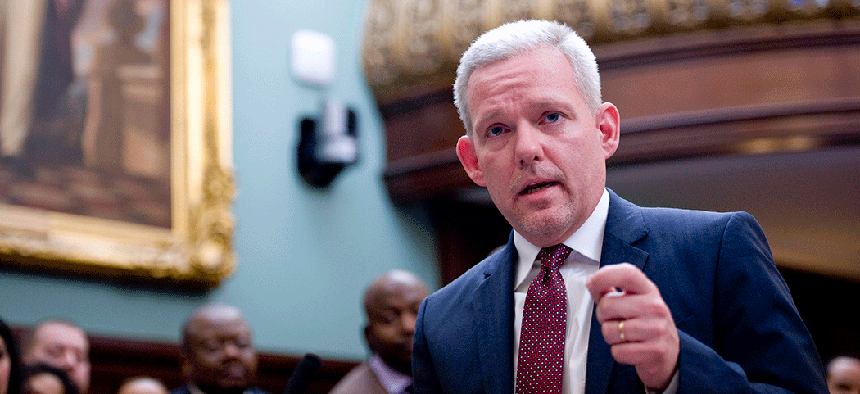 On Tuesday night, Tiffany Cabán conceded defeat in the Queens district attorney race to Borough President Melinda Katz, who is all but guaranteed to leave her current office vacant following the November general election. Since the office likely is coming open early, at least half a dozen politicians are rumored to be interested in taking her place – with some having already entered the fray.
New York City Councilman Jimmy Van Bramer was ahead of the pack, officially announcing his candidacy on Twitter in April, while Assemblywoman Alicia Hyndman has filed paperwork to run for the office as well. Several of Van Bramer's fellow Democrats in the City Council have been reportedly mulling a run too, including Donovan Richards, Paul Vallone and Costa Constantinides. Another Democrat, former City Councilwoman Elizabeth Crowley, created an exploratory committee last year and has been raising money, while City Councilman Eric Ulrich is the only major Republican rumored to be in the mix.
"If you're a council member, who is term limited, there are a couple reasons you'd want to run for that seat," political consultant Michael Lambert said. "One, if you're from that borough, it elevates your presence because then down the line, if this is the career path you want to take it basically will elevate you to a point of being able to run for even greater office down the line."
Van Bramer, who represents parts of Western Queens where progressives helped propel Rep. Alexandria Ocasio-Cortez into office, has been gunning for the office for months, despite endorsing Katz's opponent Cabán. Had Cabán won out, there would be no special election and the seat would have come open in 2021. Van Bramer has said he saw no contradiction in endorsing Cabán while eyeing Katz's post. 
"Jimmy Van Bramer supported and endorsed Tiffany Cabán for the DA's race. And as you saw from the way the votes broke down, Western Queens and Southwestern Queens went heavily for Cabán," Lambert said. "I think that Jimmy is hoping that his support of Cabán is going to curry favor with him with those same left-leaning progressives."
Alicia Hyndman, a rising star in the party who was first elected to the Assembly in 2015, represents the Southeast Queens neighborhoods of Laurelton, St. Albans and Jamaica. She is the only candidate to officially file so far.
Richards, who also represents a district in Southeast Queens, and Constantinides, whose district includes Astoria, could compete with Van Bramer for support from progressive voters should they run. 
Richards chairs the Committee on Public Safety, which conducts oversight of the police department, and has called for firing Daniel Pantaleo, the NYPD officer who put Eric Garner in a chokehold that resulted in his death.
"I'm proud of the work I've done in the City Council working to expand affordable housing, ensuring public safety as we reform our criminal justice system, and continuing to manage the increasing economic opportunities in our borough," Richards said in a written statement. "We've improved our infrastructure, built new precincts, and pushed for much needed reform in our police department. As we continue to move our borough forward I'm strongly considering a run for Queens Borough President."
Constantinides is the chairman of the City Council's Committee on Environmental Protection and has said sustainability would be a focus of his candidacy. 
"I'm still exploring what my future holds, but I believe the next Queens Borough President must have a bold plan for how to protect our 2.4 million residents from the dangerous and damaging impacts of climate change while creating tens of thousands of good-paying jobs," Constantinides said in a statement emailed to City & State. "We're the Borough that kick-started the Green New Deal, and we should lead the way going forward."
Two moderates in the mix are Katz supporters from well-known Queens political families: Vallone, whose father served as council speaker, and Crowley, whose cousin is former Rep. Joseph Crowley, who famously lost his seat to Ocasio-Cortez. Crowley told the Queens Chronicle that Queens residents had expressed support for her potential candidacy.
"The question for her is to a degree is what will the rest of the field look like and will the Crowley name help or hurt her?" Lambert said. "Because in the wake of the defeat of Joe (Crowley) by AOC it kind of creates a question mark about whether or not the Crowley name is something folks want to be affiliated with."
Ulrich's name has also bubbled up following his run for public advocate. While he ultimately lost to Jumaane Williams, he came in second overall in the crowded nonpartisan contest, garnering 19% of the vote. 
This early in the game, it's too hard to tell who has the best chance. And with the borough president's office likely opening up ahead of schedule, candidates will less time to jump into the race.
Powered By
NEXT STORY: Republicans line up to challenge Ocasio-Cortez