New York City
You don't need to worry about the 'Pantaleo effect'
The PBA says officers have held back on arrests, but that doesn't mean crime will go up.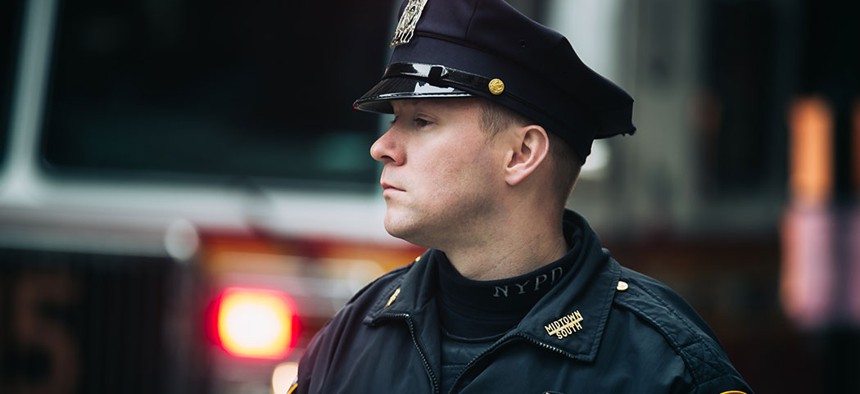 Looks like New York's finest have become New York's most apathetic since NYPD Officer Daniel Pantaleo was fired on Aug. 19.
Officers appear to be holding off on making arrests after Police Benevolent Association President Patrick Lynch pushed for a "work slowdown" following Pantaleo's termination, Gothamist reported. 
"We are urging all New York City police officers to proceed with the utmost caution in this new reality, in which they may be deemed 'reckless' just for doing their job," Lynchsaid last week.
The PBA, in addition to right-leaning publications such as the New York Post and Fox News, are now referring to the slowdown as the "Pantaleo effect."
Video shows uniformed NYPD cop harassed on subway by foul-mouthed rider https://t.co/yNZfO6pe6U via @nypmetro PANTALEO AFFECT once again. Incidents like this are becoming an epidemic in the NYPD, why? FAILED leadership, in the interest of officer safety, O'Neill MUST GO!

— SBA (@SBANYPD) July 24, 2019
The PBA claims the morale of NYPD officers has been low since Pantaleo's firing. Joe Cardinale, a retired NYPD lieutenant told Fox News that he's "never seen morale as low as it is with this administration." And the Post reported that arrests dropped 27% in the week after Pantaleo's firing compared with the same period last year. 
But data scientist and activist Samuel Sinyangwe pointed out that serious crime has actually decreased during this "slowdown" period. 
Here's the 28 day trajectory. On 8/19, the PBA told NYPD officers to "slowdown." During this period, serious crime (the 7 types tracked by NYPD) has gone down. pic.twitter.com/K32ioYwNaM

— Samuel Sinyangwe (@samswey) August 28, 2019
Findings from a 2017 study that examined the NYPD slowdown following the deaths of Officers Wenjian Liu and Rafael Ramos in 2014 – who were shot and killed by a man from Georgia, though Lynch blamed de Blasio for suggesting black men need to be careful around police – also revealed that officers' refusals to make "aggressive low-level arrests" resulted in overall lower crime rates.
"We find that civilian complaints of major crimes (such as burglary, felony assault and grand larceny) decreased during and shortly after sharp reductions in proactive policing," the study said. "The results challenge prevailing scholarship as well as conventional wisdom on authority and legal compliance, as they imply that aggressively enforcing minor legal statutes incites more severe criminal acts."
This is hardly the first time that officers have cited a fear of being reprimanded as a reason for officers holding back from their police duties. The "Pantaleo effect" alludes to the "Ferguson effect," as NBC News aptly noted, meaning that officers are pulling back on enforcement in order to skirt criticism. In 2014, officers in St. Louis, Missouri said they felt fatigued after an officer's fatal shooting of unarmed teenager Michael Brown resulted in national uproar.
"It's the Ferguson effect," St. Louis' police Chief Sam Dotson told the St. Louis Post-Dispatch in 2014. "I see it not only on the law enforcement side, but the criminal element is feeling empowered by the environment."
Despite what Dotson said, St. Louis actually saw a 3.3% overall decrease in crime in 2014; homicides and violent crimes did see an increase, but experts said the rise was linked to an unrelated boom in the city's drug market and only affected a few neighborhoods. 
And decreases in arrests in troubling times aren't necessarily all caused by an intentional effort to slack off. "Arrests have declined substantially … and it's not necessarily that individual officers are giving up, it's because normal officers are being taken off their normal beat activities for training and protest events, so arrests go down," Richard Rosenfeld, a criminologist at the University of Missouri-St. Louis, told the Post-Dispatch in 2014.
After Pantaleo's firing, Rosenfeld told NBC News that there is "little evidence" to suggest that crime increases when officers retreat from their duties and that he has "found no association between reduced rates of arrest and elevated rates of homicide."
"My sense is that, if the NYPD pulls back at all, it will be temporary and have little to no effect on NYC crime rates," said Rosenfeld.