New York State
Disappearing de Blasio and grilling Con Ed
Rounding up the week's political news.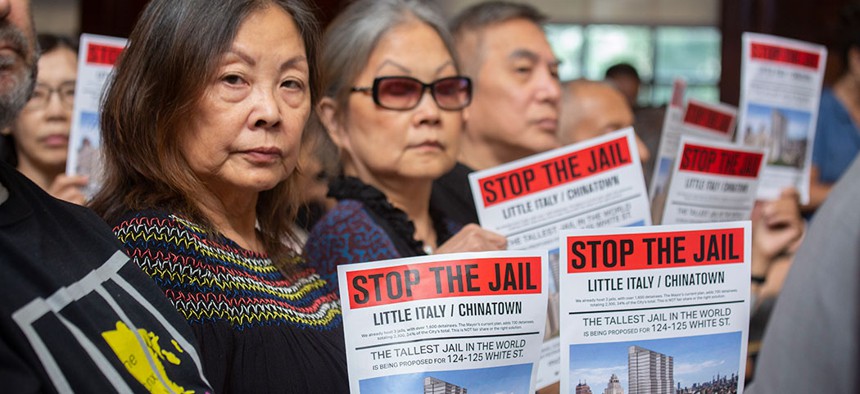 Nothing is better on a cold winter day then stopping into your local bodega for a piping hot cup of your favorite soup. Of course, the classics like chicken noodle or minestrone are reliable favorites. But now there's another option – dead rat soup.
Brooklyn Borough President Eric Adams claims to have built a better rat trap that will more effectively curb New York City's rodent problem. This one drowns the poor critters in a mixture of alcohol, vinegar and oil. But don't worry, "it's organic," according to Adams. Yum!
Disappearing de Blasio
As New York City Mayor Bill de Blasio continues his long-shot bid for president, he's been spending less time in the city he's tasked with running. Anyone can see the mayor is taking long weekend trips to early primary states, but the New York Post crunched the numbers and found he spent only seven hours at City Hall in May, his first month officially on the campaign trail, while showing up for just 11 appointments. The Daily News reviewed all of de Blasio's official events, not just those at City Hall, and calculated that he worked 91.5 hours for the month, or about 4.1 hours each weekday. De Blasio's team insists that he "consistently delivers" for his constituents, no matter his whereabouts. Regardless, de Blasio said he expects to decide whether to continue his bid by October, when the next Democratic primary debate is scheduled. If he doesn't qualify, he said, it would be "tough to conceive" keeping his campaign going.
Grilling Con Ed
Con Edison was the subject of two hearings to address the major blackouts this summer in New York City, including one that Con Ed initiated itself. The first was held by state lawmakers, who floated the idea of replacing the utility with a publicly run one. Con Ed rejected the suggestion that its profit-driven model is at odds with its responsibility to provide reliable electricity, saying that it is highly regulated by the state. The next day, New York City Council Speaker Corey Johnson excoriated the utility and rejected the explanations its officials gave about why a large swath of Manhattan went dark on a weekend in July, and why it preemptively cut power to customers in Brooklyn. Con Ed executives said neither incident occurred as a result of failing infrastructure, but vowed to upgrade its systems to help prevent future blackouts.
Borough jails build momentum 
A plan to build new jails in Manhattan, the Bronx, Queens and Brooklyn took another step forward when the New York City Planning Commission approved the project, moving it into the final stage of the city's land-use process. The plan to build four borough jails is a key part of de Blasio's plan to shut down the Rikers Island jail complex, which has long been plagued by overcrowding and violence. Two days later, the New York City Council held its first and only public hearing on the jails and will soon take a final vote on whether or not the projects can begin. In land-use decisions, the City Council generally defers to the member whose district includes a proposed project – and all four local council members have expressed support for the plan. Yet the jails face opposition from local residents, elected officials, activists and union leaders. Some simply don't want new jails in their neighborhoods, or fear they will be too big. Many activists think the city should not build any new jails.
NYC measles outbreak ends
After 11 months and 654 confirmed cases, New York City has declared its measles outbreak over. The city spent $6 million to combat the disease. The World Health Organization in 2000 declared that the United States had eliminated the disease, but with the large number of cases in New York City and Rockland County, as well as smaller clusters scattered throughout the country, some feared that the WHO would revoke that designation. Meanwhile, Rockland has not yet declared its outbreak over, with the latest case of measles confirmed on Aug. 15. At the same time, parents opposed to vaccination are still fighting a new state law that ended the religious exemption and are expected to appeal a state Supreme Court decision that kept the law in place.