New York State
Impeaching Trump and Cuomo's breakup
Rounding up the week's political news.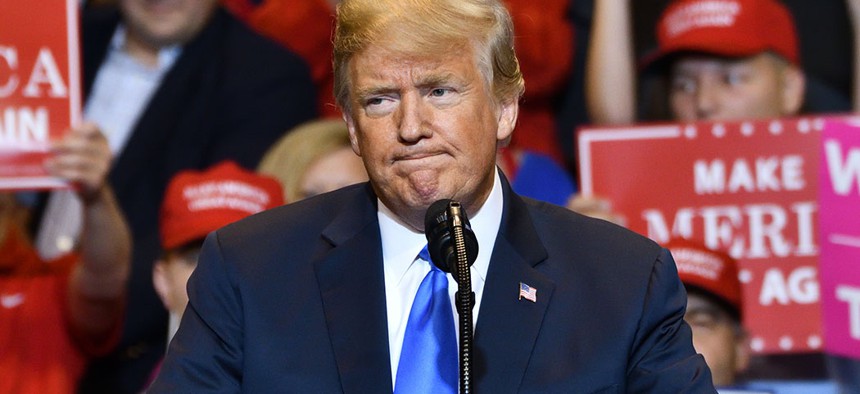 Hot gov summer just turned into sad gov autumn.
Yes, Gov. Andrew Cuomo and his longtime girlfriend, television chef Sandra Lee, have decided to split. But their relationship has evolved into a "deep friendship," according to a joint statement from the pair, so that's nice. The news hardly comes as a surprise – Cuomo and Lee put their Westchester County home (which was technically only in her name) on the market weeks ago. And the governor was spending far more time than usual in Albany. Plus, the pair has hardly been seen together for months. Looks like Cuomo will be watching the upcoming Billy Joel anthology series alone. He could probably use two shots of vodka.
Trump impeachment
House Speaker Nancy Pelosi said the House would formally initiate impeachment proceedings against President Donald Trump in light of a new whistleblower complaint. It alleged that Trump, during a phone conversation, tried to pressure the Ukranian president to investigate former Vice President Joe Biden, who is currently running for president. The complaint also said that the White House attempted to cover up the call after the fact. The announcement by Pelosi marks the first time she said she would support an impeachment vote, even after House Judiciary Committee Chairman Jerrold Nadler had ostensibly already begun an impeachment inquiry. The whistleblower complaint also propelled many more Democrats to come out in favor of impeachment proceedings.
Manhattan DA subpoena of Trump continues
As Trump tries to fend off allegations that he tried to recruit a foreign power to interfere in the 2020 presidential election, in New York City, his lawyers continued to fight against a subpoena from Manhattan District Attorney Cyrus Vance Jr. for his corporate and personal tax returns. Vance's office claimed that Trump's lawyers were attempting to invent a presidential tax return privilege to avoid handing over eight years of documents. Then, federal prosecutors said they were considering getting involved in the lawsuit filed by Trump over the case that argued he can't be criminally investigated while still in office. Ultimately, a judge gave federal prosecutors until Monday to decide and issued a one-day injunction.
De Blasio backtracks on specialized schools
New York City Mayor Bill de Blasio is back in town and after giving a pep rally to his staff – reminding them that they still have more than two years left to get things done – decided to take a softer stance on the Specialized High School Admissions Test. In a meeting with community and ethnic news outlets, the mayor admitted that his attempt to eliminate the test outright was "not effective," something his administration has to "come to grips with." And while he held firm in his belief that his way is still the best way, he said there could be a way to keep the test and that he plans to start over. This is the first time that de Blasio has given any indication that he might take a different approach to diversifying the city's elite public schools after his original plan was met with intense backlash.
MTA capital plan passes
The Metropolitan Transportation Authority board voted to approve the agency's massive $51.5 billion five-year capital plan – its largest ever – less than a week after the proposal was released in its entirety. Although the vote was unanimous, the hourslong meeting was still contentious. Transit union members wore shirts that read "gentrify my paycheck" and hinted at a possible strike. Board members decried the lack of transparency surrounding the plan and its conception, with one saying that it was "conceived in the dark." Even Patrick Foye, the MTA's chairman and CEO, admitted that the plan "came together late" while touting its positives.
Partial resolution in state fight with Seneca Nation 
The Seneca Nation of Indians and the state Thruway Authority have finally reached an agreement to fix a crumbling section of Interstate 90 that runs through Seneca territory after a five-year fight. The disagreement did not necessarily revolve around getting the highway fixed, but rather over the tribe's refusal to pay casino revenue to the state. The Senecas say their agreement to pay the state had expired. The dispute, which remains ongoing, had spilled over to the repairs that Thruway needed to make, which required the tribe's approval.
Powered By
NEXT STORY: Trump's mob connections