New York City
Rudy Giuliani's previous meltdowns
From ranting about ferrets to threatening to evict the Brooklyn Museum, the former New York City mayor has always been unpredictable.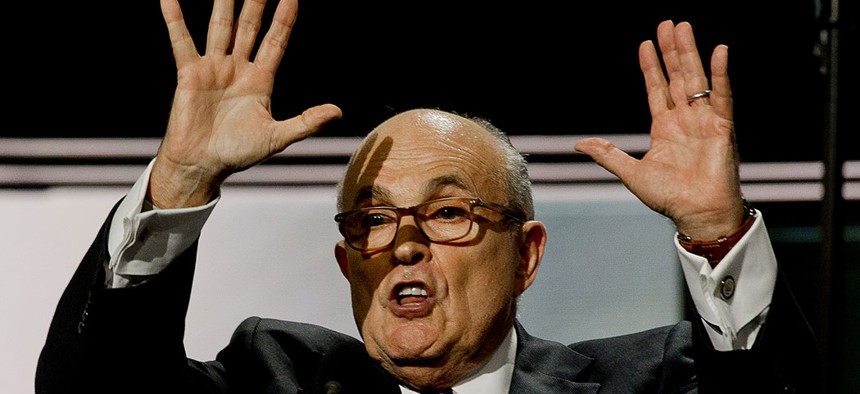 Former New York City Mayor Rudy Giuliani got into a bizarre and heated conversation about Ukraine with Chris Cuomo while on CNN's "Cuomo Prime Time," Thursday evening. Political pundits expressed shock at Giuliani's somewhat manic performance, but New Yorkers know he's always been like this. 
Cuomo began his show by addressing reports from The Washington Post and The New York Times regarding a whistleblower's complaint that President Donald Trump made inappropriate promises to the president of Ukraine that the Trump administration is refusing to comply with the legal obligation to turn the relevant information over to Congress. Cuomo questioned Giuliani about whether or not he had Ukraine investigate presidential candidate and former Vice President Joe Biden and his son Hunter Biden. 
Giuliani denied asking Ukraine to investigate the former vice president, and then seconds later admitted that he did indeed do just that. As Vox.com observed, "Beyond Giuliani contradicting himself within a 30-second span, he seemed to be copping to an egregious abuse of power, as the president is not supposed to be in the business of strong-arming foreign leaders to investigate political rivals at home."
Giuliani also spent considerable time spinning out a discredited conspiracy theory about the elder Biden and just generally was so loud and hyper that he was widely referred to as having a "meltdown." You can watch Giuliani being extra Giuliani here:
This imbroglio could turn into a bigger problem for Giuliani than just being the butt of internet jokes: last month the House Committee on Foreign Affairs announced that it would be launching an investigation into a possible Giuliani-Trump "scheme" to pressure Ukraine into helping the president get reelected. 
Giuliani, who once sported the moniker of "America's Mayor" for his leadership in the days following the 9/11 attacks, has now become an increasinglyunhinged political talking head. His recent string of mind-boggling actions – sharing an anti-Antifa video on 9/11, saying that there's "nothing wrong" with taking information from Russia following the release of the Mueller report, and making odd comments in response to a bombshell Buzzfeed report that revealed Trump directed his ex-lawyer Michael Cohen to lie to Congress – has us thinking back to his days as mayor, when he first began to let his freak flag fly. Perhaps non-New Yorkers wouldn't be so shocked if they knew Giuliani the way we do. 
Here are some of Giuliani's weirdest, most aggressive moments as mayor, to better illustrate our point:
Leading obscene chants in an off-the-walls rally
In 1992, prior to becoming mayor, Giuliani was involved in a raucous protest against then-Mayor David N. Dinkins' handling of several police issues. 
What started out as a fairly commonplace protest quickly escalated as thousands – enraged, often boozed up, mainly white police officers – broke through police barricades to storm City Hall's steps, screaming obscenities, swilling alcohol and creating a chaotic rally that extended from the Brooklyn Bridge to Tribeca. Giuliani – who was considered a likely mayoral candidate at the time – helped lead inebriated protestors in obscenity-laden chants about Dinkins, which were enthusiastically repeated by the crowd.
The ferret rant
Who could forget when Giuliani lashed out at a radio caller who questioned his ban on keeping ferrets as pets in the city, 20 years ago. 
During his weekly radio show on WABC, the then-mayor went on a heated rant with a self-proclaimed ferret's rights activist – who had called in the previous week – telling him that his "excessive concern with little weasels is a sickness" and that he should "consult a psychologist or a psychiatrist." 
Threatening to evict the Brooklyn Museum
The former mayor threatened to eliminate the Brooklyn Museum's lease with the city in 1999, if the museum failed to cancel an exhibition that featured a painting of the Virgin Mary decorated with elephant dung, a pig sliced in half and a bust of a man created with pints of his own frozen blood. 
Giuliani, however, appeared to take issue with the fact that the exhibit would be somewhat restricted and that anyone under the age of 17 would need to be accompanied by a parent, rather than the exhibit itself – which he called "sick stuff." He argued that the museum, as a city-owned building was violating the terms of its lease agreement by hosting an exhibit that not everyone could freely enjoy, in a thinly-veiled attempt to sabotage the show based on his aversion to the artwork being displayed.
"Last time I checked, I'm the mayor, and I don't find closing down access to a public museum consistent with the use of taxpayer dollars," Giuliani said at a news conference. "People have an absolute right to express anything they want to express, but they do not have an absolute right to have that funded by the taxpayers."
The museum's director at the time, Arnold L. Lehman, expressed confusion over Giuliani's opposition to the exhibit. "First we are told how vile and degenerate the exhibition is, and now we are being expected to open it up to children?" Lehman told The New York Times. "The mayor is sending a mixed message that we obviously need to sort out."
Despite Giuliani's threats and opposition, the exhibit remained open. 
Trying to get other states to take New York City's trash
In 1999, Giuliani suggested that other states should feel "obligated" to take the city's garbage, considering how many out-of-towners come to visit the city for its "substantial cultural achievements." 
His suggestion was in response to Virginia Gov. James S. Gilmore's threat to ban trash barges coming into Virginia from New York City, as the amount of trash being sent to the state was growing at an excessive rate. 
Outraged by Giuliani's suggestion, Gilmore penned an irate letter to the mayor: "'I am offended by your suggestion that New York's substantial cultural achievements, such as they are, obligate Virginia and other states to accept your garbage.''
Publicly announcing his divorce – before telling his wife
Giuliani announced that he and his second wife of 16 years, Donna Hanover, were separating during a press conference in 2000 – much to Hanover's surprise. At the press conference, Giuliani explained that his recent battle with prostate cancer had led him to become closer with his then-mistress Judith Nathan. Giuliani and Nathan are now engaged in a public divorce battle so ugly the Times recently deemed it "operatic." Nathan contends that Giuliani, 75, has a new mistress, a charge the thrice-married ex-mayor denies. 
Powered By
NEXT STORY: The Winners & Losers of de Blasio dropping out