New York State
Running for Congress is getting a lot riskier for state lawmakers
If they lose, they'll be out of a job, thanks to the new primary date.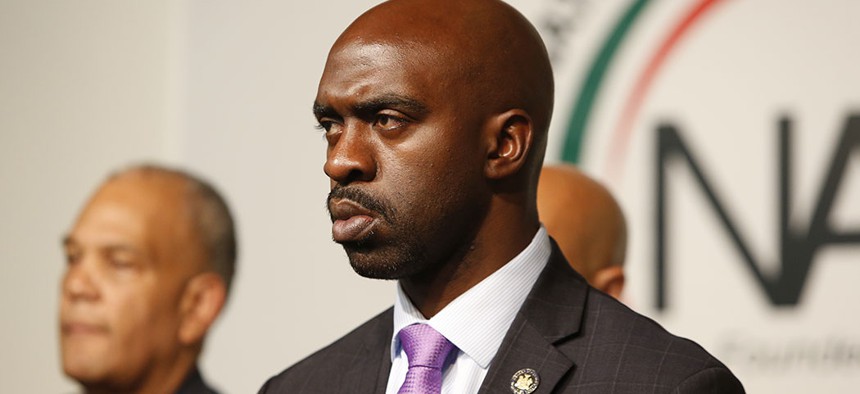 The state Legislature recently passed a law that aligns the state primary election, which for years had been in September, with the federal one in June, making the process simpler for voters while saving the state money. But the single primary date will make it more complicated for candidates for office – especially sitting state lawmakers. 
Due to the new timing, state lawmakers seeking reelection will likely have to spend more time campaigning during the legislative session, which generally ends in the middle of June. And for those state lawmakers seeking a seat in Congress, they'll no longer have the fallback of running for reelection if they fall short in a congressional primary.
However, the risk of losing a state Senate or Assembly seat may not be much of a deterrent for state lawmakers who aspire to go on to serve in Washington, D.C. Indeed, in the 2020 cycle, four of them – state Sens. Chris Jacobs and Robert Ortt and Assembly members Nicole Malliotakis and Michael Blake – are already running for seats in the House of Representatives. 
"Every member who's looking at taking a leap forward is going to look at the district and they're going to weigh their costs and their benefits," John Tomlin, a consultant with Mercury Public Affairs, told City & State. "The day of the primary may play a factor … but you really don't approach a campaign with the thought that you're going to lose."
For the past seven years, federal primaries took place in June, while New York held its primaries for statewide and state legislative seats in September. That split began in 2012, when a federal judge ruled that the state must move its federal primaries from September to June. Albany left the state primaries at their later date and did not rectify the dual dates in state law until this year. For that short window, lawmakers were able to seek two different seats during the same election cycle – federal office and, if a primary didn't pan out, their own seat for reelection later in the year. But now, both state and federal primaries will take place in June, so any lawmakers hoping to benefit from the potential soft landing will have no such option in 2020.
State law prohibits a candidate from running for two offices at once. But when primaries happened on different days, this allowed for a grace period of sorts, because the candidate's name would not appear on the same ballot for different races. Adriano Espaillat, then a state senator, benefited from the loophole when he attempted to unseat then-Rep. Charles Rangel in June 2012. Espaillat began circulating petitions to get his name on the September ballot for his state Senate seat as votes were counted in the congressional primary to prepare himself for his eventual concession to Rangel. Espaillat did the same thing in 2014 as well. 
At least one other state lawmaker, then-Assemblyman Rory Lancman in 2012, ran for Congress and fell short in the primary, but opted not to then seek reelection, as Espaillat had done. 
The fallback option no longer exists for Jacobs, Ortt, Blake and Malliotakis. Unless any decide to drop out, those lawmakers have opened up their seats, drawing candidates earlier on in the process than in the past. If any of them lose their primary, they will be out of office completely. But Jacobs, Blake and Malliotakis told City & State that they took the risk into account. Ortt did not respond to a request for comment.
Malliotakis suggested that the change in primary dates wasn't a factor for her, saying that she is focused solely on beating Rep. Max Rose in the November general election, even though one other fellow Republican – YouTube star Joseph Saladino – has already declared, and several more, including former Rep. Michael Grimm and New York City Councilman Joseph Borelli, may join the fray. "My focus is on the general election, Malliotakis said. "I'm just running my race, and whoever else gets in gets in. But my race is with Max Rose."
Knowing her seat will be open, she has been active in the search for a candidate to replace her. Malliotakis said that right now, she believes Michael Tannousis, a former federal prosecutor, has emerged as an early front-runner in that race.
Jacobs likely leaves his state Senate seat in a more precarious situation. He is running in the 27th Congressional District primary, presumably against Rep. Chris Collins, who has been indicted on federal insider trading charges, though Collins has not yet formally declared he is running for reelection. Unlike Malliotakis' relatively safe Republican Assembly seat on Staten Island, Jacobs' Buffalo-area state Senate district is very much a swing district that Republicans could lose – or at the very least, spend a lot of money defending as the party makes its final attempt to regain control before 2021 redistricting. At least three GOP state Senate seats – Jacobs, Ortt, Robert Antonacci, who's running for a civil court judgeship – will be open next year. Jacobs said he feels confident that his district will remain red, and has "a 'her' very much in mind" as a candidate well-suited to take over the seat, although would not give the woman's name.
However, Jacobs said such considerations did not play a major role in his decision to run for Congress, nor the loss of the safety net of running for his state seat again if he loses the congressional primary. He said as a strong proponent of term limits, he never intended to stay in the state Senate for decades, and feels strongly that he can better serve the people of Western New York in Congress than Collins, who has been stripped of his committee memberships following his indictment. "I think largely on the policies, Mr. Collins has been good," Jacobs said. "There's just a very dark cloud over his head that I don't think he can get out from under."
Jacobs' colleague Ortt is also planning to run against Collins in the 27th Congressional District primary and abandon his state Senate seat, although his district is more reliably Republican than Jacobs'. However, one or both of them will be out of a job come June following what is shaping up to be a competitive primary, particularly if Collins chooses to run again. The incumbent has not yet made a final decision, but recently loaned his campaign account $500,000 in what could be preparation for a run.
The lone Democratic lawmaker running for Congress so far, Blake, is leaving behind a seat in the Assembly in order to run for the seat of retiring Rep. José E. Serrano. The primary pits Blake, among others, against New York City Councilmen Ritchie Torres and Rubén Díaz Sr., who aren't up for reelection until 2021, meaning they are risking little in running for Congress.
Blake, who also served a stint in the Obama White House, previously ran an unsuccessful campaign for New York City public advocate in a special election to fill the role in February. Blake said he did take into consideration the fact that losing a congressional primary will mean losing his position as an elected official, but he ultimately decided the risk was worth it. "This is about helping more people at scale," Blake said, "and continuing to make sure that at the end of the day, when you have a once-in-a-generation moment, you have to say to yourself, it matters who we send to Washington."
Like other lawmakers leaving an open seat, Blake is already getting behind a candidate to fill it once he's gone: Chantel Jackson, a local community leader who recently filed paperwork to run. Blake said that while he has spoken to several potential candidates who reached out to him, Jackson is best suited to serve in the Assembly.
In some cases, the change in primary days could still influence individual lawmakers' decisions to run for Congress. State Sen. Gustavo Rivera, chairman of the Health Committee, had initially explored a run for Serrano's seat before ultimately deciding against it. Rivera told City & State that while he took into account the newly unified June primary date, he felt he could better serve his constituents as part of the new state Senate majority and with his chairmanship of a powerful committee. Yet out of all the elected officials at both the city and state level who have actually declared a House candidacy, Rivera arguably stood to lose the most, given his position among the newly empowered Senate Democrats.
The new June primary also gives incumbents seeking reelection much less time to campaign. The last day of the Albany legislative session typically falls after mid-June – this year, it was June 19. In 2020, the primary is set for June 23. June is also the busiest month of session, with the most session days and marathon legislating to get everything done before the recess, leaving little time to focus on a campaign. Doug Forand, a political consultant with Red Horse Strategies, suggested that the state Legislature may consider changing the legislative calendar to ensure incumbents have adequate time to return to their district. "What really drives the Albany timeline is the session deadline," Forand said. "If you move that deadline to the middle of May from the middle of June, the work would still get done on time."
While 2018 was a landmark year for Democratic insurgents unseating incumbents, 2020 could be just as wild, with the New York City chapter of the Democratic Socialists of America gearing up to primary a number of Assembly Democrats, and other candidates have already announced state legislative primary campaigns. 
Alex Camarda, a senior policy adviser with the good-government group Reinvent Albany, said that the June primary would likely have an impact on the entire session, not just the final month. Anyone facing a competitive race would require robust campaigning for at least several months before the election, he said, putting incumbents in Albany either at a disadvantage or drawing them away from the legislative process. That could lead to a reworked legislative calendar spread out to more months with intermittent recesses, like in Congress. "I certainly think the June primary will create a new dynamic elected officials will have to adjust to," Camarda said.
Gov. Andrew Cuomo recently pushed to move New York's presidential primary to February and offered to move the state primary to the same date, but legislative leaders dismissed the idea and Cuomo acknowledged it would not be politically viable.
The June primary date also raises the question of fundraising during the session in Albany, a common practice that has been the subject of proposed campaign finance reforms to limit the influence of lobbyists and other power players in the Capitol. The number of Albany session fundraisers could even increase in an environment where lawmakers will be actively campaigning and legislating at the same time, according to New York Public Interest Research Group Executive Director Blair Horner. "I think that they will use their incumbency advantage – the Albany incumbency protection machine will be at full tilt next year," Horner said. "A lot of the things they are doing now, my guess, are practices that would be on steroids in the future."
Correction: An earlier version of this post said that then-state Sen. Jack Martins had run for Congress in 2016 and lost, and then opted not to run for reelection to his Senate seat. However, since he ran in the general election for Congress, choosing to run for reelection to the state Senate was not a possibility. 
Powered By
NEXT STORY: Disappearing de Blasio and grilling Con Ed