Will real estate donations help or hurt Dan Quart's Manhattan DA campaign?
According to the New York State Board of Elections, for his 2021 campaign, Dan Quart has raised $29,850, and $19,400 is from real estate companies, construction companies or individuals associated with them.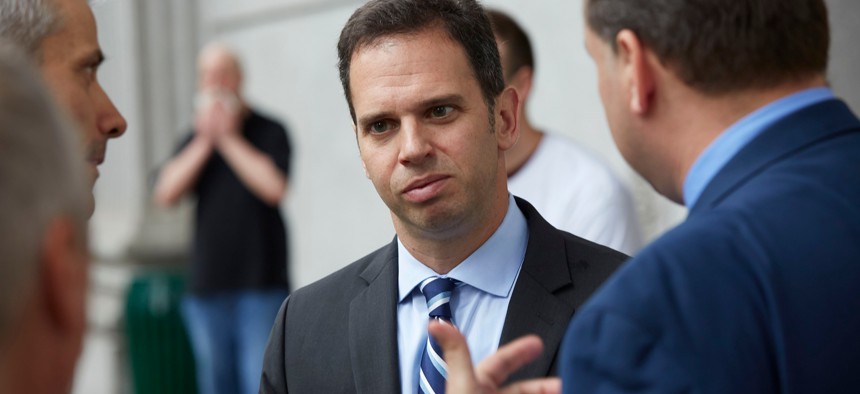 The Trump-era progressive insurgency that defined the 2018 elections has drawn a plethora of candidates challenging incumbents in the next cycle and the race for Manhattan district attorney isn't immune. 
Assemblyman Dan Quart, who may become the frontrunner if Manhattan District Attorney Cyrus Vance Jr. doesn't run for reelection, considers himself one of the forward-thinking candidates. He has been an outspoken proponent of criminal justice reform and critic of Vance's record. He even endorsed progressive candidate Tiffany Cabán in the Queens County district attorney race over frontrunner and then-Queens Borough President Melinda Katz.
But something that sets Quart apart from Cabán and the other challengers in the Manhattan race might be a liability for him among some on the left: where the bulk of his 2021 campaign funds have been coming from. According to the New York State Board of Elections, for his 2021 campaign, Quart has raised $29,850, and $19,400 is from real estate companies, construction companies or individuals associated with them. 
The most notable contributors so far include $9,900 received from Ziel Feldman, the founder HFZ Capital, a real estate capital and investment company that manages more than $10 billion worth of development, as well as $1,500 received from Taxpayers for an Affordable New York, a political action committee sponsored by business and landlord groups including of the Real Estate Board of New York and the Rent Stabilization Association.
In response to an inquiry about Taxpayers for an Affordable New York's role in contributing to Quart's campaign, Jamie McShane, a spokesman for REBNY, cited support for Quart's policy decisions as an assemblymember.  "Dan Quart has a proven track record of creating housing, jobs and increasing economic opportunities for the people of New York City and across the state," McShane wrote in an email. "We are proud to support his efforts to carry New York state forward," 
These contributions may come as a surprise to some Democratic primary voters, especially considering Quart's endorsement of Cabán, a candidate who refused contributions from the real estate industry during her race in Queens. 
Katz, the eventual winner of that race, had faced criticism of the substantial contributions to her campaign from powerful real estate developers. Opponents to the decision made by Katz to accept these types of donations feared that real estate interests would negatively influence her decisions made as district attorney.  
While noting that he does not know enough about Quart's donations to comment on that specifically, Janos Marton, an attorney and an advocate for criminal justice reform at the American Civil Liberties Union and another candidate in the Manhattan district attorney race, said that he finds real estate contributions problematic. "We need to get big money out of the DA race, especially given Cyrus Vance's checkered donor history," said Marton, referring to allegations, which Vance denies, that the district attorney has treated the clients of donors more favorably, including Ivanka Trump and Donald Trump Jr. in 2012. (Vance has more recently stopped taking donations from lawyers with cases before him.)
"Our campaign will reject contributions from special interests, who could end up being targets of our office's investigations, as well as their high-priced lawyers," Marton said. "We hope all campaigns do the same." Marton's campaign finances aren't available to the public at the moment, but he said not to expect any contributions from the real estate industry when he officially files in January.
In an interview with City & State, Quart rejected the idea that real estate contributions have impacted his policy decisions in the past or would if he were district attorney. 
"I will not take donations of over $320 from criminal defense attorneys in Manhattan," said Quart. "That is an obvious conflict of interest. But aside from that conflict of interest, I'm happy to be supported by anyone who believes in the transformative reforms that I'll put into place as district attorney." 
Quart also pointed to his history as a volunteer attorney for the Legal Aid Society civil division and with his own legal clinic, adding that he represented tenants for years in a pro-bono capacity. "In this race in Manhattan, (Cyrus) Vance is not going to be an easy candidate to beat, so I'm going to need every dollar possible to win," said Quart. At the moment, it is unclear whether or not Vance will run for reelection, but he would presumably have a fundraising edge if he did. 
Lupé Todd-Medina, the president of Effective Media Strategies and a media relations and government affairs consultant, shares Quart's perspective, and added that in Manhattan it's very difficult for candidates to not accept contributions from the real estate industry. Historically, real estate developers have given to candidates of both parties in New York, including many liberal Democrats. It's only since the 2018 rise of anti-real estate left-wing insurgents such as state Sen. Julia Salazar, who defeated then-state Sen. Martin Dilan with a message focused on his real estate donors, that accepting such contributions has become a significant liability for some elected officials. 
In reference to the Queen's County District Attorney race, Todd-Medina also pointed out that although Katz used real estate money to fund her campaign, Cabán accepted money from other large corporations, like Netflix. So which large corporations should candidates stray away from? 
"A lot of the money is kind of embedded in real estate in Manhattan, it's more a question of what kind of real estate developer are you taking money from," said Todd-Medina.
Correction: Janos Marton's quote about getting "big money out of the DA race" has been updated after a word was inadvertently left out.