New York City
How ranked-choice voting would affect the NYC 2021 mayoral race
Candidates might be incentivized to reach beyond their base.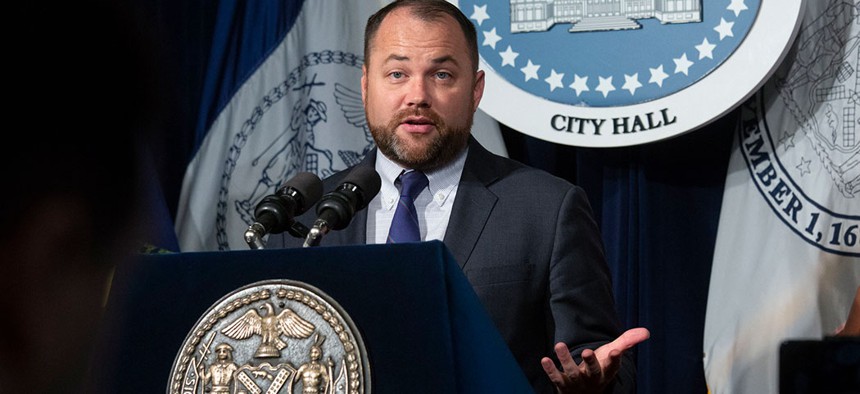 If a ballot proposal instituting ranked choice voting for municipal primaries and special elections in New York City passes in November, the 2021 mayoral race will be the first major election to use the new system. The system would allow voters to rank by preference up to five candidates, with the winner ultimately winning a majority based on multiple rounds of ballot counting based on those ranks. A lot can change between then and now – the field of candidates is still forming and true campaigning has not yet begun – but data from other cities that use ranked choice can provide some insight about the impact the system may have.
As of now, the top tier of Democratic candidates includes City Council Speaker Corey Johnson, Bronx Borough President Ruben Diaz Jr., Brooklyn Borough President Eric Adams and City Comptroller Scott Stringer. There are several lesser-known candidates who have filed to run, including non-profit leader Dianne Morales, and other high-profile candidates are rumored to be considering entering the fray, including former City Council Speaker Christine Quinn. 
Of the four current frontrunners, the question is which will benefit from a system that distributes second-choice votes among candidates who fail to get a majority of first-place votes. 
Baruch College political science professor Doug Muzzio predicted that, at this point, ranked choice would likely benefit Stringer the most. He said Stringer represents a "safe" second choice for many voters because he's "an able comptroller, he's white, well-to-do (and) establishment." Stringer is also reliably liberal and has aligned himself with insurgent progressives, yet he isn't personally polarizing or prone to stirring controversy. 
While candidates will strive to win a majority outright, they may also consider ways to rack up second-choice votes that would put them over the top if multiple rounds of ballot counting is required. Advocates of ranked-choice argue that this incentive to avoid alienating an opponent's supporters will discourage the risk of negative campaigning. Certainly, if nothing else, the instant runoff will avoid the possibility of a divisive actual runoff, like the one that occurred between then-Public Advocate Mark Green and then-Bronx Borough President Fernando Ferrer in 2001. Hard feelings from that drawn-out Democratic mayoral primary are considered a contributing factor to Republican Michael Bloomberg's win in 2001. So perhaps adopting ranked-choice in primaries would help Democrats avoid the risk of repeating that fiasco. 
Proponents of ranked choice – who have also studied its implementation in other places – have said that the evidence does not suggest that candidates campaigning in that system dilute their message in order to be the least controversial or most acceptable. Rather, the candidates were more likely to run on specific positions to differentiate themselves from others in the field, while aligning with ideologically similar candidates whom they could pick up second-choice votes from. In the 2018 San Francisco mayoral special election, progressive candidates Jane Kim and Mark Leno campaigned together against London Breed, a moderate. Rather than change their platforms in an attempt to appeal to more middle-of-the-road voters, Kim and Leno endorsed each other to gain second-choice support of the others' backers. In the end, however, Breed still won. 
In the vast majority of cases, if there is no winner outright in the first round of vote counting, the person in the lead originally wins in the end. Four cities in California's Bay Area – Berkeley, Oakland, San Leandro and San Francisco – have had 164 ranked-choice elections since 2004. According to the group FairVote, which advocates for ranked choice, only 53 were not decided with an outright winner in the first round. Of those, just seven ultimate winners initially trailed in the number of first choice votes they received. So it's rare for the plurality winner to ultimately lose. Most of the time, the same person wins who would've won in a first-past-the-post election, like New York City's current system. 
In the case of Stringer, his benefit would likely hinge on a close race where leading candidates – he among them – split the vote fairly evenly in the first round, potentially enabling him to pull ahead with the help of second-choice. 
But there's no guarantee that Stringer would do best among second-choice votes. One possibility is that Johnson – who, as Council speaker appointed some of the commissioners on the City Council's Charter Revision Commission that proposed ranked-choice voting – thinks ranked choice won't hurt, and may help, his mayoral bid, as he is also a widely liked mainstream candidate. 
Moreover, candidates could form alliances to boost each other as second choices. For example, Johnson and Diaz Jr. could cross-endorse each other in order to reach out to the others' base – Johnson potentially gaining second-choice support among Latino voters in the Bronx and Diaz Jr. getting the same among white Manhattanites.
Ranked choice could also lead to candidates campaigning more outside of their base and reaching out to diverse communities to boost their second-choice prospects among constituencies they might otherwise have ignored as unlikely to be won over. Black voters in Brooklyn, for instance, might be assumed to be for Adams, who is black, but ranked-choice would encourage the other candidates to appeal to them anyway in the hopes of being their back-up option. This is one reason proponents say ranked choice is superior to a plurality system, as it is meant to incentivize candidates to reach out more broadly beyond their base. 
The system may additionally benefit candidates who otherwise share a base and split that vote among themselves, as could be the case with Johnson and Stringer, who are both white progressives from Manhattan. The pair could strive to be each others' second choices, therefore minimizing the impact of a split vote and increasing both their likelihood of pulling ahead.
Another selling point of ranked choice is that it can eliminate the spoiler effect, although whether this will affect the mayoral race is yet to be seen. In New York City, the most likely way this could play out in a Democratic primary is if there are multiple progressive candidates and only one more moderate or conservative candidate. As a former NYPD officer and former Republican, Adams is generally perceived as the most conservative among those currently running for mayor, a fact that could benefit him in a plurality system if the others effectively split the progressive vote. That means he could be harmed by ranked choice, because – even if he manages to rack up the most first-choice votes – he would be unlikely to win the second-choice votes of progressives, thus enabling one of the other candidates to emerge victorious.
Of course, if the Bay Area data holds shows how ranked-choice will work in New York City, hand-wringing about second-choice voters and analyses about who stands to win or lose will probably be meaningless, and the same candidate will win anyway.