New York City
The Wednesday that could change New York City
From biker safety to animal rights to commercial waste, the City Council's agenda is packed with groundbreaking legislation.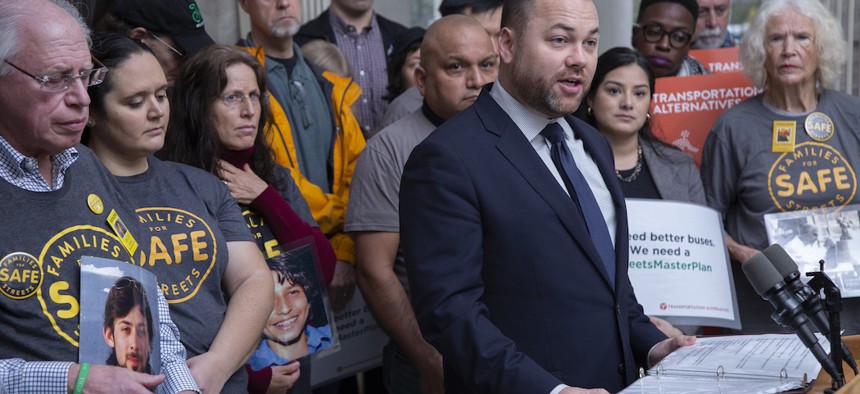 The New York City Council is set to make waves Wednesday, as its members are expected to pass a series of bills that will substantially change the way the city operates. 
Focussing on making the city's streets safer for bikers, advancing animal rights protections, and changing how the commercial waste industry functions, these bills on Wednesday's agenda cover quite a bit of ground. 
Here are the bills that are on track to pass: 
Safer streets
In response to the spike in cyclist deaths this year – 25 so far, a two-decade peak and over twice as many as the 10 recorded in 2018 – the City Council is expected to pass a bill that would allocate $1.7 billion over 10 years to expand the city's protected bike lanes, among other safety improvements. 
The bill is part of City Council Speaker Corey Johnson's "master plan" to make the city's streets safer for both pedestrians and bikers, as well as improve the performance of the city's buses. Its main component would require the Department of Transportation to build 250 miles of protected bike lanes across the city, or 50 miles per year. Of the city's nearly 1,250 miles of bike lanes, currently only 126 miles are protected, meaning that there is a barrier separating cyclists and vehicles. 
Along with the proposed expansion of the city's protected bike lanes, the bill's other initiatives include building 150 miles of bus lanes that are protected or use camera enforcement. 
Although widely backed by the City Council's members, the implementation of protected lanes across the city has been controversial, facing sharp criticism from localcar owners at community board meetings, typically angered by the removal of street parking spaces to make way for the protected lanes. 
Despite supporting the plan now, in the past New York City Mayor Bill de Blasio expressed concern about whether the plan's time frame was reasonable; he recently committed to building 30 miles of protected bike lanes per year. But with the initiatives laid out in the bill set to begin in December of 2021, when he is term-limited out of office, de Blasio can be worry-free, knowing that he likely won't be held responsible for the plan's implementation if it passes on Wednesday. 
Other aspects of the proposed plan would require that the Department of Transportation release a plan every five years laying out what it will do to make the city's streets safer, introduce transit signal priority – a system that allows buses to turn traffic lights green – to intersections throughout the city, upgrade bus stations, and construct 1 million square feet of pedestrian space. 
A progressive animal rights agenda
As cities and states across the country are taking charge to pass legislation centered on animal rights, like California's recent ban on fur, New York City is primed to be the next locale to adopt animal rights reforms with the expected passage of three monumental bills. 
The first of the three bills, the Carriage Horse Heat Relief Bill, updates the temperature threshold from 90 degrees to 80 degrees fahrenheit at which carriage horses are pulled from their work. The bill, which is sponsored by 22 of the council's members, also broadens protections to take into account a measure called the Equine Heat Index, which considers humidity in addition to air temperature.
One of the more contentious bills on the council's agenda is a bill that would ban the sale of foie gras in New York City. Foie gras, a high-end dish that requires force-feeding ducks and geese to swell their livers up to 10 times their normal size, has long been called torture by animal rights activists. 
Opposition to the bill is strongest in upstate New York, where companies like Hudson Valley Foie Gras and La Belle Farm employ a total of 400 workers, and 30 percent of their business is from New York City, The New York Times reports. 
According to the bill, a violation could result in a $1,000 fine and up to a year in jail. 
The final animal rights bill to be considered on Wednesday would create the nation's first Office of Animal Welfare in order to coordinate between different city agencies and programs about how animals should be regulated and managed, as well as provide community outreach and education on the humane treatment of animals. The director of the agency would also work to advise the City Council on myriad animal rights-related subjects. 
Each of these proposed bills passed the City Council's Health Committee on Tuesday morning. 
Commercial waste zone compromise 
Long called out for safety concerns and by environmental activists, New York City's commercial waste industry is notoriously problematic. 
In a plan that was originally proposed in May, City Councilman Antonio Reynoso of Brooklyn argued for a strict policy that would divide the city into 20 commercial waste zones and allow for one private waste carter to operate in each zone.
After much discussion, during which advocates and private companies argued to allow up to five companies to compete per zone, a new version of the bill settled on a middle ground that would allow for three competitors per zone. Though, as Crain's points out, the decision to settle on three seems arbitrary and more symbolic of a political concession.
The competing carters would procure rights to the zone through a bidding process that considers safety records and current sustainability practices, like the adoption of zero-emission technologies, in addition to pricing. Right now, there are about 80 commercial waste companies that operate in the city. Once a carter is assigned a zone, it would have to abide by a strict set of environmental, safety and labor regulations.
The goal of the bill, which will fundamentally change the way that the city's commercial waste industry operates, is to increase efficiency along routes, allow for safer streets for bikers and pedestrians and limit air pollution.
Powered By
NEXT STORY: Photos: 2019 Government Procurement Conference