New York City
Which bus routes could be the next 14th Street?
The slowest buses in every borough provide a busway blueprint.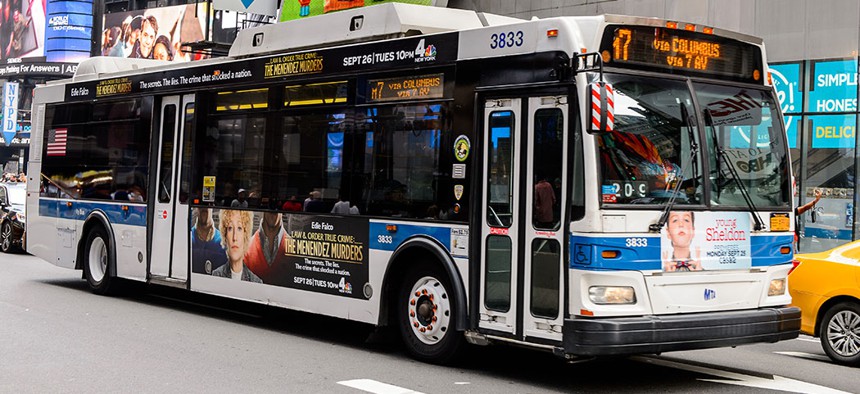 The average human walks between 3 and 4 miles per hour. So when New York City buses are moving at a similar speed, when is it worth taking the bus?
This summer, the New York Public Interest Research Group's Straphangers Campaign and TransitCenter named the M14A bus as the city's slowest bus and their annual Pokey Award winner. It moseyed from the Lower East Side to Chelsea Piers at an average speed of just 4.3 mph.
But after 14th Street was converted into a dedicated busway, the M14 has been practically rocketing across town – and ridership is surging. Now that the experiment worked – and the surrounding streets didn't become a gridlocked apocalypse like some locals predicted – which other slow routes, as listed in the Pokey Awards, could be good candidates to become busways?
"It absolutely will be a model for other boroughs," says Eric Goldwyn, a research scholar in the New York University Urban Expansion Program at the Marron Institute, in reference to the 14th Street busway. "Hopefully it can be an example of what is possible with our buses."
Bx19 – Southern Boulevard, Bronx – average speed 4.8 mph
For the 26,500 riders that use this route every day, the Bx19 trudges along Southern Boulevard at a maddeningly slow pace. It is not as notorious as the Bx12, its Fordham Road cousin, which was chosen as the city's first Select Bus Service route in 2008. Now the Bx12 SBS barrels along at a (relatively) brisk pace.
B35 – Church Avenue, Brooklyn – average speed 4.8 mph
With nearly 30,000 riders per day, the B35 spends most of its time trundling along Church Avenue abysmally slowly. The New York City Department of Transportation recently eliminated parking on both sides of the busy avenue for a half-mile stretch to install dedicated bus lanes, but facing opposition from a neighborhood synagogue that feared the plan would affect Saturday worship, the DOT ended the lane a earlier than planned, before it reaches the synagogue.
Q54 – Metropolitan Avenue, Queens and Brooklyn – average speed 6.4 mph 
Doing its best between Jamaica, Queens, and Williamsburg, Brooklyn, the Q54 transports more than 11,000 riders every day. Until the city does something about it, if you really want to get to Jamaica from Williamsburg, you'd be better off taking the subway into Manhattan and then back into Queens.
S48 – Forest Avenue, Staten Island – average speed 7.8 mph
Despite serving just over 7,000 riders every day, Staten Island's S48 is one of the borough's most frequently used routes. Without a subway, most Staten Islanders have to use the bus if they don't own a car of their own, leaving them at the mercy of the transit gods.
Bonus: M42 – 42nd Street, Manhattan – average speed 3.5 mph
As long as you don't get held up by busloads of tourists in Times Square, you can cross midtown Manhattan on your own two feet faster than the M42. But the lazy line wasn't included in the Pokey Awards because, after losing thousands of frustrated riders, its ridership fell below the daily 10,000 needed to qualify everywhere outside Staten Island.
Correction: An earlier version of this story incorrectly stated that plans to install a dedicated bus lane for B35 in Brooklyn were cancelled; they were only altered, and the lane has since opened.
Powered By
NEXT STORY: The Wednesday that could change New York City