New York City
Attacks on third parties and Andy King officially suspended
Rounding up the week's political news.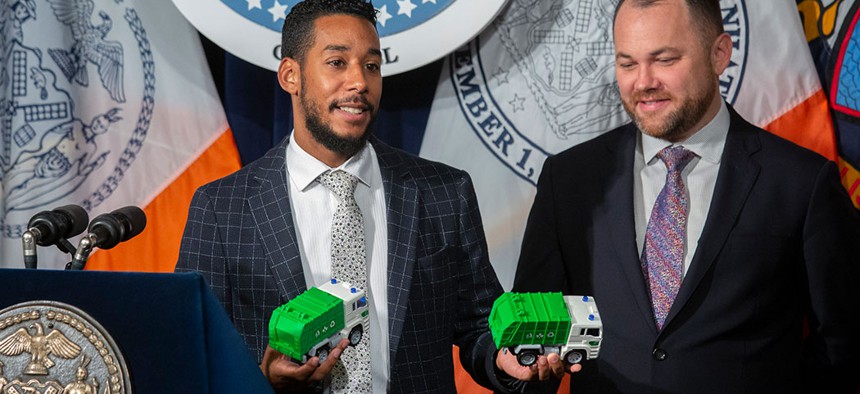 It was Halloween in New York City, which meant that the freaks were out in force. It was a costume extravaganza, and not just at the annual Village Halloween Parade, where one expects to find the very best looks the city has to offer. The subways were filled with revelers as well, on their way to the parade or any number of other celebrations. Of course, Mayor Bill de Blasio took part as well, as he does every year (with varying degrees of success).
The city press corps took part in the fun too. One New York Post reporter haunted de Blasio as the ghost of Blaz past – she dressed as the wild-haired de Blasio of the mayor's youth – while NY1 reporters hammed it upfor the camera. And of course, the very spooky staff of City & State.
Big day in the City Council
The New York City Council passed a series of high-profile bills Wednesday – some of which had been in the making for years. City Councilman Antonio Reynoso's commercial waste zones bill will significantly change how garbage gets picked up in the city and aims to make the industry safer. Other bills caused a stir in the press, like the ban on foie gras – fatty duck or goose liver made by force-feeding the animals. Another will build 250 miles of new bike lanes as part of a $1.7 billion plan to make city streets safer for bicyclists and pedestrians.
Latest on third parties
It's never a dull week with the state Public Campaign Financing Commission, the body tasked with creating a statewide system to publicly finance political campaigns. The commission held its final public hearing in Buffalo, but before that got underway, The New York Times revealed that commissioner and state Democratic Party Chairman Jay Jacobs had suggested a new approach to third parties: quintupling the number of votes they need to be a party. In a private email to his fellow commissioners and the panel's lawyer, Jacobs floated the possibility of requiring third parties to get 2% of all registered voters to vote for governor on their line. This would increase the current 50,000-vote threshold to about 250,000, one that only the Conservative Party would have met, according to recent election results. The suggestion is seen as the latest attempt to get rid of the Working Families Party. Gov. Andrew Cuomo, who appointed Jacobs, has been feuding with the WFP, although he denies having any ill will toward the party. Cuomo suggested that raising the threshold would weed out "sham" parties and save the state matching funds money. Originally, Jacobs made arguments to get rid of fusion voting, from which the WFP benefits. He argued that keeping fusion voting would also cost the state more because, according to him, it leads to more races.
King officially suspended
The New York City Council had another momentous day, albeit for a less positive reason. Following an investigation by the City Council Standards and Ethics Committee and an extensive report detailing its findings that demonstrated a pattern of staff harassment, retaliation and abuse of power, the City Council voted to suspend Councilman Andy King for 30 days. It's the first time in recent history that the body has moved to suspend a sitting member. Some had called for King's resignation, they did not take the next step of expelling him, although Councilman Jimmy Van Bramer did introduce an amendment to do just that. Although nearly every member voted to suspend King – none voted against the measure except King himself – only 12 voted to expel him. The decision not to expel him was met with strong criticism from advocates for victims of sexual and other types of workplace harassment. Nearly 200 current and former City Hall employees also penned a letter expressing their dissatisfaction with the fact that King still holds his position and called for stronger protections for staffers who suffer abuse at their hands of their elected bosses. Meanwhile, on the state level, two lawmakers introduced legislation to close a loophole that would make it easier for legislative staff to file harassment complaints.
Early voting success
Throughout the state, New Yorkers took to the polls to vote early for the first time, and they seem to be embracing the new practice. Since the polls opened on Oct. 26, about 130,000 people have already cast their ballots. Among those who "early voted" were Gov. Andrew Cuomo and New York City Mayor Bill de Blasio. Although the rollout has seemed fairly smooth, some New York City parents took issue with the use of school property for polling sites during school hours, saying it interferes with their children's days and brings unknown adults into the school.