New York State
New York is leading the effort to modernize Puerto Rico's power grid
Lawmakers will have more chances to help the island heal at Somos.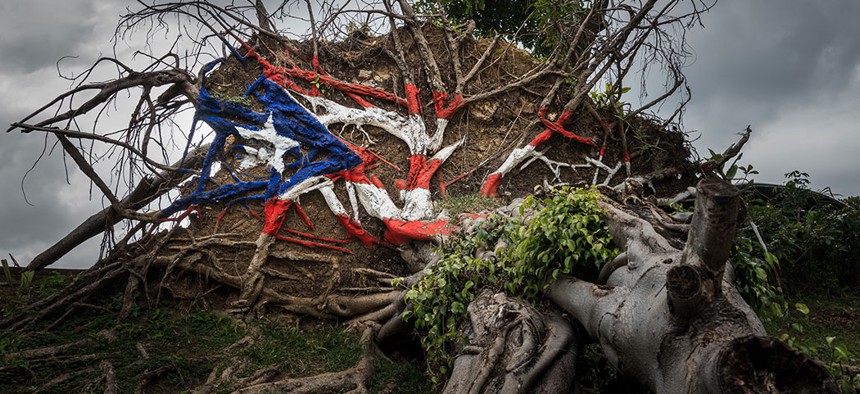 Two years after Hurricane Maria slammed Puerto Rico, New York state is still helping the island territory repair and modernize its power grid. Key infrastructure remains vulnerable to future storms, the Puerto Rico Electric Power Authority filed for bankruptcy and funding for key projects is elusive in a place with enormous public debt and a 13-year economic recession. The territory has received about a third of the $43 billion that Congress has allocated for its hurricane recovery efforts in the past two years.
The Trump administration's hostility to releasing aid to Puerto Rico has given New York an outsized importance in the territory's efforts to overcome such challenges, which will be discussed at the upcoming Somos conference in San Juan, Puerto Rico, from Nov. 6-10. The annual gathering, organized by the state Assembly and Senate Puerto Rican and Hispanic Task Force, brings together lawmakers, state Democratic Party insiders and lobbyists to discuss the top issues affecting Puerto Rico. And there is arguably no bigger challenge facing the beleaguered territory – which has no voting member in Congress – than modernizing its power sector. "We all know the power grid is antiquated," said Assemblywoman Maritza Davila, chairwoman of the task force and a native of Puerto Rico. "People can no longer live with another uncertainty or with another hurricane hitting that power grid. It's not going to hold up."
New York state has taken a leading role in modernizing the Puerto Rican power grid to address short- and long-term challenges. Hurricane Maria caused an estimated more than $100 billion in damage to the island, in addition to causing widespread blackouts for months. Constructing a stable power grid was a top priority early on, and has continued to be at the forefront of the state's efforts. As recently as mid-October, Gov. Andrew Cuomo announced new aid in addition to a total deployment over two years by the New York Power Authority of 1,000 utility workers, hundreds of trucks and technical experts on topics like storm resiliency and federal grant applications. As the situation stabilized in Puerto Rico, New York's efforts began to shift toward long-term issues through a task force charged with creating a plan for a new power grid that would be more resilient to future storms and climate change. The state intends to continue such aid as Puerto Rico moves toward implementing a $20 billion plan to transform its power sector, which was announced by Gov. Wanda Vázquez on Oct. 24, and a renewable energy plan that aims to transition its power sector to 100% renewable energy by 2050.
New York was not the only state to offer aid to Puerto Rico after the hurricane, but it has stayed involved on the ground even after assistance from elsewhere has dissipated. The political advantages of offering assistance to a territory with deep cultural ties to the Empire State were obvious early on, not least of all because of the contrast it offered to the Trump administration. But Cuomo has maintained the state's presence long after there were any political advantages to do so – and deserves credit for a genuine commitment to the island, according to journalist and former City & State Editor-at-Large Gerson Borrero, who has covered the Somos conference for years. "He is not perfect by a long shot," Borrero said of Cuomo. "But on this, I think he's been way beyond the call of duty."
This commitment is expected to continue in upcoming years. "Our governor has always said that Puerto Ricans and folks in the U.S. Virgin Islands are like family members," said New York Power Authority President and CEO Gil Quiniones. "When a family member needs help, you go and help. That's basically what we're doing there and we're going to be there as long as they need us – every step of the way."
In the first few months after Hurricane Maria, damage assessment and restoring electrical power took precedence, with the power authority leading efforts in the area around San Juan, where the bulk of the population and electrical demand are located. Once the power grid began working again, the authority broadened its mission to other work and other areas of the island, according to Quiniones. This includes assistance with applying for grants from the Federal Emergency Management Agency and the U.S. Department of Housing and Urban Development. There was also a task force that developed a plan, released in December 2017, to modernize the grid that involved experts from the state and federal governments, public utilities and national laboratories. "We worked together and came up with a modernization roadmap to modernize their grid, integrate more renewables, add microgrids, etc.," Quiniones said. "It's a very strategic document." This plan then served as the basis for the modernization plan adopted by the Puerto Rico Electric Power Authority, according to Quiniones.
Hurricane Maria was an unprecedented disaster for Puerto Rico, but it also presented an opportunity to realign the island's electrical infrastructure. Much of its power is generated on the southern part of the island, the infrastructure built decades ago at a time when economic development programs focused on building industry there. That economic sector has since diminished and now about 70% of the electrical demand is on the opposite side of the island, in the San Juan area. Hurricane Maria also exposed the dangers of having a centralized electrical grid, which causes wider electrical outages when one section is damaged, as well as the dangers of above-ground infrastructure in a place that faces increasing danger from hurricanes due to global warming.
The modernization plan unveiled by Vázquez on Oct. 24 aims to invest in repairs to electrical transmission and distribution networks, according to The Associated Press. Much of that money would go toward burying power lines and other measures that aim to help the system withstand future storms – though an estimated $13 billion in federal funding still needs to be secured to implement the plan. The state is offering guidance on how to partially privatize the Puerto Rico Electric Power Authority – which declared bankruptcy in 2017 – in a way similar to what happened to the Long Island Power Authority, which turned over its operations to a private company in 2013. "The Long Island Power Authority is still a public utility," Quiniones said. "But it's being operated by Public Service Enterprise Group. (Puerto Rico) is trying to adopt that model."
While the Cuomo administration has done much to help the island recover, there is still plenty of room for state lawmakers to step up. There are opportunities to figure out how to do that at the upcoming Somos conference, where the official agenda includes discussions on a wide range of fiscal, social and environmental issues. Some topics of discussion, such as the debt crisis, have direct links to efforts to rebuild the power grid. Others – like women's empowerment, reforestation, housing resiliency and mental health – are more tangential. Yet they all get back to the same thing: helping Puerto Rico muster the resources it needs to once again become a place that is thriving both economically and socially. Success in one aspect of this overarching effort invariably helps others, especially considering the limited resources available to the island. Some activists have called for a more bottom-up approach to rebuilding the power grid, with a greater emphasis on solar power rather than natural gas.
By addressing these items in a concrete way, New York's Democratic lawmakers can also rise to another challenge. The Somos conference has acquired a reputation as an event where state Democratic Party insiders swap political gossip as they get ready for the upcoming legislative session. However, the aftermath of Hurricane Maria has presented them an opportunity to reassert how the annual conference can strengthen ties between New York and Puerto Rico – the birthplace of several legislative leaders and a major cultural influence on the Empire State. "We have an obligation to rebuild Puerto Rico," said Assemblyman Félix Ortiz, a former chairman of the state Assembly and Senate Puerto Rican and Hispanic Task Force. "That's still in people's minds and is the reason why I do believe that it's going to be one of the biggest conferences in the history of Somos." If his prediction proves true, then it could mean even bigger things are coming for New York's efforts to help the island rebuild its power grid in the years to come – but first Democratic leaders need to put in some work at the upcoming conference.