New York State
Progressive Democrats defend the 'Long Island Six' from IDC comparison
State senators disagree with new attack ad from left-wing advocacy group.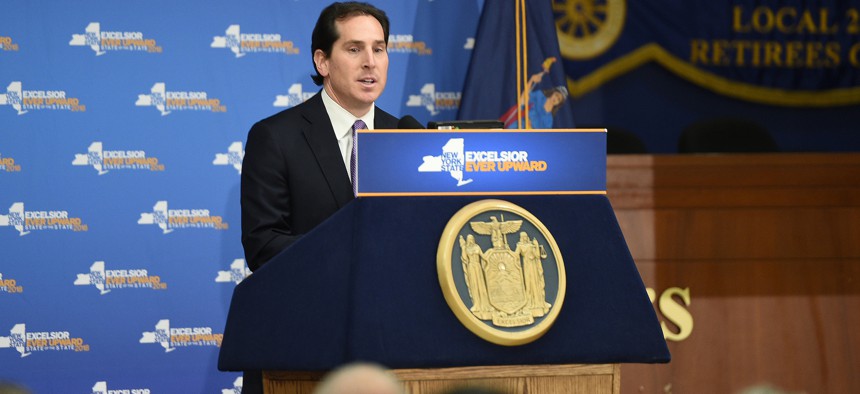 As the name implies, the annual Somos (literally "we are" in Spanish) conference in Puerto Rico aspires to be a place for Democratic Party unity regardless of political differences back home. At Somos, New York City Comptroller Scott Stringer, a 2021 mayoral hopeful, can share a drink with Jason Goldman, chief of staff to Stringer's likely rival City Council Speaker Corey Johnson. Fusion voting opponent Suffolk County Executive Steve Bellone can mingle with avowed defenders of political cross-endorsements, even as the issue comes to a controversial head on the state's Public Campaign Financing Commission. 
So, when a left-wing group launches an attack ad against a half-dozen state senators, political backup is not hard to come by – even when the accused aren't there.
A new digital ad by Housing Justice for All, a coalition of progressive advocacy groups, attacks the "Long Island Six" – the Democratic state senators on Long Island – as a new iteration of the Independent Democratic Conference, the breakaway group of Democratic senators that supported GOP control of the state Senate for years. The nearly two-minute video highlights donations from the real estate industry to the Long Island senators, who all voted against a landmark package of rent reforms that passed earlier this year. 
"They are amazing colleagues, supported by everyone," state Senate Majority Leader Andrea Stewart-Cousins told City & State of the Long Island Six, none of whom have been reported in attendance at Somos. "It's sad that, again, people are trying to sow division where there is none." 
The criticism of the Long Island Six could carry some political punch among progressives at a time when donations from the real estate industry have become an increasing liability in Democratic primaries. However, the ad could also be a blessing in disguise for Long Island Sens. Todd Kaminsky, Anna Kaplan, James Gaughran, Kevin Thomas, John Brooks and Monica Martinez, none of whom responded to requests for comment. A critique from a progressive New York City-based group could make the suburban Democrats more attractive to moderate voters in swing districts that will be heavily contested by the GOP in the upcoming 2020 elections. 
Several members of the Democratic conference at Somos said the comparison between the IDC and the Long Island Six does not hold up. "They're not the IDC," said state Sen. Jamaal Bailey of the Bronx. "Nothing like it." 
The IDC played a key role in GOP efforts to maintain control of the state Senate and while its members at the time argued that they aligned with the GOP in order to address their own legislative priorities, their very existence helped block parts of the Democrats' legislative agenda. The Long Island Six, on the other hand, are part of a Democratic majority that passed a raft of liberal legislation. And the Long Islanders themselves gave support to numerous progressive bills that passed in the last legislative session, including a landmark climate change bill that was led by Kaminsky. When the GOP controlled the Senate, that bill and others such as the expansion of abortion rights passed last year wouldn't even come to a vote in the Senate.
The state Senate Democratic conference has faced significant divisions on some issues this year, including rent reforms, marijuana legalization and a failed deal to bring a satellite headquarters for Amazon to Long Island City, Queens. Progressive activists were disappointed that the rent reform package did not include a "good cause" eviction bill that would institute a form of universal rent control statewide. And opposition from Long Islanders was part of why marijuana legalization fell just short of securing the votes it needed to pass the Senate. Some centrist Democrats – especially Gov. Andrew Cuomo – were upset that Long Island senators did not do more to save the Amazon deal when it was attacked by more liberal members of the conference, especially Deputy Majority Leader Michael Gianaris of Queens. 
With both the 2020 primary season and the upcoming legislative session on the horizon, an opportunity to display conference unity was welcome, according to state Sen. Brad Hoylman of Manhattan. "They are a key part of our coalition in the Senate and I'll do everything I can to fight like hell that they get reelected," he said. 
However, being lambasted from the left is dangerous for the Long Islanders, as it could discourage turnout from the progressive base and the lawmakers will need both moderate and progressive voters alike to come out and vote for them next November, according to Larry Levy, executive dean of Hofstra University's National Center for Suburban Studies. The GOP dominated the Long Island Senate delegation for decades, controlling six out of nine seats until the 2018 election. Kaplan, Thomas, Gaughran and Martinez flipped Republican-held seats that year, Now the GOP is hoping to win those back in 2020. Democrats currently control 40 out of 63 seats in the Senate.
While progressives have succeeded in moving the party to the left, they will have to keep their legislative priorities in perspective or else risk a GOP takeover of the Senate that would keep any progressive bills from passing, Levy added. "It's easy to be in the minority, because you can say anything you want, and not have to take responsibility for it," he said. "Well, you know, the progressives who are part of the governing coalition can also say anything they want because it will never cost them at the polls."
Progressives can point to the new housing laws as a top example of how they successfully leveraged political pressure through protests, rallies, and hard-nosed advocacy to move lawmakers to embrace more tenant protections than they might otherwise have supported. Newly launched primary challenges from the left have also put some incumbents in both the state Senate and Assembly on notice that progressives are not done yet trying to push the state Legislature further to the left. 
The successful 2018 primary challenge of state Sen. Julia Salazar in Bushwick against longtime state Sen. Martin Dilan showed the potency of attacking lawmakers over their past campaign donations from the real estate industry. Salazar sponsored the "Good Cause eviction" bill, but she disagreed with equating the Long Island Democrats with virtual Republicans. "I understand why advocates and constituents really care about rent regulation and are upset," she said. "But I think that it's important to distinguish fair criticism over legislators' policy stances versus characterizing them as the IDC, which was very different."