New York City
The New York City Council staff unionization bid could be a game-changer
Few organization efforts by legislative employees have succeeded.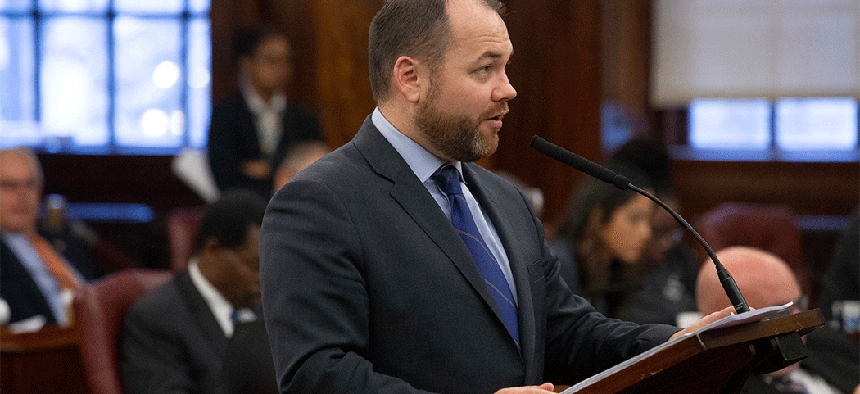 If New York City Council staffers succeed in their organizing efforts, they would be among the few legislative employees in the country to unionize. It's not the first time that legislative staffers have sought collective bargaining rights, but the city could set a precedent with nationwide implications.
Certainly, organization for a government the size of New York City's may be unprecedented. City College of New York political science professor Daniel DiSalvo, an expert on public-sector unions, said he could not name other major cities or state governments with unionized workers. "There's not prominent examples of this," DiSalvo said. "This would be a prominent example, probably the example." 
On the federal level, similar efforts have gone nowhere. Congress passed a bill in 1995 that would have allowed its staff to form and join unions. But a year later, soon before the law was set to take effect, Republican officials took steps that would exclude "confidential" employees, a label to that apply to essentially any person working in a congressional office. Over 20 years later, Capitol Hill staffers have not formed a union, despite continued low pay that contributes to high turnover rates.
Other efforts have also fizzled. In California last year, state Assemblywoman Lorena Gonzalez made waves by proposing legislation that would allow staff working for the state Legislature to unionize. That case was a little different than in New York because while California law allows public sector employees to unionize, the law explicitly prohibits those working for as legislative staff at the state level to engage in collective bargaining. Gonzalez's bill, which died in committee, would have extended that right to legislative staff. 
However, the California restriction does not apply to legislative staff for individual municipalities in the state. For example, city legislative aides in San Francisco are unionized with IFPTE Local 21, and those working in Berkeley will join SEIU Local 1021 next month. While both cities set a precedent for legislative staffers, these local governments are substantially smaller than New York City – Berkeley has only eight legislators, while San Francisco has just 11 members on its Board of Supervisors. New York has 51 Council members.
In Denver, the staff for one City Council member recently joined Teamsters Local 17, the first office in Denver City Hall to unionize. This situation is also unique compared to the New York City Council. Member staff ultimately work for the City Council, not the individual members that hire them, so staff is organizing as a whole, rather than office by office. 
Zara Nasir, one of the leaders behind the New York City Council's effort to unionize, said that New York City Council employees will not be joining an existing union, another factor that set the city apart, although some staffers did reach out to several international organizations. She said they came close with one, but when they took too long, so leaders in the unionization efforts chose to move ahead unaffiliated as the Association for Legislative Employees.
One of the biggest impediments to the unionization of legislative employees is the high turnover rate inherent to the job. Staff are often not in their positions long enough to get a unified campaign going, and many often don't see long-term futures due to the nature of political work, DiSalvo said. This contrasts with other public-sector workers, who may spend entire careers in a single government agency. 
The City Council may also be in a unique position right now. Several sitting Council members have now been in office for three terms, which is longer than usual, meaning that their veteran staff have been there for up to a decade.
Additionally, a former Council staffer pointed out that neither Speaker Corey Johnson nor former Speaker Melissa Mark-Viverito cleared house when they became speaker. While both did fire some staff when they took over, those numbers were fewer than past speakers, and much of the central staff was not laid off during their leadership changes. That means that some central staff employees could date as far back as 2006, when Christine Quinn became speaker. Nasir mentioned that some Council staff members have been working toward a union for the better part of a decade, an unusually long tenure for legislative staff, particularly those that work for lawmakers with term limits.
Another concern about unionizing legislative staff, according to DiSalvo, is that it may complicate matters when it comes to the natural turnover that occurs when new lawmakers take office. However, Nasir has said that union supporters are not trying to change the hiring and firing process, but simply to implement standards about minimum pay, comp or flex time and better protections against abusive work environments. If City Council employees create their union and successfully negotiate better working conditions without seriously impeding the usual operations of city government, it could serve as a model for other legislatures and provide evidence that the concerns that DiSalvo expressed need to come to pass. 
Presidential campaign staff have also begun to unionize, in an environment that has even higher turnover, less job security and arguably longer hours than working for politicians in government. The trend is a recent one, but it could have a positive impact on attempts like the City Council employees.
In the New York City Council itself, rumblings of discontent about long hours and low pay go back years. Nasir said that she joined in talks when she joined the body's central staff in 2017. She said other staffers have been talking about unionizing even longer, although more concrete discussions began in the spring of this year. The recently launched card campaign, the first step to forming a recognized union, is the culmination of those talks. "We want to put light to this," Nasir said. "We want people to stop hiding in the shadows and stop feeling so isolated and know that there are people who are organizing, who are with them."
Former Council staffer Michael Schnall tweeted recently that he and other employees "tried to organize" many years ago," and even "had a logo and buttons" made. Schnall declined to comment for this story, but a former Council staffer with knowledge of those efforts told City & State that around 2005, employees for different members came together and formed an unofficial staff caucus that would periodically meet. The staffer said it served as a way for disparate staff to come exchange ideas and touch base about what's going on, but not as a vehicle for unionization talks. But even back then, the staffer said, there was plenty of grumbling about the low pay for the long hours demanded of employees. Recent analyses by Politico New York and the Queens Daily Eagle found that pay for staffers varied widely by member, with some making below minimum wage when unpaid overtime was factored in.
In early 2018, Nasir said that Council staffers sent a letter to Council Speaker Corey Johnson asking for raises for all current employees, guaranteed minimum salaries and other workplace improvements. She said it resulted in modest gains, but no Council-wide standards were put in place – pay still ultimately came down to member discretion, even though the amount of money given to them for operating costs as part of the city budget increased the past two years. 
Organization is in its early stages in New York City right now. Leaders behind the organization efforts have only just begun their card campaign, and despite assurances from Johnson that he is supportive, they are still awaiting confirmation that he will voluntarily recognize the union once enough members sign on. "We want to put light to this," Nasir said. "We want people to stop hiding in the shadows and stop feeling so isolated and know that there are people who are organizing, who are with them."
Correction: An earlier version of this post incorrectly stated that Christine Quinn became council speaker in 2010. She assumed the role in 2006. The post has also been updated to reflect that Corey Johnson and Melissa Mark-Viverito both laid off some staffers when each one took over as council speaker. 
Powered By
NEXT STORY: Photos: Celebrating the Nonprofit Power 100