Impeachment
Rep. Hakeem Jeffries makes a case for impeachment
The congressman laid out a timeline of Trump's behavior during a key impeachment debate.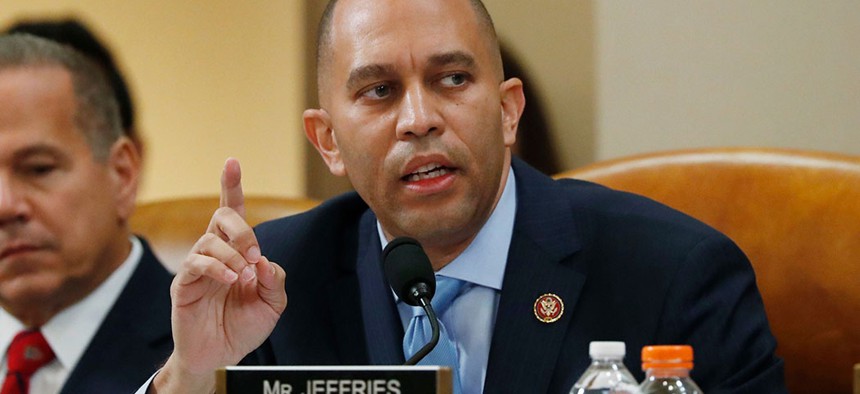 Rep. Hakeem Jeffries fiercely argued in favor of impeaching President Donald Trump during the House Judiciary Committee panel's debate of its recently introduced articles of impeachment. The committee has spent Wednesday and Thursday debating the articles of impeachment ahead of a vote to send them to the entire U.S. House of Representatives for a vote.
Jeffries' alleged on Thursday morning that Trump is a "serial solicitor" who has requested foreign interference in American affairs from Russia, China and Ukraine, all for his own political ambitions. The Brooklyn congressman then reviewed the Trump-Ukraine plot timeline, paying particular attention to the events that preceded and followed the U.S. withholding military aid allocated to Ukraine. "The American people deserve to figure out why" the aid was held up, said Jeffries.
The congressman noted that military aid for Ukraine had been approved by Congress and that the House had received a letter from the Department of Defense in May stating that Ukraine had met all of the "necessary preconditions for the aid" to be sent. Jeffries then said that the president ordered the aid to be frozen in July, for no apparent reason. He brought up Trump's July phone call with Ukraine President Volodymyr Zelensky, recounting how Trump asked Zelensky to look into things "connected to a wild conspiracy theory" about former Vice President Joe Biden – while mentioning his attorney Rudolph Giuliani "not once, not twice, but three times."
"Why, on an official call, would the president mention Rudolph Giuliani?" asked Jeffries. "He's not an ambassador, he's not the secretary of state, he's not the diplomatic corps. He's President Trump's political enforcer."
The congressman said that in August, Giuliani went to Madrid, Spain, to congregate with Ukrainian aides following Trump's direction that the Ukranian government should meet with him. Jeffries then concluded his argument by saying that the whistleblower complaint against Trump was filed in August, and in September aid was suddenly released to Ukraine, which Jeffries asserted is because the "president was caught red-handed trying to pressure a foreign government to target an American citizen."
However, Republicans on the committee panel rejected the notion that Trump abused his power by attempting to use a foreign government to sway the 2020 election – while unsuccessfully seeking to strike the article of impeachment completely. "It's obvious to all of the American public that this is a railroad job," said Rep. Jim Sensenbrenner, a senior Republican panel member, arguing for the removal of the first article. "The facts speak for themselves. There was no impeachable offense here."
Republicans and Democrats on the committee's panel are still dueling over amendments to the articles of impeachment, which the House is expected to vote on next week.